There are two storylines worth following tonight and for the rest of the season. First, the drive to the playoffs. Edmonton has a chance to make it and the tumblers are clicking in a good way currently.
Second, the minors has gifted this year's team with Ethan Bear, Patrick Russell, Caleb Jones and Kailer Yamamoto. Yesterday, injuries to Kris Russell and Joakim Nygard forced Edmonton to recall William Lagesson and Tyler Benson.
If we add them all up, that makes six Condors from a year ago in Edmonton and on the roster. That's 26 percent of the NHL roster populated by men who were on last season's AHL team. Even more impressive, some of these players are filling significant roles with the Oilers. A very good sign for the future. This is the kind of farm system envisioned by every general manager since the 'shared' system was put in place for 2005-06. So, a small recovery time of only 14 years. Give or take.
THE ATHLETIC!
The Athletic Edmonton features a fabulous cluster of stories (some linked below, some on the site). Great perspective from a ridiculous group of writers and analysts. Proud to be part of The Athletic, less than two coffees a month offer here.
OILERS AFTER 51 GAMES
Oilers in 2015-16: 20-26-5, 45 points; goal differential -22
Oilers in 2016-17: 28-15-8, 64 points; goal differential +17
Oilers in 2017-18: 23-24-4, 50 points; goal differential -26
Oilers in 2018-19: 23-24-4, 50 points; goal differential -14
Oilers in 2019-20: 26-18-6, 58 points; goal differential +1
This year's Oilers have settled in to a unique area compared to the previous four teams. Clearly still in the race, but without the handsome goal differential of the 2016-17 team. If the Oilers were to grab a point per game now through the end of the season, a quiet run to be sure, the final point total would be 90. It's been a good season compared to the past.
ON THE TENS
First 10 games: 7-2-1
Second 10 games: 5-4-1
Third 10 games: 5-4-1
Fourth 10 games: 3-6-1
Fifth 10 games: 6-2-2
Current 10 games: 0-0-0
Edmonton needs to tear off another six or seven win run here in the next few weeks. Puts them in a good spot at the deadline and allows some breathing room for post-deadline craziness.
OILERS IN JANUARY
Oilers in January 2016: 4-3-2, 10 points; goal differential -1
Oilers in January 2017: 6-3-0, 12 points; goal differential +1
Oilers in January 2018: 4-5-0, eight points; goal differential -13
Oilers in January 2019: 5-4-0, 10 points; goal differential -3
Oilers in January 2020: 5-1-2, 12 points; goal differential +7
It's the final game of the month and this year's group owns the goal differential. A point tonight also gives them the point edge over teams of yester-me, yester-you, yesterday.
WHAT TO EXPECT IN JANUARY
On the road to: BUF, BOS, TOR, MTL, CAL (Expected 2-2-1) (Actual 3-1-1)
At home to: NAS, ARI, CAL, STL (Expected 1-2-1) (2-0-1)
Overall expected result: 3-4-2, eight points in nine games
Current results: 5-1-2, 12 points in eight games
Absolutely smoked my prediction, left me stranded on the lost highway. I've looked at February. There are 14 games. That's all I have to say until tomorrow.
2019-20 EDMONTON OILERS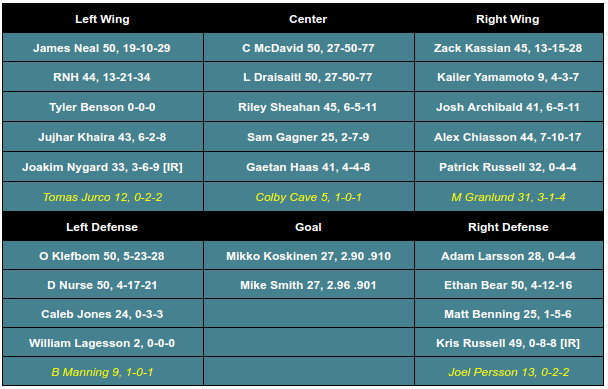 Since Yamamoto arrived in time for the December 31 game, the Neal-McDavid-Kassian line has played 83:13, has a 53.38 percent Corsi for (all numbers five on five), 57.30 percent shot differential and has outscored opponents 4-3.
The Nuge-Draisaitl-Yamamoto line has played 102:01 together, going 48.56 Corsi, 51.85 shot differential and 8-2 goals.
This puzzle is starting to come together.
Benson's arrival may allow for more pieces to fit. Can't wait to see where they place him. My guess is he and Lagesson won't dress tonight and that Gaetan Haas and Caleb Jones draw in for the injured Joakim Nygard and the concussed Kris Russell.
BOB MCKENZIE'S LIST
The McKenzie list is out! That's always a good thing. It gives us an idea about the top of the draft. Here's BM's top 10 and mine side by side.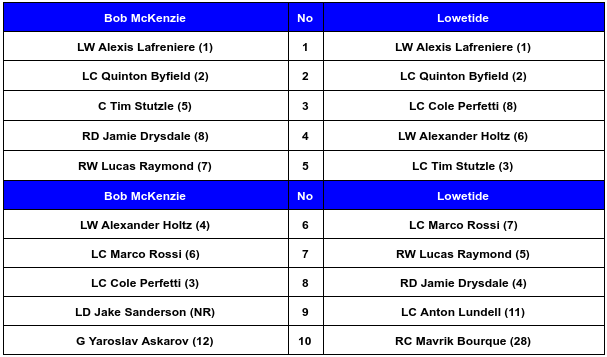 The top two picks match, and in fact the first eight names are identical, with a lot of order shuffle. There's no way Edmonton has a chance at any of these players unless they falter in the second half. Oilers currently draft No. 16, but when the games in hand are factored in, more like No. 20. Here's 11-20: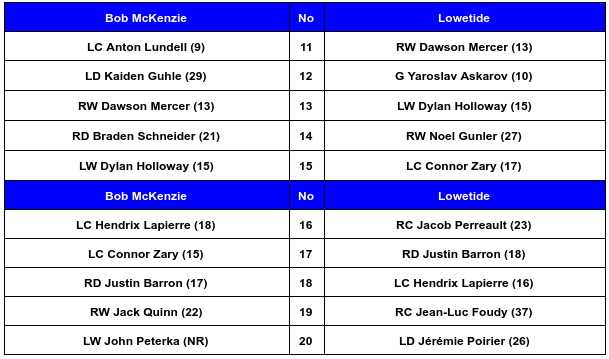 The Oilers will be drafting near the end of this group in my opinion. Although I don't have him in my top 20 (No. 22), Jack Quinn is a player who is both worthy of selection in this range and an ideal solution for Edmonton's needs.
LOWDOWN WITH LOWETIDE
It's Friday and Super Bowl weekend, so this will be a fun show. TSN1260 at 10 this morning. At 10:20, Reid Fowler from Draft Kings will talk Chiefs and 49ers. Matt Iwanyk will touch base at 11, we'll talk Super Bowl and Oilers-Blues. You can text 10-1260 with opinions, @Lowetide on twitter. Talk soon!