The Edmonton Oilers won against the defending Stanley Cup champions at Rogers last night. The giant Leon Draisaitl had those feet moving and those heaven sent hands were pure magic. Everyone spent the All-Star layoff staring at that damnable schedule, and two games in this team is 1-0-1. Who are these guys?
THE ATHLETIC!
The Athletic Edmonton features a fabulous cluster of stories (some linked below, some on the site). Great perspective from a ridiculous group of writers and analysts. Proud to be part of The Athletic, less than two coffees a month offer here.
OILERS AFTER 52 GAMES
Oilers in 2015-16: 21-26-5, 47 points; goal differential -17
Oilers in 2016-17: 28-16-8, 64 points; goal differential +14
Oilers in 2017-18: 23-25-4, 50 points; goal differential -27
Oilers in 2018-19: 23-24-5, 51 points; goal differential -15
Oilers in 2019-20: 27-18-6, 60 points; goal differential +2
Edmonton's win last night gives them second place in the Pacific Division, two points behind Vancouver. Calgary is tied in points with the Oilers, but the Flames have played one more game. The goal differential heavily favours Edmonton (+3 to -12).
ON THE TENS
First 10 games: 7-2-1
Second 10 games: 5-4-1
Third 10 games: 5-4-1
Fourth 10 games: 3-6-1
Fifth 10 games: 6-2-2
Current 10 games: 1-0-0
That was an unexpected and impressive start to this 10-game stretch. If the Oilers can turn home games into a filthy battle with blood on the tracks against good teams, the bad teams that come to visit have no chance.
OILERS IN JANUARY
Oilers in January 2016: 4-3-2, 10 points; goal differential -1
Oilers in January 2017: 6-3-0, 12 points; goal differential +1
Oilers in January 2018: 4-5-0, eight points; goal differential -13
Oilers in January 2019: 5-4-0, 10 points; goal differential -3
Oilers in January 2020: 6-1-2, 14 points; goal differential +8
Absolute fire. January 2020 may be a turning point in this franchise's long and interesting journey. No chance anyone could have known this roster could snap off a 6-1-2 January. I know they've had teams with more talent during the wander years. One stunning January fact: At five on five, Connor McDavid's on ice goal differential was 7-5. Leon Draisaitl: 11-4. Riley Sheahan: 4-8. Gaetan Haas: 3-2. Sam Gagner: 2-1. Dave Tippett is finding balance, now Ken Holland needs to find McDavid a winger.
WHAT TO EXPECT IN FEBRUARY
On the road to: CAL, ARI (Expected 1-1-0) (Actual 0-0-0)
At home to: SJS, NAS, CHI (Expected 2-1-0)
On the road to: TBY, FLA, CAR (Expected 1-1-1)
At home to: BOS, MIN (Expected 1-1-0)
On the road to: LAK, ANA, VEG (Expected 2-1-0)
At home to: WPG (Expected 1-0-0)
Overall expected result: 8-5-1, 17 points in 14 games
Current results: 0-0-0
The Oilers hammered my prediction last month, so I'm a little more aggressive this time. Nothing crazy, but if the team covers this bet they'll end February 35-23-7, good for 77 points in 65 games. That projects to 97 points, and would result in playoffs.
OILERS 2019-20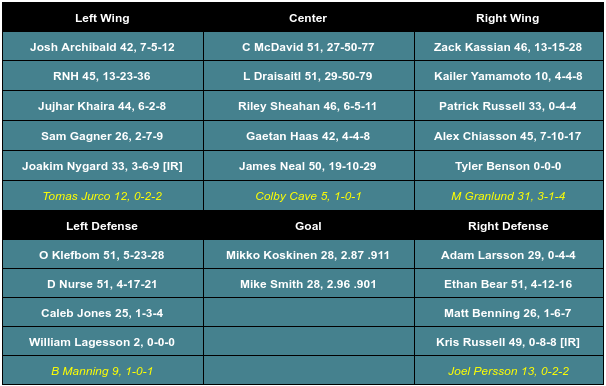 Coach Dave Tippett talked about keeping the same lineup tonight, meaning Tyler Benson and William Lagesson would sit. I see two possible changes, one a certainty and the other possible. Mike Smith will be in goal in Calgary. I think Jujhar Khaira might be in the pressbox, meaning Benson could see action (James Neal is questionable). All numbers five on five and via Natural Stat Trick.
LINE 1 Josh Archibald-Connor McDavid-Zack Kassian played 13:30, going 17-13 Corsi, 6-8 shots, no goals and 3-3 HDSC.
Josh Archibald scored a gorgeous empty-net goal, had one shot, 1-1 GV-TK and worked hard all night. Connor McDavid had three takeaways, won 11 of 19 faceoffs and needs a linemate shuffle. Zack Kassian had two HDSC. This line needs a twist.
LINE 2 Nuge-Leon Draisaitl-Kailer Yamamoto played 13:40, going 21-12 Corsi, 13-4 shots, 3-0 goals and 3-1 HDSC. This is the Oilers top line currently.
Nuge had two assists, five shots, one HDSC, and was determined in all areas. This might be the line he's been waiting to play on his entire life. Leon Draisaitl had two goals, five shots, one HDSC, two giveaways and won 14 of 24 in the circle. Kailer Yamamoto had an assist, a HDSC, two takeaways. His backhand pass to Leon for the winning goal was a thing of beauty.
LINE 3 Sam Gagner-Gaetan Haas-Alex Chiasson played 7:34, going 12-6 Corsi, 6-3 shots, no goals and 1-2 HDSC.
Sam Gagner recently reminds me of that period in the 2005-06 regular season when Michael Peca finally figured out what MacT wanted. Completely different players of course but Gagner had two shots, one HDSC, a takeaway and was aggressive. He's playing a little like Yamamoto and having success. Gaetan Haas has one thing he does very well now, that's getting in on the forecheck and arriving early. Great skill. He isn't doing anything offensively yet but that may come. Alex Chiasson had two shots, a penaly one giveaway and a takeaway, and some promising sorties but couldn't cash. One sequence saw him drive down the left wing and try to get a pass to the slot, but those St. Louis Blues defensemen are a wall on those plays.
LINE 4 Jujhar Khaira-Riley Sheahan-Patrick Russell played 6:58, going 8-11 Corsi, 3-4 shots, 0-2 goals and 0-4 HDSC.
Jujhar Khaira had another tough night, sending a pass back deeper into the Oilers zone instead of getting it out. Later, he had the puck on his stick seconds before the Blues scored the second goal, but had vapor lock. Every game he plays feels like it might be his last one in the organization. Khaira might have to head to the minors for a reset. Riley Sheahan had one shot, drew a penalty, won five of seven on the dot. Patrick Russell had a couple of hits, took a couple of hits, and did some good work along the offensive wall that didn't amount to any scoring opportunities.
PAIRING ONE Oscar Klefbom and Adam Larsson played 19:06, going 18-26 Corsi, 7-13 shots, 0-1 goals and 1-7 HDSC. Pairing faced the Perron-O'Reilly-Sanford line for over seven minutes, 3-10 shots and 1-5 HDSC. That line was a nightmare.
Oscar Klefbom had three shots on goal and played a sound two-way game under difficult circumstances. Adam Larsson was absolute filth, blocking shots and hammering Blues with abandon. I'm a fan. The GA for this pairing was the Perron goal, just wicked hand-eye by the Blues winger despite Oscar doing all he could. I thought this pairing had a fine game.
PAIRING TWO Darnell Nurse and Ethan Bear played 17:12, going 22-16 Corsi, 10-8 shots, 0-1 goals and 3-3 HDSC.
Darnell Nurse had four shots, one HDSC and skated miles. He had a late shot on goal that might have been enhanced if he had driven to the net before shooting. Instead, a harmless shot from the blue line. Ethan Bear had one shot, created a rebound but also had three giveaways. This pairing was on for the second goal, spent time chasing and had a brief chance to clear but Khaira couldn't corral the puck.
PAIRING THREE Caleb Jones and Matt Benning played 11:52, going 22-7 Corsi, 13-3 shots, 3-0 goals and 3-1 HDSC. What an incredible numbers set from a third pair.
Caleb Jones scored a goal, looked calm and played with confidence. Had three giveaways, that St. Louis forecheck is overwhelming. Matt Benning had an assist and is back to outscoring opponents. He's either a plus minus genius or the luckiest man alive.
GOALIE Mikko Koskinen had a fine night, stopping 30 of 32 shots, .938. Hadn't played in some time but made some great stops.
It's today! Join us around 7:15 for the pre-game Q&A, in the previous events this has been a great experience. It's a chance to talk about what you'd like to see in The Athletic, and honestly the coverage has changed because of your input in these sessions. We'll tell each other lies and watch a great hockey game. See you there!
JUJHAR KHAIRA
He had just two shifts after the Blues scored their second goal, but that's kind of overstating it because his linemates (Sheahan had just three, Russell just one) didn't play much either. Still, this feels like a player who requires what Craig MacTavish used to call a second opinion (a new start in a new town).
Last night, Edmonton's LW's were a hodgepodge and Khaira should have been one of the options for increased time. He played 14 shifts, trailing Nuge (23) and Archibald (22) badly, and a few shy of Gagner (17).