Oilers fans had a wild night while the team won on Tabernac Saturday in Calgary. It was an outstanding game, made even more impressive due to being the dreaded third game in four nights. That was a 'chicken soup for the soul' game for fans, an absolutely rocking 60 minutes that left everyone dizzy and satisfied. Who are these guys?
The Calgary Flames are a tough matchup for Edmonton, plus the agitating Matt Tkachuk seemed to get enough of the Oilers roster attention away from the obvious goal (two points!) to win the day. It was reversed last night. Edmonton were demons on the forecheck, Edmonton got off to the great start, Calgary reacted and the Flames burned out in spectacular fashion. What. a. game.
THE ATHLETIC!
The Athletic Edmonton features a fabulous cluster of stories (some linked below, some on the site). Great perspective from a ridiculous group of writers and analysts. Proud to be part of The Athletic, less than two coffees a month offer here.
OILERS AFTER 52 GAMES
Oilers in 2015-16: 21-26-5, 47 points; goal differential -17
Oilers in 2016-17: 28-16-8, 64 points; goal differential +14
Oilers in 2017-18: 23-25-4, 50 points; goal differential -27
Oilers in 2018-19: 23-24-5, 51 points; goal differential -15
Oilers in 2019-20: 28-18-6, 62 points; goal differential +7
This year's team is once again edging closer to the 2016-17 playoff team, something I didn't foresee happening a month ago. Edmonton's win last night means the team is solo second, two points ahead of the Flames with a game in hand.
ON THE TENS
First 10 games: 7-2-1
Second 10 games: 5-4-1
Third 10 games: 5-4-1
Fourth 10 games: 3-6-1
Fifth 10 games: 6-2-2
Current 10 games: 2-0-0
I said that the Oilers would cover the bet if the team could grab three points in the first three games. Well, they did that, and then won the final game to go 2-0-1 out of the box after the All-Star break. Exceptional.
OILERS IN FEBRUARY
Oilers in February 2016: 1-0-0, two points; goal differential +1
Oilers in February 2017: 0-1-0, 0 points; goal differential -2
Oilers in February 2018: 0-1-1, one point; goal differential -1
Oilers in February 2019: 0-0-1, 1 point; goal differential -1
Oilers in February 2020: 1-0-0, two points; goal differential +5
A monster start to February after a strong January. The Oilers are not following the scripts of previous seasons, thank God and Greyhound.
WHAT TO EXPECT IN FEBRUARY
On the road to: CAL, ARI (Expected 1-1-0) (Actual 1-0-0)
At home to: SJS, NAS, CHI (Expected 2-1-0)
On the road to: TBY, FLA, CAR (Expected 1-1-1)
At home to: BOS, MIN (Expected 1-1-0)
On the road to: LAK, ANA, VEG (Expected 2-1-0)
At home to: WPG (Expected 1-0-0)
Overall expected result: 8-5-1, 17 points in 14 games
Current results: 1-0-0, two points in one game
A brilliant start to a month that will see 14 games in 28 nights, there are some strong teams on the list but btb wins over St. Louis and Calgary represents a major accomplishment.
OILERS 2019-20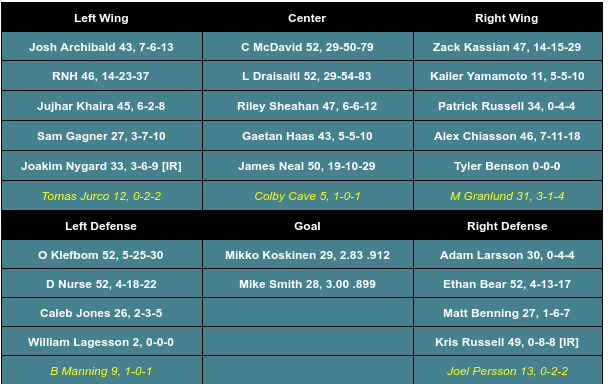 The top two lines had five goals and the bottom two lines popped two, the truth is there were no passengers. From the moment Nuge forced the play by aggressively forechecking through game's end, Edmonton was on its toes, Calgary on its heels. Music! All numbers NST and all numbers five on five unless noted.
LINE 1 Nuge-Leon Draisaitl-Kailer Yamamoto played 10:54, going 17-7 Corsi, 10-6 shots, 2-0 goals and 3-0 HDSC.
Ryan Nugent-Hopkins had a goal, five shots, two HDSC, forechecked like a demon, two takeaways, forced the issue at every turn. Leon Draisaitl had two assists (four in total), two shots, HDSC, two takeaways, won seven of 14. The big man leads the NHL in points. Kailer Yamamoto might have been the best player on the line. Seriously. His early goal combined anticipation, quickness, great hands and he didn't stop there. Went 1-1-2 on the night, three shots, HDSC, penalty, two takeaways, and was a gigantic pain in the ass on the forecheck. My goodness what a hockey player.
LINE 2 Josh Archibald-Connor McDavid-Zack Kassian played 9:45, going 7-11 Corsi, 4-6 shots, 1-1 goals and no HDSC.
Josh Archibald had an assist, drew a penalty, and played a major role on the line's goal. McDavid tied up the Calgary defender along the wall, allowing Archibald to grab it, use his time to find Kassian and send a lovely pass to 44, who cashed. Archibald has great utility. Connor McDavid scored a goal, had two shots, HDSC, and a power play goal. He brought all of the usual hammer of the God skills, but also a physical element. Awesome game. Notice his shot is finding the twine more often this year. Don't know if it's a harder shot, quicker release or if he's changing angles, but he's scoring from longer ranger this year to my eye. Made Noah Hanifin look like a saloon door. Kassian scored an early goal, had two shots and two giveaways. What's more, he showed great maturity in not getting involved in the extra curricular activities that were going on. Impressive night.
LINE 3 Sam Gagner-Gaetan Haas-Alex Chiasson played 8:55, going 9-6 Corsi, 9-5 shots, 1-1 goals and 2-4 HDSC.
This trio did good things all night, even before the two goal breakout in the third period. Sam Gagner had two shots and two HDSC, and at four on four scored on a nice shot. He's found a way to make himself valuable. Gaetan Haas had an assist, two shots, drew a penalty and won two of eight on the dot. He scored on a penalty shot, after having been mugged on the way to the net. Alex Chiasson had an assist, two shots and a HDSC. He has been delivering more often offensively of late.
LINE 4 Jujhar Khaira-Riley Sheahan-Patrick Russell played 8:55, going 11-7 Corsi, 7-3 shots, no goals and 3-1 HDSC.
Jujhar Khaira drew a penalty and played 1:34 effective minutes on the PK. Had the first fight of the night against Swift Buddy Robinson. Riley Sheahan had an assist, two shots, a takeaway and won two of nine in the dot. He was effective with the puck on his stick and probably should have been awarded with a couple of extra assists. Patrick Russell had six shots (!!) three HDSC (!!) and drew a penalty. A wonderful game from the fourth line.
PAIRING ONE Darnell Nurse and Ethan Bear played 15:52, going 22-11 Corsi, 12-8 shots, 1-1 goals, 4-0 HDSC. Spent almost 13 of the 16 minutes with 97 or 29's line.
Darnell Nurse had two shots, took a penalty and picked up an assist on the power play. Slammed Tkachuk into the middle of next week and hauled ass to get to the bench to allow 97 the opportunity for his second goal. Ethan Bear had an assist, two shots and a giveaway. Also fought Matt Tkachuk.
PAIRING TWO Oscar Klefbom and Adam Larsson played 14:48, going 15-8 Corsi, 12-4 shots, 2-0 goals and 6-3 HDSC. Spent about 11 of 15 minutes with either 97 or 29.
Oscar Klefbom had an assist (two in total), a shot, HDSC and a giveaway. He played a strong game again, although I read a few comments about his indifferent play, but remember injuries early in the season have impacted foot speed. Adam Larsson had a strong game defending, wasn't as filthy as normal but this was the third game in four nights.
PAIRING THREE Caleb Jones and Matt Benning played 12:07, going 15-11 Corsi, 14-7 shots, 2-0 goals and 2-2 HDSC.
Caleb Jones scored a goal and had three shots, he lost his mark on the Buddy Robinson goal but you're going to have those things happen with rookies. The first two games for this pairing have been splendid. Matt Benning had a shot, defended well and helped keep this pairing out of danger.
GOALIE Mike Smith stopped 15 of 18, .833. Also got into a fight and delivered an epic hair flip that should be a meme by noon. Mikko Koskinen came in for the third period and stopped all eight shots he faced, including two HDSC.
Quick thoughts
I suggested three points out of these first three games would be reasonable, the Oilers grabbed five of six. Outstanding. Credit the players and the coaching staff, that was one of the best games I've seen from this Oilers team since the 2005-06 squad delivered brilliance each game. Enjoy this, savor it. What are these guys?
THE ATHLETIC EVENT
I have to say these events are awesome for me. I get to meet folks who have been reading or listening for years, and have connections to the game (met a young man whose father was an outstanding NHL ref for years) that remind me of just how important the game is to all of us. There's another event on the way, sincere thanks for coming out, and thanks to Allison Currie who was an outstanding host.