Ken Holland likes old people, and it's already having an impact on the roster. Veterans 27 and older are on track to play over 500 man games this season, an increase over last year (412). At the same time, the department of youth (age 18-22) is on pace to play 222 games, the lowest total in five years. This is not a drill. The Edmonton Oilers are growing up.
THE ATHLETIC!
The Athletic Edmonton features a fabulous cluster of stories (some linked below, some on the site). Great perspective from a ridiculous group of writers and analysts. Proud to be part of The Athletic, less than two coffees a month offer here.
MCDAVID CLUSTER (18-22)
Jesse Puljujarvi and Evan Bouchard should and will (respectively) be part of this cluster, replacing all the home runs created with Leon Draisaitl graduating. A year ago, this cluster was six deep, and may increase in total by year's end (Bouchard, Tyler Benson). However, with Draisaitl moving to the 'peak' cluster, the falloff from past seasons is drastic:
2015-16: 411 games, 63-125-136 .331 points-per-game; .153 goals-per-game
2016-17: 409 games, 80-170-250 .611 points, .196 goals
2017-18: 334 games, 85-146-231 .692 points, .254 goals
2018-19: 253 games, 98-141-239 .945 points, .387 goals
2019-20: 141 games, 40-71-111 .787 points, .284 goals
The most efficient McDavid cluster was a year ago, with 97-29 delivering 91 goals. That's enormous offense from a sliver of the roster. Don't think about it, it'll drive you insane. The gap is Draisaitl. He graduated. Puljujarvi was poorly developed and we are here. The emergence of Bear, Jones and Yamamoto is wildly encouraging. Need more. Benson? Bouchard? What happened to Marody? Under Holland, this category might not get to 150 man games next season.
THE PRIME CLUSTER (23-26)
2015-16: 485 games, 68-96-164 .338 points and .140 goals
2016-17: 515 games, 72-123-195 .379 points and .140 goals
2017-18: 717 games, 101-133-234 .325 points and .141 goals
2018-19: 778 games, 71-165-236 .303 points and .091 goals
2019-20: 487 games, 73-153-226 .464 points and .150 goals
This year's prime cluster will be the best in the five year run we're looking at, that's a positive. It'll be even better a year from now when McDavid moves to this part of the depth chart. The key will be having enough pushing up from the young group, and, perhaps for the first time in one forever, a veteran group that has enough quality to help the Oilers make the playoffs and get deep into spring.
THE VETERAN CLUSTER (27+)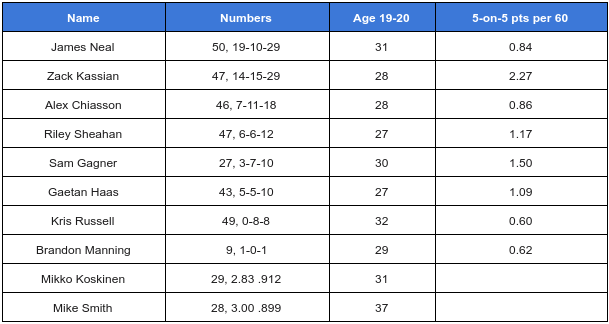 2015-16: 667 games, 68-122-190 .285 points and .102 goals
2016-17: 640 games, 91-117-208 .325 points and .142 goals
2017-18: 515 games, 43-105-148 .287 points and .083 goals
2018-19: 412 games, 54-59-113 .274 points and .131 goals
2019-20: 318 games, 55-62-117 .368 points and .173 goals
The veteran group is the hole where the money goes, but RNH, Klefbom, Larsson and others join this cluster next year. For years now the Oilers have cut off this arm of the roster. Taylor Hall and Jordan Eberle would be here but Edmonton has been shooting veterans out of a cannon since Ryan Smyth.
As a comparison, Calgary's 27+ group includes Mark Giordano, Derek Ryan, Mikael Backlund, Travis Hamonic, TJ Brodie and David Rittich.
NEXT YEAR'S CLUSTERS
18-22: Kailer Yamamoto, Evan Bouchard, Tyler Benson
23-26: Connor McDavid, Leon Draisaitl, Darnell Nurse, Matt Benning, Ethan Bear, Caleb Jones
27+: Ryan Nugent-Hopkins, Adam Larsson, Oscar Klefbom, Zack Kassian, Mikko Koskinen
That looks more balanced, and if the Oilers can resist dealing Nuge and Klefbom (I think Larsson is a candidate for trade), then this veteran group is going to be a big factor next year.
I think it goes even deeper than that. When we talk about the trade deadline, all options are 27+ (of course) and free agency is same. Taylor Hall, Chris Kreider, Mike Hoffman, Jean-Gabriel Pageau, Tyler Toffoli could all be targets this summer.
Trade targets might be veterans with a year left on their deals. Men like Brandon Saad, Travis Zajac and Tomas Tatar may be available now if the right offer is made.
LOWDOWN WITH LOWETIDE
At 10 this morning, TSN1260. Guests include Chris Meaney from The Athletic to talk Super Bowl, and the return of Jason Gregor to talk about his beloved Chiefs winning it all. He'll also break down a classic win by the Oilers in Calgary on Saturday night. Best part of the show is your input, so send those clever words to text 10-1260 and twitter @Lowetide. See you on the radio!