The Oilers arrived in the Sonoran Desert with no passengers and a gigantic amount of momentum. The nature of the Pacific Division this season suggests that counts for doodly squat, but my goodness the Oilers were impressive last week in Alberta. Can this team keep it going?
THE ATHLETIC!
The Athletic Edmonton features a fabulous cluster of stories (some linked below, some on the site). Great perspective from a ridiculous group of writers and analysts. Proud to be part of The Athletic, less than two coffees a month offer here.
OILERS AFTER 53 GAMES
Oilers in 2015-16: 21-27-5, 47 points; goal differential -21
Oilers in 2016-17: 28-17-8, 64 points; goal differential +12
Oilers in 2017-18: 23-26-4, 50 points; goal differential -28
Oilers in 2018-19: 23-25-5, 51 points; goal differential -19
Oilers in 2019-20: 28-18-6, 62 points; goal differential +7
Edmonton's most recent run (8-2-2 in the last 12) and spike in goal differential create a handsome record through 52 games. With 30 games to go, the Oilers could tread water (point per game) and finish with 92 points. Don't recommend it.
ON THE TENS
First 10 games: 7-2-1
Second 10 games: 5-4-1
Third 10 games: 5-4-1
Fourth 10 games: 3-6-1
Fifth 10 games: 6-2-2
Current 10 games: 2-0-0
Easy to get greedy, but this season's 10-game segments have just one clunker and the current 10 is off to a tremendous start.
OILERS IN FEBRUARY
Oilers in February 2016: 1-1-0, two points; goal differential -4
Oilers in February 2017: 0-2-0, 0 points; goal differential -3
Oilers in February 2018: 1-0-1, three points; goal differential +3
Oilers in February 2019: 0-0-2, two points; goal differential -2
Oilers in February 2020: 1-0-0, two points; goal differential +5
Edmonton in February has had some success, but early in the month during the McDavid era is a mixed bag. Check out the playoff team and 0-2! None of the four previous clubs hit it out of the park, so opportunity knocks.
WHAT TO EXPECT IN FEBRUARY
On the road to: CAL, ARI (Expected 1-1-0) (Actual 1-0-0)
At home to: SJS, NAS, CHI (Expected 2-1-0)
On the road to: TBY, FLA, CAR (Expected 1-1-1)
At home to: BOS, MIN (Expected 1-1-0)
On the road to: LAK, ANA, VEG (Expected 2-1-0)
At home to: WPG (Expected 1-0-0)
Overall expected result: 8-5-1, 17 points in 14 games
Current results: 1-0-0, two points in one game
I have the Oilers grabbing 17 points this month, if this group delivers it will be the most successful February since 97 arrived. The 2015-16 (7 points in 14 games), 2016-17 (12 points in 12 games), 2017-18 (11 points in 13 games) and 2018-19 (12 points in 14 games) editions all failed to exceed a point per game.
OILERS 2019-20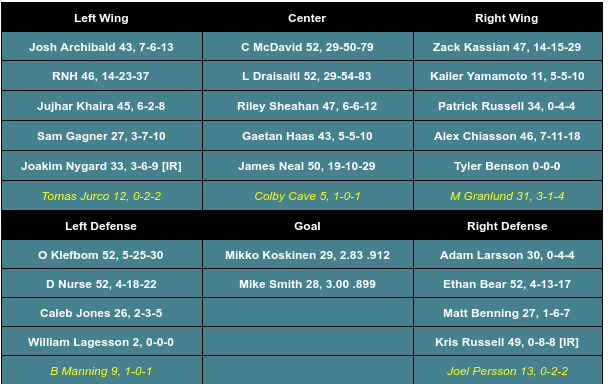 No idea about James Neal or Tyler Benson, we do know coaches don't like to mess with a lineup that is winning. I would run Koskinen out there tonight, but Dave Tippett has shown a preference for Smith. Question: Is Yamamoto the next forward to reach 10 goals?
2019-20 BAKERSFIELD CONDORS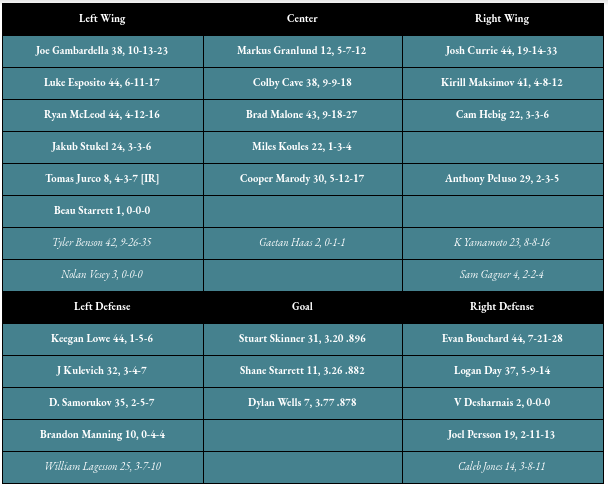 We haven't chatted about the Condors since the Benson recall, partly because there is now a 'last one out turn off the lights' feel to this year's team. Beyond Evan Bouchard and Dmitri Samorukov, who do you count as a strong prospect? I'll suggest Stuart Skinner is spiking right now, Ryan McLeod and Kirill Maksimov are showing some signs. There isn't a lot left now that Yamamoto, Benson, Jones and Lagesson have flown the coop. Jay Woodcroft and his brilliant staff have their work cut out for them this season. Thanks to Wilde for lines and pairings.
TONIGHT
Teams get into these good grooves and want to ride them for a long time. I don't know that the Oilers win tonight, Arizona is a talented team. However, when a team comes to the end of a winning streak, there are usually signs that fortunes are about to turn. Lucky plays, bad habits, heroic goalies sometimes extend a winning streak even though the team has stopped playing well.
None of that is in evidence with this team. The Edmonton Oilers are playing well. Full stop.
TRADE DEADLINE
Although we agreed long ago about the (lack of) value in winning faceoffs, it can be a royal pain in the ass for about eight seconds when you lose them. This season's centers have been good, bad and indifferent in the dot: Leon Draisaitl 50. 5 percent in 864 sorties; Riley Sheahan 50.1 percent in 55 sorties; Connor McDavid 47.0 percent in 525 sorties; Nuge leading the way with 50.9 percent winning percentage but has only entered the battle 381 times.
Gaetan Haas is the outlier, just 40.5 percent in 304 attempts. I think the Oilers will be looking for a faceoff man at the deadline.
LOWDOWN WITH LOWETIDE
A packed show today, TSN1260, starting at 10 this morning. Jonathan Willis from The Athletic will preview tonight's game from the Edmonton side, we'll chat about that killer second line, the third pairing and Tyler Benson's possible debut. Andrew Peard and Corey Graham pop in at 11 to talk Edmonton Oil Kings, Sebastian Cossa, Jake Neighbours and the next OK game on Friday. Craig Morgan from The Athletic Arizona joins us at 11:20 to chat Taylor Hall, injuries and this crazy Pacific Division. 10-1260 text, @Lowetide on twitter. Talk soon!