Mikko Koskinen has played 80 minutes in February 2020, facing 34 shots, stopping 32 (.941). His save percentage for the season is .913, that ranks No. 15 (tie) among goalies with 20 or more starts this season. His running mate, Mike Smith, is at .899 (No. 39 among 47 starters). Koskinen gave his team all the time the law would allow to get back into the game last night, but no sale.
Fans get frustrated over games like last night, but they happen to all teams. These Oilers have plenty of natural talent, but not so much of it that every night can be turned around after two periods. In a way, older Oilers fans are spoiled, because there's always that easy memory jog back to the place where miracles were every day. That was yesterday, and yesterday's gone.
THE ATHLETIC!
The Athletic Edmonton features a fabulous cluster of stories (some linked below, some on the site). Great perspective from a ridiculous group of writers and analysts. Proud to be part of The Athletic, less than two coffees a month offer here.
OILERS AFTER 53 GAMES
Oilers in 2015-16: 21-27-5, 47 points; goal differential -21
Oilers in 2016-17: 28-17-8, 64 points; goal differential +12
Oilers in 2017-18: 23-26-4, 50 points; goal differential -28
Oilers in 2018-19: 23-25-5, 51 points; goal differential -19
Oilers in 2019-20: 28-19-6, 62 points; goal differential +5
One loss isn't going to have much of an impact after so many good things over the first 50 games of the season. Edmonton has a nice schedule ahead this week and should be able to recover quickly. It might mean we see Tyler Benson on Thursday night.
ON THE TENS
First 10 games: 7-2-1
Second 10 games: 5-4-1
Third 10 games: 5-4-1
Fourth 10 games: 3-6-1
Fifth 10 games: 6-2-2
Current 10 games: 2-1-0
It seems likely Edmonton will avoid another 3-6-1 this month. If the Oilers go 5-4-1 the rest of the way, and split games 81 and 82, the final record will be 42-31-9, 93 points. Will that be enough for the playoffs?
OILERS IN FEBRUARY
Oilers in February 2016: 1-1-0, two points; goal differential -4
Oilers in February 2017: 0-2-0, 0 points; goal differential -3
Oilers in February 2018: 1-0-1, three points; goal differential +3
Oilers in February 2019: 0-0-2, two points; goal differential -2
Oilers in February 2020: 1-1-0, two points; goal differential +3
As was the case in January, the Oilers February past features no dynasties in sight. The playoff team began the month flat before heading in a better direction.
WHAT TO EXPECT IN FEBRUARY
On the road to: CAL, ARI (Expected 1-1-0) (Actual 1-1-0)
At home to: SJS, NAS, CHI (Expected 2-1-0)
On the road to: TBY, FLA, CAR (Expected 1-1-1)
At home to: BOS, MIN (Expected 1-1-0)
On the road to: LAK, ANA, VEG (Expected 2-1-0)
At home to: WPG (Expected 1-0-0)
Overall expected result: 8-5-1, 17 points in 14 games
Current results: 1-1-0, two points in two games
I had the Calgary game as a loss, with Edmonton winning in Arizona. I have wins against San Jose and Chicago on the home stand.
OILERS 2019-20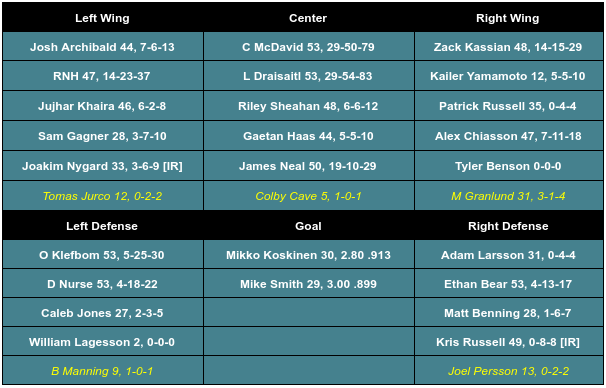 I'm not going to run the stats, the lines were a complete mess but everything you'll want to see is here at NST. Connor McDavid was on three of them, featuring Archibald-Kassian, Drasaitl-Yamamoto and Gagner-Chiasson with 97 in the middle. Nothing rhymed.
Ethan Bear made an errant pass and the Coyotes jumped on the opportunity, Taylor Hall making a lovely pass to set up the winner. Oscar Klefbom's shot ricko-shatted off various bones and a jailbreak later the Oilers were down 2-0.
What was missing from this game were the one or two power play goals, the aggressive forechecking that led to a turnover and a goal. Edmonton's sorties were not effective. Dave Tippett (rightly) mentioned the three strong games played last week and confirmed the gas was on low in the desert last night. Perhaps the evening was summed up best when Leon was hit dead solid perfect by a Coyotes defender and dropped like a rock. Normally that scene plays out with Draisaitl breaking through with the puck, shrapnel everywhere. It wasn't quite Santo and Johnny but it was close.
CURRENT STANDINGS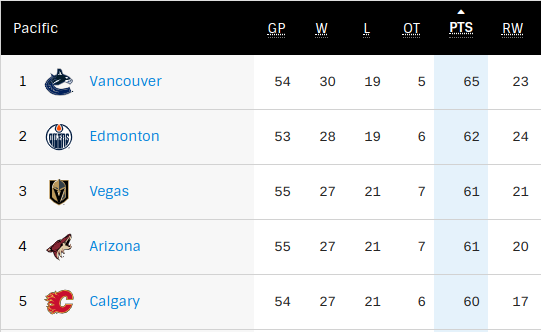 I think four teams make it, so the key is to stay in this gang of five. Arizona would have been in a world of hurt last night with a loss, the Coyotes played a strong game. Taylor Hall's brilliant pass on the first goal is the kind of creativity we see from the Oilers most nights. The team in a little bit of trouble today is Calgary. A point behind the Coyotes and Vegas, with a game in hand, but the Giordano news will be massive. Puck IQ tells us he plays 38.9 percent of his five on five time against elites (Ethan Bear leads Edmonton with 36.5) so any time away will have an impact.
THE NEXT NURSE DEAL
Bob McKenzie says "talks have been progressing" between the Oilers and Darnell Nurse. The Oilers can't sign Nurse long term so are looking for a two-year deal with the cap number starting with a $5M.
It makes sense on all kinds of levels but I think it also increases the chances that Nurse gets dealt before the next contract. The cap over the next two years is limited and there's an expectation we'll see a major lift by 2022-23. Edmonton will be talking extension summer 2021, and if things have changed then both sides will be dealing with the new reality. The best laid plans and all that. If a long term deal was available in the low 6's (say six years times $6.25 million) it would set up the relationship long term. The two-year scenario comes with some risk.
LOWDOWN WITH LOWETIDE
At 10 this morning, TSN1260. Bruce McCurdy from the Cult of Hockey at the Edmonton Journal will discuss last night's game and possible deadline moves. We'll chat MLB with Jared Diamond from the Wall Street Journal as things are heating up with trade talks. 10-1260 text, @Lowetide on twitter. It's a gas!