My favourite game between the San Jose Sharks and Edmonton Oilers took place on May 10, 2006. I remember it as the 'Shawn Horcoff scores in overtime' game but the rest of the world remembers Dwayne Roloson's theft of Jonathan Cheechoo. It's all here.
I grew up outside of wealth, which in Canada is very much like growing up with wealth. Or at least it used to be. Because my family didn't roll down to Disneyland, or fly to Nova Scotia to see a total eclipse of the sun, God gave me an active imagination. If you give me the boxscore of that game, I can recreate it for you, even down to the strange hug Matt Greene gave Horcoff (strange because the names seemed to spell "Brewer" and I was confused for a moment, 14 years ago) in the seconds after he scored the overtime winner.
There's a lot of imagination in being a hockey fan. No promises, but it's beginning to look like a playoff party could be coming to town in April. Music!
THE ATHLETIC!
The Athletic Edmonton features a fabulous cluster of stories (some linked below, some on the site). Great perspective from a ridiculous group of writers and analysts. Proud to be part of The Athletic, less than two coffees a month offer here.
OILERS AFTER 54 GAMES
Oilers in 2015-16: 21-28-5, 47 points; goal differential -28
Oilers in 2016-17: 28-18-8, 64 points; goal differential +11
Oilers in 2017-18: 23-27-4, 50 points; goal differential -29
Oilers in 2018-19: 24-25-5, 53 points; goal differential -17
Oilers in 2019-20: 28-19-6, 62 points; goal differential +5
The playoff team of 2016-17 had a tough start to February before hammering everything that moved like the lead singers of the 1964 British invasion. This year's team is in an excellent spot this morning.
ON THE TENS
First 10 games: 7-2-1
Second 10 games: 5-4-1
Third 10 games: 5-4-1
Fourth 10 games: 3-6-1
Fifth 10 games: 6-2-2
Current 10 games: 2-1-0
We're reaching the point now where only a truly bad 10-game run could derail the playoff train. I don't see it, to be honest. The Oilers have cracks and holes, but the roster has found a way to survive with McDavid off. In fact, the recent trends in this area are impressive.
OILERS IN FEBRUARY
Oilers in February 2016: 1-2-0, two points; goal differential -8
Oilers in February 2017: 1-2-0, two points; goal differential -3
Oilers in February 2018: 1-1-1, three points; goal differential +2
Oilers in February 2019: 0-1-2, two points; goal differential -6
Oilers in February 2020: 1-1-0, two points; goal differential +3
Since January 1, at five on five, the Oilers are 9-8. With McDavid off the ice at five on five, the answer is 21-14. Music! Now, about 97's linemates.
WHAT TO EXPECT IN FEBRUARY
On the road to: CAL, ARI (Expected 1-1-0) (Actual 1-1-0)
At home to: SJS, NAS, CHI (Expected 2-1-0)
On the road to: TBY, FLA, CAR (Expected 1-1-1)
At home to: BOS, MIN (Expected 1-1-0)
On the road to: LAK, ANA, VEG (Expected 2-1-0)
At home to: WPG (Expected 1-0-0)
Overall expected result: 8-5-1, 17 points in 14 games
Current results: 1-1-0, two points in two games
Since January 1 the Oilers (30-22) have outscored San Jose (22-23) at five on five, on the power play (7-1 Edmonton, 6-2 San Jose) and penalty kill (2-5 Oilers and 1-6 San Jose). Aaron Dell's save percentage (.943) since January 1 (in 10 games) is better than Mikko Koskinen (.925 in four games) or Mike Smith (.915 in eight games).
OILERS 2019-20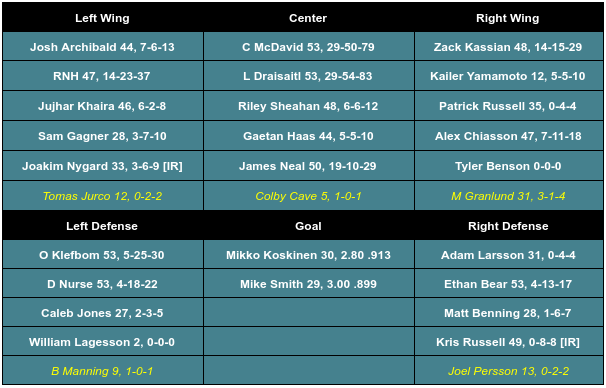 Tyler Benson could make his NHL debut tonight, the Oilers lost the last game and it isn't difficult to identify candidates who earned a healthy scratch in Phoenix.
At the same time, Connor McDavid's line has been a little stale of late, so there's a natural thought that puts the rookie on 97's line tonight (maybe with James Neal on the right side).
In the Arizona game, McDavid played most of the first period with Zack Kassian and Josh Archibald, but did run with Sam Gagner and Alex Chiasson for a time.
In the middle of the second period he threw Leon Draisaitl and Kailer Yamamoto out there with the captain. Later Alex Chiasson and Josh Archibald drew in.
I'm not really going anywhere with this, beyond the fact that Dave Tippett is making these conversations fun again. It's been some time. I mean, it's a genuine curio for me to see the lines in practice today. There's going to be a surprise I bet, some wrinkle or tweak that offers insight into what he's looking for. Benson-McDavid-Neal? Neal-McDavid-Yamamoto? Don't know. Am intrigued.
CONDORS 2019-20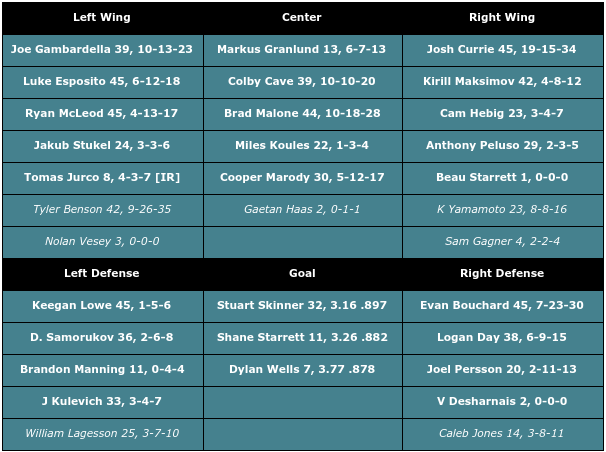 Evan Bouchard is taking over this team now, he's involved in every game. His turnaround took place around Christmas. On December 22, he was 27, 3-12-15 with an on-ice goal differential of -10 (21-31).
Since Christmas, he's 18, 4-11-15 with an on-ice goal differential of +4 (15-11).
Stuart Skinner has been a different goaltender since January 1. In 12 games, he has a goals against average of 2.39 and a save percentage of .925. This is a strong surge and has been going on for some time. Edmonton develops NHL goalies at the rate of one per decade, and the 2010's are waiting for an answer. Maybe it's Skinner.
LOWDOWN WITH LOWETIDE
At 10 this morning, TSN1260, we have a big show for a massive day. Eric Fawcett (North Pole Hoops, NBA Canada, Gator Country) will guide us through the final moments of the NBA trade deadline. Frank Seravalli from TSN will give us an update on the NHL trade bait list, Alex Ovechkin's phenomenal goal-scoring week and we'll chat about the Pacific Division and Edmonton's place in the standings. 10-1260 text, @Lowetide on twitter. We hit the air at 10!