The Edmonton Oilers are in a real live playoff race and finding out things about the team good and bad in real time. It is, as we have discussed all season, a club that will either finish in the playoffs or close. We've seen the "or close" portion this week and it's not an especially enjoyable experience.
This is a team with significant roster issues but also tremendous gifts, but the coach needs to be able to count on hard work from 21 players.
Work ethic and attention to detail can't take a holiday. Both have been absent against the Coyotes and the Sharks. That's life, every team loses it and then grabs it back in the Bettman NHL. The margin between winning and losing is razor thin, I've never seen a division where no team can get the hell out of its own way with such consistency.
The trick is to make sure those downbeats don't last long. The game against Nashville is a big one. Ken Holland needs to add, a skill winger for McDavid and a No. 3 centre.
THE ATHLETIC!
The Athletic Edmonton features a fabulous cluster of stories (some linked below, some on the site). Great perspective from a ridiculous group of writers and analysts. Proud to be part of The Athletic, less than two coffees a month offer here.
OILERS AFTER 54 GAMES
Oilers in 2015-16: 21-28-5, 47 points; goal differential -28
Oilers in 2016-17: 28-18-8, 64 points; goal differential +11
Oilers in 2017-18: 23-27-4, 50 points; goal differential -29
Oilers in 2018-19: 24-25-5, 53 points; goal differential -17
Oilers in 2019-20: 28-20-6, 62 points; goal differential +2
There's no doubt at all we're going to see some shuffle on the lines and pairings for tomorrow night but I think there are other forces at play. Do you remember December? When the Oilers were playing every second night? We're back to that kind of schedule and the results are similar.
ON THE TENS
First 10 games: 7-2-1
Second 10 games: 5-4-1
Third 10 games: 5-4-1
Fourth 10 games: 3-6-1
Fifth 10 games: 6-2-2
Current 10 games: 2-2-0
I don't know how a team that lacks balance and depth can overcome those shortcomings, but the Oilers will need to survive and bank as many points as possible.
OILERS IN FEBRUARY
Oilers in February 2016: 1-2-0, two points; goal differential -8
Oilers in February 2017: 1-2-0, two points; goal differential -3
Oilers in February 2018: 1-1-1, three points; goal differential +2
Oilers in February 2019: 0-1-2, two points; goal differential -6
Oilers in February 2020: 1-2-0, two points; goal differential 0
The trade deadline is on the horizon, but the approach to that point in the season can change with an extended losing streak.
WHAT TO EXPECT IN FEBRUARY
On the road to: CAL, ARI (Expected 1-1-0) (Actual 1-1-0)
At home to: SJS, NAS, CHI (Expected 2-1-0) (Actual 0-1-0)
On the road to: TBY, FLA, CAR (Expected 1-1-1)
At home to: BOS, MIN (Expected 1-1-0)
On the road to: LAK, ANA, VEG (Expected 2-1-0)
At home to: WPG (Expected 1-0-0)
Overall expected result: 8-5-1, 17 points in 14 games
Current results: 1-2-0, two points in three games
I had last night as a win and the Nashville game as the loss during this home stand. Maybe that's a blessing. Edmonton seems to get up for the better teams.
OILERS 2019-20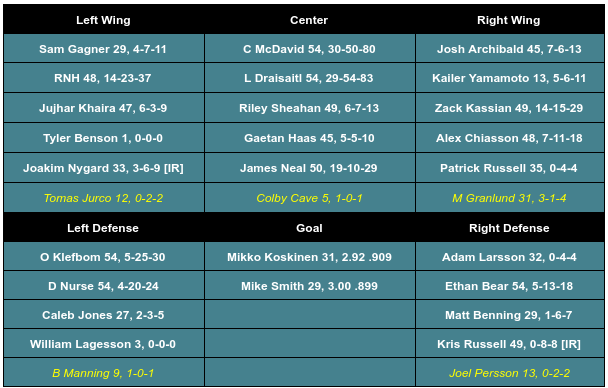 Tyler Benson made his NHL debut, it got lost in all the excitement. He is the thirtieth man to play for the Oilers this season. All numbers NST and five on five unless noted.
LINE 1 Sam Gagner-Connor McDavid-Josh Archibald played 6:58, going 8-6 Corsi, 6-3 shots, 1-1 goals and 3-2 HDSC.
Sam Gagner scored a fine goal early, had five shots but also two giveaways. Connor McDavid had a goal, four shots, two HDSC and two giveaways. He was the F1 on the Letunov goal, he can't peel off on that sortie. Josh Archibald had two high danger chances and once again played a responsible game. He did get punted in favor of Zack Kassian later in the game, that trio going 4-3 Corsi in 5:37.
LINE 2 Ryan Nugent-Hopkins-Leon Draisaitl-Kailer Yamamoto played 11:25, going 6-10 Corsi, 6-6 shots, 0-1 goals and 0-3 HDSC. This line isn't forechecking as much and so are chasing more. I expect we see a shuffle soon.
Nuge had three shots, the first one a good look right at the beginning of the game. Had two takeaways. Leon Draisaitl had a shot, a giveway plus a takeaway, went six of 10 on the dot. It's silly to complain about a quiet night from the league's leading scorer. Kailer Yamamoto had an assist, a giveaway and a takeaway, and should have drawn a penalty but it was one of those nights.
LINE 3 Jujhar Khaira-Riley Sheahan-Zack Kassian played 6:16, going 5-7 Corsi, 2-6 shots, no goals and 2-3 HDSC.
Jujhar Khaira had an assist and a takeaway, although the assist isn't appearing in the game summary just before midnight. Riley Sheahan had an assist, two shots and two HDSC. You can make a case for him as the best forward for Edmonton last night. Zack Kassian had one shot, a couple of good looks and a takeaway plus giveaway. He isn't playing well.
LINE 4 Tyler Benson-Gaetan Haas-Alex Chiasson played 6:10, going 10-1 Corsi, 4-1 shots, no goals and 1-0 HDSC.
Tyler Benson had some good moments in his NHL debut, including an early shot on goal that produced a solid rebound and a late chance that could have cashed. Finished with two shots and one HDSC. Gaetan Haas had one HDSC and won three of four in the faceoff circle. Alex Chiasson didn't get a lot done, but he grabbed that Benson rebound early. A little late on the back check too, and the Sharks are no bullet trains.
PAIRING ONE Darnell Nurse and Ethan Bear played 18:18, going 24-17 Corsi, 16-10 shots, 3-1 goals and 5-4 HDSC.
Darnell Nurse took a costly penalty by heaving his stick to Koskinen, one of the more unusual calls we've seen this year. He had two assists, three giveaways. Ethan Bear scored a gorgeous goal and a takeaway. This pairing had a great deal of success on a tough night.
PAIRING TWO Oscar Klefbom and Adam Larsson played 14:01, going 10-10 Corsi, 6-4 shots, 0-1 goals and 1-2 HDSC.
Oscar Klefbom had three shots, HDSC, 4 pims, drew a penalty, takeaway, giveaway. He was not sharp and was 'also in photo' in a bad way. Allowed Patrick Marleau to tie him up on the first Meier goal. Adam Larsson had a tough night, specifically in front of the net where he is normally a strong deterrent. His play on the Letunov goal was poor.
PAIRING THREE William Lagesson and Matt Benning played 9:34, going 11-15 Corsi, 5-7 shots, 0-1 goals, 3-3 HDSC.
William Lagesson had three shots and blocked a couple too. Matt Benning didn't have his usual impact on the numbers, passing was off and chasing was a big part of his evening.
GOALIE Mikko Koskinen stopped 25 of 31, .806. He didn't have a good night but the Sharks were tipping shots like prime Ryan Smyth. The Noesen goal was kind of insane, went straight up in the air and no Oiler could find it. He'll want to be better.
GOALS AGAINST
The first GA started well enough, Adam Larsson marking his man down low, with Barclay Goodrow using the net to shake him. A pass through the slot was well shadowed, Yamamoto especially notable for marking No. 28 (Timo Meier). Puck back to the left point, Dillon to Burns, Marleau ties up Klefbom who can't box Meier and a helluva tip by him makes it 1-0. No fault on goaltender.
Second goal (on the PP) against starts well enough, Oilers are in good spots around the blue line as Kane approaches. He sends it left wall for Burns, Bear in pursuit and Archibald marking Kane. Burns beats two Oilers in order to get the puck back to Karlsson, who sends it far right wall midway to Thornton. Thornton sends a stunning pass through sticks to Burns, who shoots it (off Bear) and into the net. Kane gets credit, meaning it was tipped twice. No fault on goalie.
Third goal starts as a trad two-on-two and with speed from San Jose. Marcus Sorensen takes Adam Larsson to the outside (left-wing side) 10 feet inside the Edmonton blue line. He gets a small gap but there isn't much to see, as Letunov is well marked by Darnell Nurse. However, Erik Karlsson has emerged as the third Shark with McDavid in the trail position for the Oilers and Sorensen makes a lovely pass to Karlsson, who gets a good look. Nurse and Larsson, two men paid for their work in front of the net, do the swim while the youngster Letunov finds the puck and buries it. Koskinen was not able to recover after the Larsson shot, you want him to be more in control and ready for the second shot.
Fourth goal against begins with Edmonton in good shape everywhere, Melker Karlsson with the puck entering the Edmonton zone right side. He slips the puck to the corner and enters the area alone, as Edmonton was slow to react (Bear finally offering some push back). He passes the puck to Alexander True (great name) behind the net, who is being contested physically by Oscar Klefbom. Puck goes WAY up in the air, Stefan Noesen finds it before Klefbom, Koskinen and McDavid, and cashes. Koskinen needs to find the puck, McDavid slow to identify as well.
Fifth goal starts with an Oilers line change and Kevin Lebanc handling the puck in the neutral zone. Once again, Oilers in good defensive position. It's funny watching so many goals in one night occur after starting in a good spot. Lebanc takes a low percentage shot from 15 feet inside the Edmonton blue line and chases the rebound with both Matt Benning and William Lagesson. None of the three can do one damn thing with the puck, leaving Timo Meier a great look from the faceoff dot. Uncontested. He beats Koskinen, Leon not really covering but in photo. For a goal scorer, that's a great area, Koskinen may feel he should have had it.
Sixth goal against begins with Timo Meier in possession of the puck in Edmonton's zone, far left hand side and deep. He slides up the wall and sends a pass behind Edmonton's net to a waiting Joe Thornton. He finds Meier, who too easily found inside position on Leon, and that's all she wrote.
LOWDOWN WITH LOWETIDE
At 10 this morning, TSN1260. We kickstart the weekend with a helluva show, gotta say. Steve Lansky from BigMouth Sports will join me to chat about what networks can do to improve hockey games and overall presentation. More numbers? Better graphics? Someone who can show us what is happening on the ice? At 11, Matthew Iwanyk will chat Oilers and CFL free agency. At 11:20, Alex Thomas from The Oilers Rig and Boston Hockey Now will join us live to talk Oilers, trade deadline and maybe some Bruins too. 10-1260 text, @Lowetide on twitter. Talk soon!