I've been thinking about the Oilers from the early part of this century lately, the Lowe-MacT group from 2000-06. I know it's impossible to use the space-time continuum in order to bring 2005-06 Shawn Horcoff, Chris Pronger, Ales Hemsky, Radek Dvorak, Ryan Smyth and Dwayne Roloson. Wouldn't it be nice?
THE ATHLETIC!
The Athletic Edmonton features a fabulous cluster of stories (some linked below, some on the site). Great perspective from a ridiculous group of writers and analysts. Proud to be part of The Athletic, less than two coffees a month offer here.
OILERS AFTER 55 GAMES
Oilers in 2015-16: 21-29-5, 47 points; goal differential -29
Oilers in 2016-17: 29-18-8, 66 points; goal differential +11
Oilers in 2017-18: 23-28-4, 50 points; goal differential -30
Oilers in 2018-19: 24-26-5, 53 points; goal differential -20
Oilers in 2019-20: 28-20-6, 62 points; goal differential +2
Edmonton is facing a strong Nashville Predators team tonight, as well as the out of town scoreboard. I love these races, and remain hopeful the Oilers will be buyers at the deadline. Massive game tonight.
ON THE TENS
First 10 games: 7-2-1
Second 10 games: 5-4-1
Third 10 games: 5-4-1
Fourth 10 games: 3-6-1
Fifth 10 games: 6-2-2
Current 10 games: 2-2-0
Arizona is in Boston, Oilers hosting Preds, Calgary plays Vancouver and Vegas takes on Carolina. If the Oilers win, while the other three lose, the city of Edmonton parties until dawn.
OILERS IN FEBRUARY
Oilers in February 2016: 1-3-0, two points; goal differential -15
Oilers in February 2017: 1-3-0, two points; goal differential -7
Oilers in February 2018: 1-2-1, three points; goal differential +1
Oilers in February 2019: 1-1-2, four points; goal differential -4
Oilers in February 2020: 1-2-0, two points; goal differential 0
Have a look at the goal differentials here. These are some monumental slides, even minus seven over four games is a big deal. Minus 15 in four games? Holy crap!
WHAT TO EXPECT IN FEBRUARY
On the road to: CAL, ARI (Expected 1-1-0) (Actual 1-1-0)
At home to: SJS, NAS, CHI (Expected 2-1-0) (Actual 0-1-0)
On the road to: TBY, FLA, CAR (Expected 1-1-1)
At home to: BOS, MIN (Expected 1-1-0)
On the road to: LAK, ANA, VEG (Expected 2-1-0)
At home to: WPG (Expected 1-0-0)
Overall expected result: 8-5-1, 17 points in 14 games
Current results: 1-2-0, two points in three games
If the Oilers win tonight, the team will be close to on track with my predicted result. I think the team needs to win the next two games, because that road trip will be no fun. Then again the Oilers are strong against the good clubs, so who knows?
OILERS 2019-20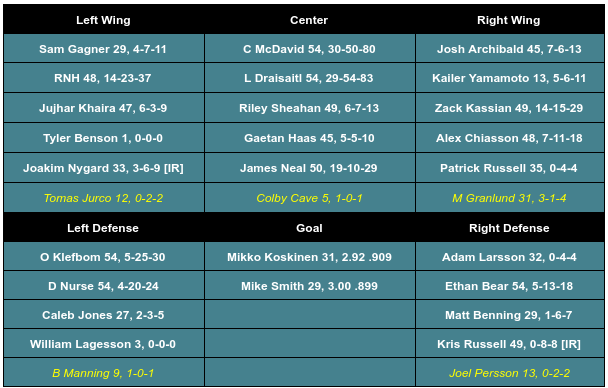 Horcoff was an instant favourite of mine, and as it has been since Keon and Sanderson I watch for the next brilliant two-way centre to come along. Patrice Bergeron is the modern gold standard, he's been good forever. The Nuge is in this category, Edmonton could use a fourth-rounder like Horcoff to slide on to the third line about now. I held out some hope for Aapeli Rasanen (solid two-way resume) but they moved him to right wing this winter at Boston College. So, it's Ryan McLeod and he's not ready.
Speaking of prospects, there are three men who made my top-20 winter prospects list in December who will graduate by June. Ethan Bear, Caleb Jones and Kailer Yamamoto are all NHL players now, or will be before the end of the season. So those days of having a Horcoff or Pisani emerge from a late round to fill a valuable role are back, it's just that there are no pivots at this time.
The centers on my top 20 mostly stayed behind, or moved to RW like Rasanen. Cooper Marody is a distant bell, or so it seems, due to injury.
2007-08 lines and performance
Dustin Penner-Shawn Horcoff-Ales Hemsky played 309 minutes together, going 53.4 Corsi, 54.79 shot differential (all numbers five on five), 20-11 goals (64.52 percent), 53.21 expected goals.
Andrew Cogliano-Sam Gagner-Robert Nilsson played 247 minutes together, going 48.72 Corsi, 49.21 shot differential, 15-13 goals (53.57 percent), 53.73 expected goals.
I think sometimes we look back on the past and discount entire seasons, and in some cases, careers. It's important to note that men like Horcoff were strong performers under a coach like Craig MacTavish. The lack of player quality in support impacted men like Horcoff and (along with age and the inevitable erosion of skills) their overall performance.
2009-10 lines and performance
Ethan Moreau-Shawn Horcoff-Fernando Pisani played 227 minutes, going 39.53 Corsi, 39.81 shot differential, 6-12 (33 percent) goals and 38.04 percent expected goals.
J-F Jacques-Shawn Horcoff-Patrick O'Sullivan played 92 minutes together, going 41.22 Corsi, 42.25 shot differential, 2-9 goals (18.18 percent) and 36.43 expected goals.
Just a couple of years later, the quality of the roster is so poor that Horcoff and two veterans can't reach 40 percent. It's even worse in a mentor role, as the possession and expected goals remain the same, but the actual goal differential caves in from all sides. I well remember folks hammering Horcoff really good (while also getting his cap hit wrong) in these years, but context is important.
2016-17 lines and performance
Patrick Maroon-Connor McDavid-Leon Draisaitl played 543 minutes, going 52.64 Corsi, 54.16 shot differential, 32-21 goals (60.38 percent) and 57.07 expected goals.
Patrick Maroon-Connor McDavid-Jordan Eberle played 139 minutes, going 55.36 Corsi, 53.42 shot differential and 9-5 goals (64.29 percent) with an expected goals percentage of 60.62.
Back in 2016-17, the playoff year, the Oilers had enough skill on the roster to allow sustain through all kinds of weather with 97. That's important, because you want your No. 1 line to prosper while also trying to find chem for the No. 2 line.
2019-20 lines and performance
Leon Draisaitl-Connor McDavid-Zack Kassian played 441 minutes together, going 47.87 Corsi, 46.20 shot differential, 28-25 (52.83 percent) goals and 47.70 expected goals.
James Neal-Connor McDavid-Zack Kassian played 89 minutes together, going 52.53 Corsi, 55.67 shot differential, 4-5 goals (44.44) and 61.03 expected goals.
I would argue that the Oilers need to reset the wingers on McDavid's line. If you're running below 50 percent in expected goals and or Corsi with 97 on a line, pull the chute.
The question then becomes what kind of a winger do you want McDavid to play with? Skill for sure, but I think more of a shooter, an Eberle or a Neal with speed. Mike Hoffman might be perfect. Hoffman-McDavid-Kassian? Hoffman-McDavid-Neal? Nuge-McDavid-Hoffman? You know, it might be Hoffman-McDavid-Yamamoto.