It's one thing to understand a "schedule loss" and quite another to endure it. The Edmonton Oilers played a dandy first period against the Golden Knights, but the only goal landed in Edmonton's net. The final two periods were a lot about chasing and in the end the home side won the day. Next game Saturday.
THE ATHLETIC!
The Athletic Edmonton features a fabulous cluster of stories (some linked below, some on the site). Great perspective from a ridiculous group of writers and analysts. Proud to be part of The Athletic, less than two coffees a month offer here. 
OILERS AFTER 64 GAMES
Oilers in 2015-16: 23-34-7, 53 points; goal differential -33
Oilers in 2016-17: 34-22-8, 76 points; goal differential +12
Oilers in 2017-18: 27-33-4, 58 points; goal differential -37
Oilers in 2018-19: 27-30-7, 61 points; goal differential -26
Oilers in 2019-20: 33-23-8, 74 points; goal differential 0
Coming out of the trade deadline and heading for the end of February, the Oilers are 1-2-1 in the last four and March is coming in like a lion. Hang on, it's going to be a fun ride!
ON THE TENS
First 10 games: 7-2-1
Second 10 games: 5-4-1
Third 10 games: 5-4-1
Fourth 10 games: 3-6-1
Fifth 10 games: 6-2-2
Sixth 10 games: 6-3-1
Current 10 games: 1-2-1
OILERS IN FEBRUARY
Oilers in February 2016: 2-10-1, five points; goal differential -23
Oilers in February 2017: 6-6-0, 12 points; goal differential -1
Oilers in February 2018: 5-7-1, 11 points; goal differential -4
Oilers in February 2019: 3-6-4, 10 points; goal differential -14
Oilers in February 2020: 6-5-2, 14 points; goal differential -2
The Oilers have faltered in the last week, allowing the 2016-17 team to catch up. One more game in February and it's an important one.
WHAT TO EXPECT IN FEBRUARY
On the road to: CAL, ARI (Expected 1-1-0) (Actual 1-1-0)
At home to: SJS, NAS, CHI (Expected 2-1-0) (Actual 2-1-0)
On the road to: TBY, FLA, CAR (Expected 1-1-1) (Actual 2-1-0)
At home to: BOS, MIN (Expected 1-1-0) (Actual 0-1-1)
On the road to: LAK, ANA, VEG (Expected 2-1-0) (Actual 1-1-1)
At home to: WPG (Expected 1-0-0)
Overall expected result: 8-5-1, 17 points in 14 games
Current results: 6-5-2, 14 points in 13 games
There will be a group of posters today who will have a 'sky is falling' take but I think it's important to note the club came in a single point shy of my expectations for the road trip. You can't lose your religion over such a small difference. The playoffs are not guaranteed, but last night was going to be a tough one and every knew it. If you want to be mad, the first period against Anaheim is a good recent place to start.
OILERS IN 2019-20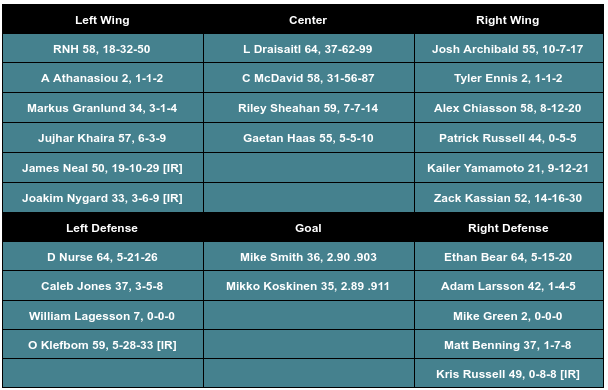 The Oilers best players (Connor McDavid, Leon Draisaitl) hit posts and crossbars like they were playing the cowbell on "Honky Tonk Women" all night long, but this game had very little curb appeal for the Oilers fan. Numbers are available at NST, lines and pairings were moving about so I'm just doing to ramble. Everything is five on five.
Connor McDavid had five shots, two HDSC, posts, crossbars, probably hammered a few seagulls while he was at it but nothing rhymed. Hockey's greatest player rarely has those games, bet he comes back with a vengeance on Saturday. Leon Draisaitl had four shots, three HDSC's and similar results to 97. He made the same brilliant move twice but couldn't score against Fleury. Ryan Nugent-Hopkins had some looks but was the least dangerous of the big three. I thought the power play was flat on the evening, that's a rare item.
Tyler Ennis impressed again, he's going to be impossible to keep out of the top six. I don't know what that means for James Neal and Zack Kassian but there you go. Andreas Athanasiou did some good work down low early but also looked lost a couple of times, and then got himself injured later on. Alex Chiasson is an easy target because everyone sees him and remembers Yamamoto was hurt, and he did get a five on five HDSC. Tippett believes he's the best option, probably changes with Kassian's return Saturday.
Jujhar Khaira, Riley Sheahan and Josh Archibald got fed on the evening going 3-10 Corsi, 1-6 shots and 0-3 HDSC. I kind of decided Benson wasn't ready when he played on this line for a couple of games, but maybe it's the line? Kassian or Joakim Nygard probably slide in during the coming weeks. Edmonton needs these three players to be effective in their roles.
Markus Granlund had three shots, Gaetan Haas fell in every quadrant and also had a HDSC, Patrick Russell took a penalty and the coach sent him right back out there. Fans are outraged by Russell's presence in the lineup, I'm enjoying the experience and hope he gets to 50 games and scores a goal before April.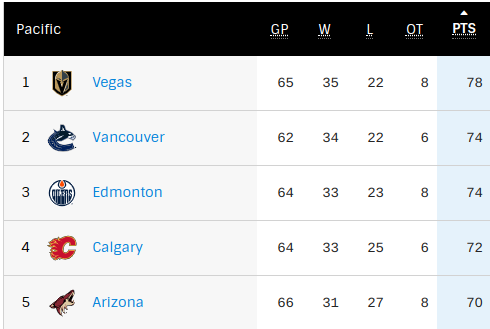 Darnell Nurse and Ethan Bear played 14:39, going 12-18 Corsi, 7-11 shots, 0-1 goals and 3-4 HDSC. Nurse did a good job on the Pacioretty goal, no way that goal should go in from that angle. He may have gotten a piece of the shot from the point on the second goal, but a bad bounce was the key element in the PP marker. Ethan Bear was gold again, I thought he stood out as a passer, shooter, power-play organizer (he's always at the point to keep the puck in play). My goodness what a rookie.
Caleb Jones and Mike Green played 4:28 together, going 10-2 Corsi, 9-2 shots and 0-1 goals, 3-1 HDSC. Jones had some wobble, but this pairing looked very good. I wonder if we see it again. Jones also had some brilliant moments by the way, his vision and passing are improving. William Lagesson and Mike Green went 5-10 Corsi in 8:33, 2-5 shots, no goals and 0-2 HDSC. I thought Lagesson struggled with the forecheck (he wasn't the only one) and appeared to get dropped from the rotation at times. Green's usage was elevated on merit, he has played well out of the box.
Caleb Jones and Adam Larsson played 12:42, going 7-15 Corsi, 1-7 shots, no goals and no HDSC. Larsson was challenged by the size/speed of the Golden Knights and took a penalty. I think we might see Jones-Green at some point in the future, maybe when Klefbom returns and the two Swedes get the band back together.
Mikko Koskinen stopped 30 of 33, .909. Since the major story in the game was a soft goal against that landed as the game winner, he owns it despite some good work later in the game. Can't let that goal find the net.
INJURIES
No excuses, but injuries are really having an impact on this team. Zack Kassian returns from suspension on Saturday, one hopes Kailer Yamamoto is back in a quick hurry. He is a key element for the Draisaitl line. Oscar Klefbom won't be back for a time but is badly needed too. Joakim Nygard and we'll have to wait for a report on Athanasiou. Daniel Nugent-Bowman reported recently both Kris Russell and James Neal are "weeks" away.
BAKERSFIELD CONDORS 2019-20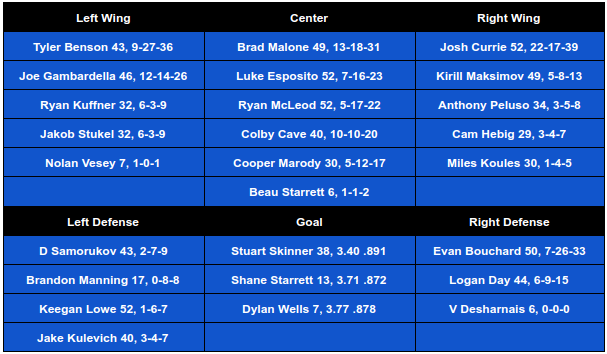 This is the current Condors roster, the team struggled badly in February. I don't believe there's any way to call this team a failure when you consider what the Bakersfield bunch have delivered to the NHL. I imagine we'll see Raphael Lavoie, Olivier Rodrigue, Filip Berglund and possibly Philip Broberg added to the Condors from the system this summer, plus a college signing or two.
The roster as it stands boasts some substantial talent on the way to the NHL. Evan Bouchard is NHL-ready, Dmitri Samorukov is matriculating, Tyler Benson, Ryan McLeod and Kirill Maksimov all have a chance. Sucks that so many players graduated in one season, but that's also a reflection of the great work being done by Jay Woodcroft and his staff.
LOWDOWN WITH LOWETIDE
A busy morning on TSN1260, we get started at 10. Derek van Diest from Post Media (Journal and Sun) joins us at 10:20 to break down last night's game and look forward to Saturday. Jeff Krushell from Krush Performance talks mlb to Vancouver and spring training. At 11, Frank Seravalli from TSN pops by to talk trade deadline and the sprint to the finish. 10-1260 text, @Lowetide on twitter. Talk soon!