The Edmonton Oilers left a point in the shadows of Disneyland last night, but grabbed a Bettman on a night when (lack of) concentration, aggravation and Kerplunk seemed to be on display every shift. We're on the Vegreville.
THE ATHLETIC!
The Athletic Edmonton features a fabulous cluster of stories (some linked below, some on the site). Great perspective from a ridiculous group of writers and analysts. Proud to be part of The Athletic, less than two coffees a month offer here.
OILERS AFTER 64 GAMES
Oilers in 2015-16: 23-34-7, 53 points; goal differential -33
Oilers in 2016-17: 34-22-8, 76 points; goal differential +12
Oilers in 2017-18: 27-33-4, 58 points; goal differential -37
Oilers in 2018-19: 27-30-7, 61 points; goal differential -26
Oilers in 2019-20: 33-22-8, 74 points; goal differential +3
Last night's loss sets up tonight's game against Vegas as doubly important. A win would have placed Edmonton one point behind with a game in hand, but a regulation win tonight merely ties the Golden Knights, although the Oilers would have a game in hand.
ON THE TENS
First 10 games: 7-2-1
Second 10 games: 5-4-1
Third 10 games: 5-4-1
Fourth 10 games: 3-6-1
Fifth 10 games: 6-2-2
Sixth 10 games: 6-3-1
Current 10 games: 1-1-1
OILERS IN FEBRUARY
Oilers in February 2016: 2-10-1, five points; goal differential -23
Oilers in February 2017: 6-6-0, 12 points; goal differential -1
Oilers in February 2018: 5-7-1, 11 points; goal differential -4
Oilers in February 2019: 3-6-4, 10 points; goal differential -14
Oilers in February 2020: 6-4-2, 14 points; goal differential +1
This month remains the best of the group although the playoff team is catching up. Fun exit from February coming up!
WHAT TO EXPECT FROM FEBRUARY
On the road to: CAL, ARI (Expected 1-1-0) (Actual 1-1-0)
At home to: SJS, NAS, CHI (Expected 2-1-0) (Actual 2-1-0)
On the road to: TBY, FLA, CAR (Expected 1-1-1) (Actual 2-1-0)
At home to: BOS, MIN (Expected 1-1-0) (Actual 0-1-1)
On the road to: LAK, ANA, VEG (Expected 2-1-0) (Actual 1-0-1)
At home to: WPG (Expected 1-0-0)
Overall expected result: 8-5-1, 17 points in 14 games
Current results: 6-4-2, 14 points in 12 games
A huge game this evening, I do believe Dave Tippett made the correct call having Mikko Koskinen start the Vegas game. Two points in regulation would be a massive late season win.
OILERS 2019-20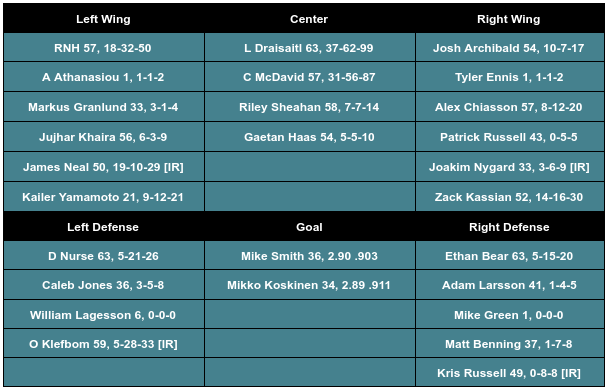 Connor McDavid made a defensive play (on a Ryan Getzlaf back door) that was so good I stood up and yelled at the television. Offensively, he was outstanding, and his two new linemates grabbed a goal and an assist each. I thought Tyler Ennis had a tremendous game, Athanasiou less obvious but clearly effective. All numbers five on five, via NST.
LINE 1 Andreas Athanasiou-Connor McDavid-Tyler Ennis played 12:45, going 15-9 Corsi, 8-4 HDSC, 2-0 goals and 7-2 HDSC. Impressive debut for the trio, probably the best since Cream. McDavid played 6:46 against Josh Manson, 1-0 goals.
Andreas Athanasiou scored the goal that secured the Bettman, good eye finding the puck before any Ducks. Also a lovely pass on the Ennis goal. He had two shots and three HDSC. Impressive debut. Connor McDavid was on another level again, posting two assists (plus a PP assist), one shot, three HDSC, drew a penalty, took a penalty and won 11 of 13 on the dot. Tyler Ennis scored a great goal on a deflection and was the key component of the tying goal with a fine individual effort driving to the net. Had four shots and two HDSC. Bet Zack Kassian regrets that suspension now!
LINE 2 Nuge-Leon Draisaitl-Josh Archibald played 9:45, going 8-7 Corsi, 5-3 shots, no goals and 2-1 HDSC. Draisaitl played 10:51 against Josh Manson, going 0-1 goals.
Ryan Nugent-Hopkins had three shots, one HDSC and drew a penalty. Got a PP assist, giving him 50 points in a season for the first time. Leon Draisaitl had two takeaways and won nine of 16 on the dot, scored on the PP and has 99 points. He seemed docile at times defensively, as in not picking up Henrique on the third goal. Josh Archibald was quiet after being thrust into an impossible situation, Chiasson jumping up to replace him later in the game. The line misses the Spokane Kid.
LINE 3 Markus Granlund-Riley Sheahan-Alex Chiasson played 4:37, going 2-4 Corsi, 2-3 shots, no goals and 0-1 HDSC.
Markus Granlund didn't move the needle at five on five but did get 49 seconds on the PK. Riley Sheahan drew a penalty and was effective on the PK. He was one of the culprits (it took a village) on the first goal. Alex Chiasson had a great chance on the PP but didn't cash, but was pedestrian at five on five. I've written that sentence about him plenty this season.
LINE 4 Jujhar Khaira-Gaetan Haas-Patrick Russell played 4:16, going 3-2 Corsi, 3-1 shots, no goals and 0-1 HDSC.
Jujhar Khaira had a shot, HDSC and 1:43 of solid PK work. If he can play that role every night he's worth the roster spot. Gaetan Haas had a shot, a takeaway and won three of seven in the dot. His speed was noticeable on the forecheck. Patrick Russell had a shot, a HDSC and a giveaway. Plenty of chatter recently about his being taken out of the lineup, I don't see it to be honest. Plays a depth role and plays it well.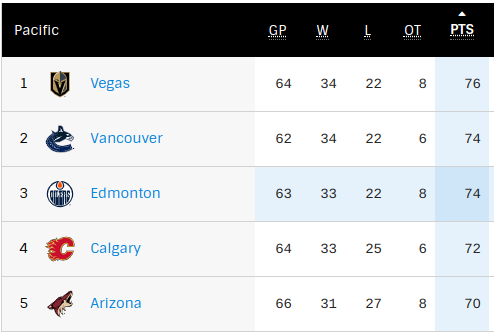 A regulation win tonight for the Oilers does the entire division a favor, Vegas has won six in a row and are threatening to run away with the Pacific. A regulation loss tonight and the Flames will have a chance to climb into the top three.
PAIRING ONE Darnell Nurse and Ethan Bear played 17:37, going 19-19 Corsi, 11-10 shots, 1-2 goals and 4-4 HDSC. Both men were too casual on the second goal against, offering little resistance on the Deslauriers goal. Needed support but none came on the Henrique goal.
Darnell Nurse had three shots, two blocked shots and his instincts were a little off in going 0-2 on ice goal differential five on five. Played too far off the shooter on the Deslauriers goal and overloaded the left side (Nuge had the man) and effectively left the middle of the ice for Henrique. Ethan Bear had four shots and two giveaways, moved the puck effectively again. Absolute music with the puck, he's winning the power play job. Bear was unable to impact the two GA, allowing passes to dangerous areas twice. You'd like the defender to get a deflection or interruption in that moment.
PAIRING TWO Caleb Jones and Adam Larsson played 17:10 going 15-13 Corsi, 8-5 shots, 1-0 goals and 3-4 HDSC.
Caleb Jones has graduated to the NHL, his calm feet and full skill set on display consistently now. He had two shots, including a fine chance, played a steady game. Adam Larsson had one shot on goal, a giveaway and a penalty. He activated into the offensive zone several times, it's my least favourite play.
PAIRING THREE William Lagesson and Mike Green played 11:07, going 9-8 Corsi, 3-4 shots, 0-1 goals and 4-2 HDSC.
William Lagesson had a shot on goal and two giveaways, I found his passing to be off the mark. Perhaps he is still adjusting to the speed of the game at this level and a new partner. Mike Green had a shot on goal and a couple of hits, he denied sorties like a veteran. Both men had vapor lock on the first goal, an umbrella of indecision falling over the slot.
GOALIE Mike Smith stopped 17 of 21, .810. He was indecisive on the first goal against and the difference in the game was a goal. He made several splendid saves but not enough to win the day.
THE PENALTY
Should have been a penalty and a dive. Calling it the way they did inserted the officials into the game story. It's been a problem for ages and isn't getting better.
LOWDOWN WITH LOWETIDE
We will be tearing up the blacktop starting at 10 this morning, TSN1260. Bruce McCurdy from the Cult of Hockey brings his considerable powers of observation and a wealth of experience to the radio and applies it to last night's game at 10:20. Joe Osborne from OddsShark will talk the trade deadline and the impact on betting, the Raptors chances to repeat and March Madness. Tyler Yaremchuk is in Vegas with the Oilers, he will join us at 11:25 this morning after getting a full 12 hours of sleep. 10-1260 text, @Lowetide on twitter. See you on the radio!