Ken Holland occupied the Oilers general manager's job in a season where the team enjoyed a fantastic turnaround. Edmonton's 2019-20 season was on pace for 95-97 points, which would have represented a year over year increase 15-17 points. Holland made some good moves and the farm system blossomed in one impressive winter. Edmonton needs another graduating class just like it, this time flush with forwards.
THE ATHLETIC!
The Athletic Edmonton features a fabulous cluster of stories (some linked below, some on the site). Great perspective from a ridiculous group of writers and analysts. Proud to be part of The Athletic, check it out here.
CHIARELLI NEEDS, SUMMER 2015
Draft McDavid (check)
Find a quality goalie option (his answer was Cam Talbot)
Acquire a legit top pairing blue (Andrej Sekera)
Acquire a more offensive two-way F (Lauri Korpikoski)
Ignore MacT re: Marincin (dealt for No. 107 overall)
Chiarelli's first summer saw him trade several picks, many of whom have reached the NHL now. Talbot and Sekera delivered in the short term but came at a dear price. Big draft summer (Connor McDavid, Ethan Bear, Caleb Jones and John Marino) despite trading picks.
CHIARELLI NEEDS, SUMMER 2016
Top-pairing D to partner with Klefbom (his answer was Larsson)
Second-pairing RHD to partner with Sekera (Kris Russell)
Acquire RHC with some skill (Jesse Puljujarvi)
Backup goalie (Jonas Gustavsson)
Rob the Bruins of something (Matt Benning)
Traded Taylor Hall for Adam Larsson, signed Milan Lucic, Jonas Gustavsson, Mark Fraser, Kris Russell, Drake Caggiula and Matt Benning. Draft pick Jesse Puljujarvi brought the new hires summer 2016 to eight.
CHIARELLI NEEDS SUMMER 2017
Sign McDavid and Draisaitl. (Done)
Survive the expansion draft. (Reinhart was lost)
Make sure there's enough cap room. (Eberle out, Strome in)
Find a second pairing D with two-way acumen (Kris Russell)
Find a forward who can help the offense. (No answer)
Offload Benoit Pouliot. (they bought him out)
Going long on McDavid and Draisaitl was the right play, trading out of Eberle to get more years of control (Strome) was an interesting bet. The juggling was in full force and the Russell contract meant money was too tight to mention.
CHIARELLI NEEDS SUMMER 2018
Veteran scoring right winger. Alex Chiasson.
Two-way left winger. Tobias Rieder.
Puck mover. Evan Bouchard was drafted, future move but didn't help the present.
No. 7 defender. Kevin Gravel. He was solid
Backup goalie. Mikko Koskinen, another good signing.
By 2018 summer, Chiarelli had cap problems and had very little in tradeable assets. The Bouchard pick and elevation (and Todd McLellan not playing him) was an example of the disconnect and poor communication/procurement that culminated in two late December trades for fringe defensemen.
HOLLAND NEEDS SUMMER 2019
Two scoring wingers (James Neal, Alex Chiasson. Deadline Tyler Ennis, Andreas Athanasiou)
Cap room (bought out Andrej Sekera)
No. 3 RH center (Riley Sheahan and Gaetan Haas, neither man solved the issue)
Top 4 RHD who can move the puck (Ethan Bear, although that was not a Holland procurement piece. Mike Green late)
Backup goalie (Mike Smith)
Holland would get a passing grade for the Neal-Lucic trade alone, lest we forget the cap/expansion implications of the ML contract. I liked his aggressive work at the deadline, not sure how many problems he solved but at least Mike Smith's asset cost didn't resemble the Talbot trade.
HOLLAND NEEDS SUMMER 2020
Scoring winger (Andreas Athanasiou, Tyler Ennis, Taylor Hall, Mike Hoffman, Brett Connolly)
RH No. 3 center (Colin Blackwell. There isn't much out there)
Offload a veteran blue (Kris Russell, Adam Larsson, Matt Benning)
Goaltender who can play half or more of the schedule (Alexander Georgiev, Linus Ullmark. Mike Smith remains the favourite)
OILERS 2020-21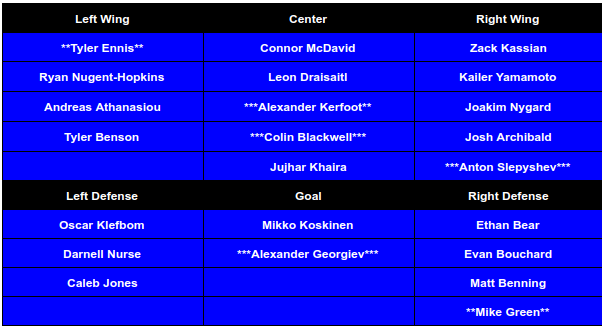 Does Holland go high end on McDavid's wingers, or does he address weakness up the middle and grab some centers and a strong goalie option? Not sure. This version of the team has some youth, I think they'll continue to slow play unless injuries hit.
LOWDOWN WITH LOWETIDE
At 10 this morning, TSN1260, we hit the airwaves with strong guests and great conversation. Steve Lansky from Big Mouth Sports will chime in on Coronavirus and games from the past he'd like to see on television. Cameron DaSiliva from the Rams Wire will talk Todd Gurley and the Rams in free agency. Matthew Iwanyk from TSN1260 talks NFL free agency and when we can reasonably see pro sports return. 10-1260 text, @Lowetide on twitter. Talk soon!