We're a year removed from the 2019 draft and the results are in. As expected the Edmonton Oilers left a lot of offense on the board when choosing Philip Broberg in the first round, but found a good scorer in Raphael Lavoie in the second round. How do things look after the days gone down?
THE ATHLETIC!
The Athletic Edmonton features a fabulous cluster of stories (some linked below, some on the site). Great perspective from a ridiculous group of writers and analysts. Proud to be part of The Athletic, check it out here.
2019 TOP 20 NHLE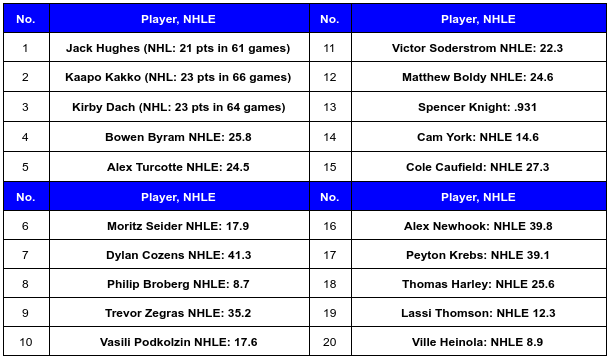 The big offensive seasons from forwards who were still on the board when Edmonton chose Broberg were Zegras, Newhook and Krebs. Interesting to note the gap between Broberg and Soderstrom offensively comes almost exclusively from power play minutes. In passing on Zegras, Newhook and Krebs for Broberg, did Holland and Co. recover in the second round?
2019 21-40 NHLE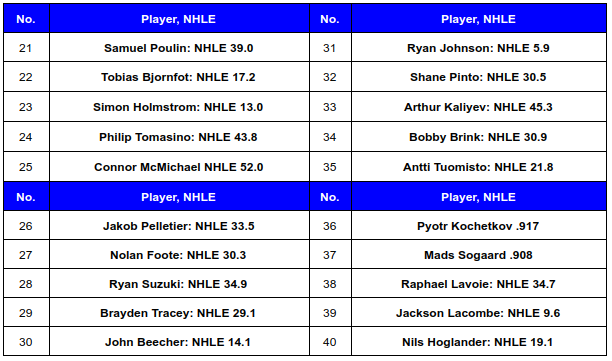 Connor McMichael, Arthur Kaliyev and Philip Tomasino have all delivered exceptional season. Edmonton's selection (Raphael Lavoie) also had a solid year, his NHLE is in the range with Trevor Zegras. We need more seasons but most of these kids are on track. It was a good draft year.
LAVOIE
I always look for things that make a player unique in his draft plus one season. For Broberg it's speed. Lavoie? Shots on goal. He finished third in the QMJHL this season with 310, a truly impressive total. Ideally he lands in Bakersfield this fall and plays a feature role.
ADDITIONS
Edmonton's AHL team needs to be populated by players over the next few months. The college signing season is well underway but crickets so far from the Oilers. Defense is a definite area of need. Here's a guess at what the Condors might look like on opening night in 2020-21.
Goalies (3): Stuart Skinner, Dylan Wells, Olivier Rodrigue. My guess is Skinner is the starter but Rodrigue had a quality final season in junior (.918 SP was No. 2 in the QMJHL this season).
Left Defense (3): William Lagesson, Dmitri Samorukov, Philip Broberg. Lagesson is RFA and waiver eligible, Broberg is signed but not certain to come over. Markus Niemelainen may get a contract, he has developed as a defensive defenseman in the last year or so.
Right Defense (2): Evan Bouchard, Logan Day. There's a good chance Bouchard makes Edmonton's roster, and Day is RFA. Filip Berglund needs to be signed and has earned a contract with a strong SHL season.
Center (3): Cooper Marody, Colby Cave, Ryan McLeod. This position is fairly strong if the team signs RFA Cave. You want to see a strong comeback season from Marody and more development from McLeod.
Left Wing (3): Tyler Benson, Joe Gambardella, Ryan Kuffner. Benson could make the big team, but if he's in Bakersfield the depth chart looks just "okay" at this point. If Benson makes the Oilers, help will be needed.
Right Wing (2): Kirill Maksimov, Ostap Safin. Lavoie needs to be signed but should move to the top (or near) of the depth chart. Oilers are doing it right on RW, there should be three prospects getting the at-bats next season.