NHL teams may not get the combine, the interview process or a final good look at the 2020 draft eligible players. There's obviously a large number of scouting reports and plenty of video, and I do hope math will play a factor in the process. The Oilers 2020 draft has a 'magic bullet' feel to it, as the team has dealt some quality beginning in the second round. So, the first-round pick must pierce the darkness and find a way.
THE ATHLETIC!
The Athletic Edmonton features a fabulous cluster of stories (some linked below, some on the site). Great perspective from a ridiculous group of writers and analysts. Proud to be part of The Athletic, check it out here.
OILERS CURRENT SELECTIONS
No. 23 overall, No. 85 overall, No. 147, No. 178 and No. 209 overall. The important selection is that first rounder and there should be a good player there. In February I listed the 62 best players in the draft (and will have another list by the end of this month) and there are a bunch of forwards who math adores. Here's a quick look at the top end NHLE's.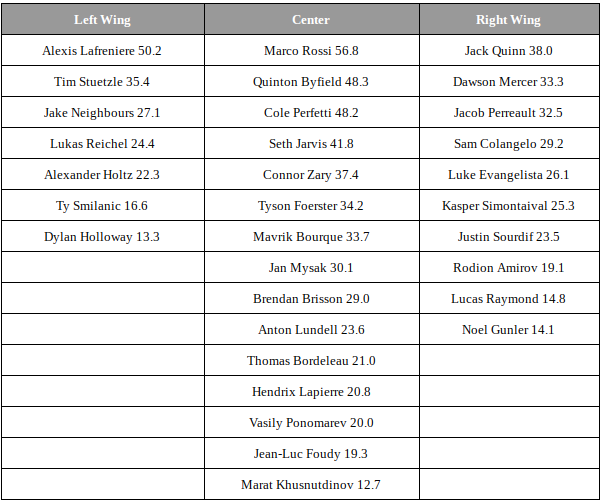 This isn't my rankings list, this is 32 forwards who are under consideration for my first round in 2020, plus a few that my guest on the Lowdown today (Steve Kournianos) has ranked in his first round from March.
I wanted to run this because it gives us a good idea about the math of the draft, but also shows there are areas that don't make sense.
Remember the story I told you a few months ago about Bill James? He'd ask a question, build a formula to reflect what he wanted to see, run a thousand seasons and look at the results. If Tim Foli was ranked ahead of Dave Concepcion, he'd flag it and have a look at how the wrong result landed in his rational math formula.
Tweak formula, run more seasons. As much as I like math, there's some tweaking to do after running NHLE.
Lafreniere is going No. 1 on merit, but trails Rossi in NHLE. Why? Well it isn't age (Rossi is 18 days older than Lafreniere) and size isn't the issue it was decades ago. Rossi is a center, shouldn't he have more value?
Alexander Holtz (12:53) and Lucas Raymond (9:48) played in the SHL this season and their time on ice would certainly impact the boxcars. How do we adjust for that when ranking these two men?
Who will be available when Edmonton picks? I can tell you that some of the names above with 30+ NHLE will still be on the board at No. 23 because it happens every year. Arthur Kaliyev (NHLE: 40.3) went in the second round in 2019's draft.
Seth Jarvis will probably be available at No. 23, Jan Mysak was No. 53 on Bob McKenzie's mid-season ranking. If Mysak is still on the board at (say) No. 35, would you trade the rights to Jesse Puljujarvi for him? I would. If the Oilers could leave draft weekend with Jarvis and Mysak, that's the smell of victory in the morning. Here's the current NHLE for prospects to give you an idea about what kind of push getting Jarvis and Mysak represents.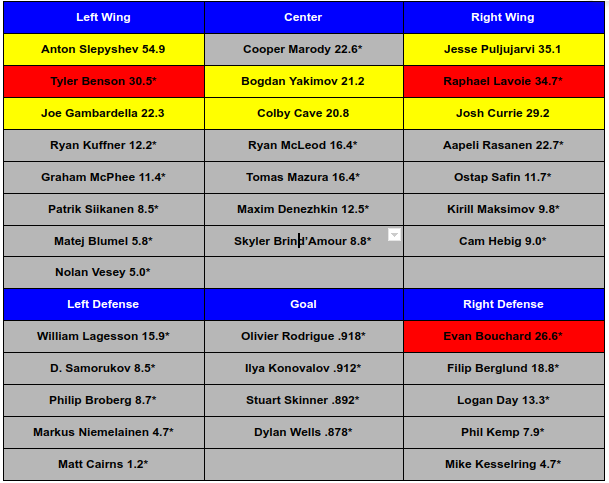 LOWDOWN WITH LOWETIDE
It's a busy morning on the Lowdown, beginning at 10, TSN1260. Reid Fowler from Draft Kings will chat NFL free agency and the change in power we're seeing in the AFC East (I think). Steve Kournianos from The Draft Analyst will help us make sense of an impressive pool of talent available in the 2020 NHL draft. Daniel Gallen of Penn Live will tell us how Darius Slay fits the Eagles rotating db depth chart. 10-1260 text, @Lowetide on twitter. See you on the radio!