The regular season's day to day activity is making it difficult to give consistent updates on the 2020 draft. As you know, it's a passion of mine going back to 1971, so this is the fun stuff.
You may read and hear today about what's wrong with my list, flaws in my rankings. Things like I'm not at the rink and old people can't see. So, allow me to be clear: This list adores math, reads scouting reports and (as the draft season moves along) is gifted with intel from bona fide sources.
If you don't like it, don't read it. If it offends you, then I expect we're very different people and wish you well. The list loves speed, NHL equivalencies, takes age into account and apologizes to no one. It's just the way math works, with some informed verbal (from outside) and the experience that comes with staring at these numbers for 50 years.
THE ATHLETIC!
The Athletic Edmonton features a fabulous cluster of stories (some linked below, some on the site). Great perspective from a ridiculous group of writers and analysts. Proud to be part of The Athletic, less than two coffees a month offer here.
THE TOP 62 FOR 2020
1 (1) L Alexis Lafreniere, QMJHL. Speed, shot, passing, vision, he has it all. October 2001. Insane talent, WJ performance sealed his spot as the best available.
2 (2) LC Quinton Byfield, OHL. August 2002 and a big man (6.04, 215). He skates well, can pass, take a pass and has a dynamic ability to him. Not a major factor at WJ's.
3 (5) LC Tim Stuetzle, DEL. Dynamic player, highlight reel offense and dangerous on every rush. His two-way game is good for his age. January 2002
4 (8) RHD Jamie Drysdale, OHL. Great speed, passing and instincts, he's instant offense from the blue. Part of Canada's WJ Gold winner. April 2002
5 (6) LC Marco Rossi, OHL. Posting jaw-dropping numbers, he's a September 2001. Good speed, exciting, range of skills.
6 (3) LC Cole Perfetti, OHL. Intelligent center with a terrific release, Perfetti is a January 2002. His wrist shot is already a great weapon in the OHL and he's not fully grown (5.10, 177).
7 (4) RW Alexander Holtz, SHL. First-shot scorer with a range of skills, he's an electric player. He's quality. January 2002.
8 (7) LW Lucas Raymond, SHL. Smart player who has ridiculous skill, his WJ's might hurt him in the draft. March 2002.
9 (11) RC-RW Dawson Mercer, QMJHL. Highly skilled forward who is a plus passer. He emerged a year ago and is taking another step this season (very good sign). October 2001.
10 (10) RC Mavrik Bourque, QMJHL. Creative center with great hands. Great passer, great shot. January 2002.
11 (22) RW Jack Quinn OHL. He's doing it all now, skating with power and scoring with authority. He could go top 10. One of two new entries into the top 20. Sept 2001
12 (12) G Yaroslav Askarov, VHL. He plays an unusual style. June 2002, has a .923 VHL save percentage. He could go anywhere 8-25 in the first round.
13 (15) LC Connor Zary, WHL. Scouts will love his range of skills and passing ability. Two-way center who is likely to top out as a top-six forward is a good bet by this point in the first round. September 2001
14 (9) LC Anton Lundell, Liiga. October 2001 has a nice range of skills and is showing nice growth in his second Liiga season.
15 (13) LW Dylan Holloway, Big 10. Big power forward. He has a great shot and makes good passes, strong skater, nice range of skills. I've faded him a little because his offense hasn't shown yet. If that continues, he'll fall on my list.
16 (14) RW Noel Gunler, SHL. Young winger has a great release and an impressive resume but is only an average scorer in the SHL. However, the points he is gathering are at even strength. October 2001
17 (20) LD Jérémie Poirier, QMJHL. Smart two-way defender who may rise on my list. Solid from the Hlinka forward, he's a gathering storm and could slide up several spots. June 2002
18 (16) RC Jacob Perreault, OHL. Skates well, great shot, great numbers. His numbers earn Perreault this spot. April 2002
19 (28) LD Jake Sanderson, USHL. This is Geoff Sanderson's son and he can skate like the wind. Smart player, have drilled down a little on him and expect he's going to be a top 20 pick on merit. July 2002
20 (21) RD Braden Schneider, WHL. Fine skater who has a range of skills, owns a fairly complete game. Schneider's offense is comparable to most of the defenseman I have in the first round. Sept 2001
21 (19) RC Jean-Luc Foudy, OHL. Speedy center with plus skill, he's a May 2002 and has 61 assists in 99 junior games. His brother is a famous prospect, not certain how he compares but in this year's draft looks like mid to late first round.
22 (18) LC Hendrix Lapierre, QMJHL. Skill center who projects as a playmaker. The buzz on him entering the season was far more pronounced than it is now, so the second half of his season will be vital. Feb 2002.
23 (17) RHD Justin Barron, QMJHL. Mobile defenseman who can defend. Lacks top-end offensive ability so is shy of the top-10 overall, but a team who likes him might jump up. November 2001.
24 (NR) RC Seth Jarvis, WHL. The highest new entry from the last list, I didn't have him in my initial pool for evaluation. Jarvis is a fantastic player, undersized and skilled. He might end up in my top 15.
25 (23) LW Jake Neighbours WHL I was surprised math liked him so much compared to his draft rivals. I have spoken to scouts who have him as an early second round pick, but he's here on math. He's skilled, gritty and plays a strong two-way game. March 2002
26 (24) LW Rodion Amirov, KHL. His offensive potential is high, although the KHL numbers (21, 0-2-2) are shy. Scouts love the tools and he's a fast train in a draft season with slow boats. October 2001.
27 (25) LC Ty Smilanic, USHL. Lean two-way center with enough skill to project into the top six based on math. Scouting report talks about plus skating and finding another gear. Promising resume. January 2002
28 (NR) RW Luke Evangelista, OHL. I don't trust London Knights numbers but this young man looks like a hit. Spiked in a big way this year, I like his scouting reports. Feb 2002
29 (NR) LC Jan Mysak, OHL. A late breaker and someone who has quite a lot of buzz around him all of a sudden. He's a June 2002, very skilled and is effective in all three disciplines. He's going to land in a good spot on the final list.
30 (NR) RC Tyson Foerster, OHL. Great offensive weapon, quick release and accurate. His NHLE is very strong (around 35 points) and he has reasonable size, so he might land higher on my final list but we need to find out more about his skating.
31 (29) LD Kaiden Guhle, WHL. Big defenseman has good foot speed and appears to have something resembling an ideal skill set. I'm nicking him because of math, he'll go earlier. Jan 2002
31 (NR) LW Lukas Reichel, DEL. One of the mid-season risers from Europe, his totals in the DEL (32, 10-11-21) are promising. He has skill, speed and plays with abandon. I like him better than Peterka but we have some distance to go.
33 (NR) LD William Wallinder, Superelite. He's a big (6.04, 195) defenseman with great speed and the scouting reports suggest offensive potential. His numbers in the Swedish SuperElite don't scream offensive defenseman to me.
34 (NR) RW Ozzy Wiesblatt, WHL. Skill winger lacks size but plays with great determination. Scoring at a point per game rate, and has already reached 20-goal plateau. March 2002.
35 (30) LC Vasili Ponomaryov, QMJHL. Great hands and good speed, he's a little under the radar but rates well with other skill forwards I have ranked in the bottom half of the first round. March 2002
36 (26) LC Antonio Stranges, OHL Terrific speed and skill, and delivers solid offense but the math doesn't match the verbal. We wait. Feb 2002
37 (NR) LD Ryan O'Rourke, OHL. Good size (6.02, 181) and growing offensive ability have him here. Foot speed improving as he matures, projects as a top-four defenseman. May 2002.
38 (NR) LW Ridly Greig, WHL. Smart offensive winger with good instincts, he isn't a fast train so gets nicked a little. August 2002 so there's still room to grow.
39 (NR) RW Sam Colangelo, USHL. Big power winger with skill, he has scored 20 goals in the USHL already. His speed is going to decide his final draft number, based on what I've read it's average but we still have some time to go. December 2001
40 (NR) LW John-Jason Peterka, DEL. A speedy winger with skill, and not yet the sum of his parts. Is scoring well (33, 6-4-10) in a men's league, the question pertains to the quality of the league. I have faded him.
41 (NR) RW Zion Nybeck, SuperElite. Undersized playmaker, creative, great passer. Impressive speed. Smooth. May 2002.
42 (NR) LW Brendan Brisson, USHL. Undersized speedster has a late 2001 birthday and lots of talent. His skating is good.
43 (27) LC Thomas Bordeleau, USHL. Owns a great shot and is highly skilled with the puck. First shot scorer, year over year improvement looks substantial. He could climb. Jan 2002
44 (NR) LD Emil Andrae, SuperElite. Fast defenseman with offensive potential. Plus passer. He may climb in the spring. Feb 2002.
45 (NR) LW Luke Tuch, USHL. Alex Tuch's brother, he plays a similar style. Tuch's USHL numbers are good not great, he could have more offense but it's difficult to get playing time in the program. March 2002
46 (NR) RC Jaromir Pytlik, OHL. He's a fine skater and has two-way skills, meaning he'll probably land in the top 50 on my list. I like players with a wide range of skills. His NHLE is a little shy to be in this company. Sept 2001
47 (NR) RW Daniil Gushchin, USHL. Small, speedy playmaking forward. Good numbers. Feb 2002.
48 (NR) LW Will Cuylle, OHL. Lots of positives about Cuylle, I have him here because I don't think his offense makes him a likely top-six forward. Has a great shot. Could fall on my final list
49 (31) RC Justin Sourdif, WHL. Two-way winger gained notice at the Hlinka and has scored well on an average offensive team (Vancouver Giants). March 2002
50 (NR) LW Martin Chromiak, OHL. I like his scouting report and his OHL scoring numbers, not certain if he's getting zoomed by Shane Wright. He looks substantial.
51 (NR) RW Connor McClennon, WHL. His offensive numbers are solid to excellent and he's a June 2002 so there's room to grow. He's undersized but drives to the net. Range of skills.
52 (NR) RD Topi Niemela, Liiga. I've faded a couple of Finnish defensemen this year because of foot speed. Niemela skates well but has some chaos. March 2002.
53 (NR) LW Daniel Torgersson, SuperElite. He has size and good speed, plus his numbers at lower levels are impressive. A January 2002, we'll know more about him by April.
54 (NR) RW Alexander Pashin, MHL. He won't be the first Russian chosen but he's very interesting. Small winger with impressive skill who gives effort across 200 feet. He can score and pass. Valuable skills.
55 (NR) LW Roby Jarventie, Mestis. He's an August 2002 and a nice size and speed combination. Has a good shot. Has played five Liiga games (scored a goal) and could spike.
56 (NR) LC Jack Finley, WHL. An August 2002 and a big pivot, he plays a fairly complete game and scouting reports have him as a good skater but without a strong first step. Could fall because of it but there's a lot to like.
57 (NR) LC Roni Hirvonen, Liiga. Undersized two-way forward, he can play center or wing. Known more for playmaking but he scored four times in three games at the Hlinka. January 2002.
58 (NR) LW Sean Farrell, USHL. A good skater with plus skills, he is posting strong numbers this season. November 2001
59 (NR) RD William Villeneuve, QMJHL. Tall, thin two-way defenseman is spiking offensively this season (51 points in 56 games). Great passer, March 2002.
60 (NR) LD Tyler Kleven, USHL. A big shutdown defenseman (6.04, 201) with good speed and a scouting report that says he has 'offensive tools' but his USHL numbers are shy. January 2002.
61 (NR) G Nico Daws, OHL. Hard to know where the goalies land, but his numbers in a good league have him here.
62 (NR) Kasper Simontaival, Koovee (Mestis). Unusual skating style but he's quick and has high-end skill. I'm uncertain of the league quality offered by Mestis, but he has posted impressive numbers all the way through his career.
MOCK DRAFT!
I'm using Bob McKenzie's mid-season list as my guide, my selections for the first two rounds represent players I have ranked highest (but still available on BM's list) at the time of Edmonton's selections .
FIRST ROUND, NO. 20 OVERALL: RC Mavrik Bourque, Shawinigan (QMJHL). 5.11, 171. January 2002. I keep wondering what I'm missing but Bourque appears to be strong candidate for top-10 overall based on skill set. He was strong across 200-feet at the Top Prospects Game, he's a great skater with vision and passing ability. And he has a plus shot. NHLE: 33.7
SECOND ROUND, NO. 51 OVERALL: RW Luke Evangelista, London (OHL). Skill winger with great hands, he can play in all three disciplines and flourish. He is not the highest ranked Knights player in the draft, but I like the math, especially considering he isn't playing a feature role (based on reports). NHLE: 28.0 (Raphael Lavoie was in the same range one year ago).
FOURTH ROUND, NO. 113 OVERALL: LW Roby Jarventie, Koovee (Mestis). I have him in my second round but doubt he goes before Edmonton's fourth-round pick. Great shot, powerful skater. 6.02, 185, August 2002. I really like this player.
FIFTH ROUND, NO. 144 OVERALL: LC Dmitri Zlodeyev, MHK (MHL). In keeping with last year's Russian drafting (Konovalov, Denezhkin) I've chosen a solid two-way center who skates well and has some skill.
SIXTH ROUND, NO. 175 OVERALL: RD Alex Cotton, Lethbridge (WHL). Puck-moving defenseman is an overager having a breakout season. Power-play quarterback, fine skater.
It's important to know the third round and seventh round picks are gone, one in the Milan Lucic deal and the other for Nolan Vesey. So, in a seven round draft, the Oilers have five picks. I expect we'll see some picks added but it isn't certain because the 2020 draft is a very good one. Ideally a general manager gives his scouts a pick in every round, that hasn't happened much in recent years for the Oilers.
On the other hand, seems the trade market involves prospects quite a bit so far this deadline. That could benefit Holland. The intel (can't remember, Friedman?) a couple of weeks back had the 2020 first round pick, Evan Bouchard, Philip Broberg and Dmitri Samorukov on the 'no chance they're traded' list. Here are the prospects with NHLE: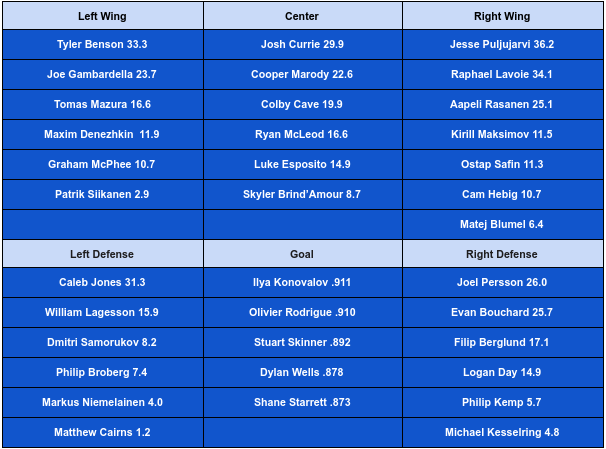 Players of value not on the no trade list include Jesse Puljujarvi, Raphael Lavoie, Tyler Benson, Caleb Jones, William Lagesson, Ilya Konovalov, Olivier Rodrigue, Stuart Skinner, Joel Persson and Filip Berglund. I don't think Jones or Benson are going anywhere, but what about Lagesson? Lavoie? And of course Puljujarvi is in play (wrote about him at The Athletic this morning, looking at what Ken Holland might be thinking). Maybe Samorukov or the 2021 first come in to play, or a 'conditional' is placed on the 2020 pick.
I do think the Oilers impressive run since January 1 should impact the deadline decisions. Dave Tippett has this bunch playing well. Flawed lineup for sure, but you can say that about 28 clubs in the NHL.
LOWDOWN WITH LOWETIDE
A busy morning gets underway at 10, TSN1260. Jonathan Willis from The Athletic joins me to talk about the Oilers road trip and how that impacts the deadline. Jon Abbott from TSN1040 talks Tyler Toffoli trade at 10:45 and we'll touch base with Andrew Peard and Corey Graham on the Oil Kings at 11. Who knows, maybe we see a trade today. 10-1260 text, @Lowetide on twitter. Talk soon!