Since we have zero idea what the cap will look like next season, it frees us to discuss roster construction the old fashioned way: On merit.
THE ATHLETIC!
The Athletic Edmonton features a fabulous cluster of stories (some linked below, some on the site). Great perspective from a ridiculous group of writers and analysts. Proud to be part of The Athletic, check it out here.
OILERS 2019-20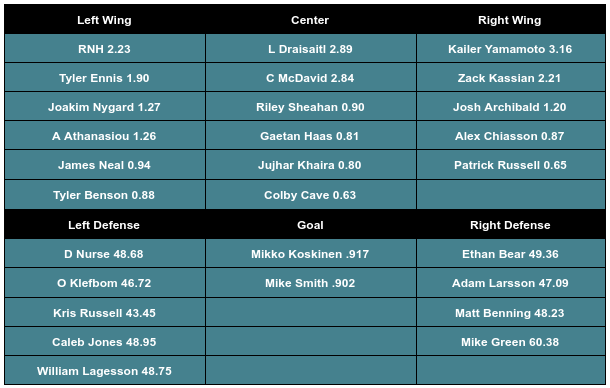 Left Wing: Nuge had a strong season, don't know that he can deliver 2.23 points per 60 (forwards numbers are five on five) but he can help in multiple roles. Tyler Ennis is an intriguing option, Edmonton can run two small wingers (imo) on the skill lines. Joakim Nygard should be able to post better numbers in year two, he's a fascinating option. Andreas Athanasiou cost a lot to acquire, I can't see Holland walking him. James Neal has had low five on five scoring totals for two years in a row now, that's trend. Tyler Benson will post more offense than last year's cup of coffee, but can he deliver enough to land on a line with a quality center? Beyond Nuge and Nygard, there are plenty of questions.
Center: McDavid and Draisaitl give Edmonton an extreme advantage in any game. After that, I wonder if the club retains both Sheahan and Khaira next season. They duplicate a lot of each other's skills. Gaetan Haas and Colby Cave are shy offensively. Edmonton needs a No. 3 pivot.
Right Wing: Yamamoto's emergence is such a gift to this side of the depth chart. Kassian gets the McDavid starboard but it would be wise to have stronger replacement options than Archibald and Chiasson. I think Chiasson is probably vulnerable to trade, and Patrick Russell is either extra man or elsewhere. RW needs work.
Left Defence: Oscar Klefbom, Darnell Nurse, Caleb Jones. Next.
Right Defence: Ethan Bear, Adam Larsson, Evan Bouchard and I really like Matt Benning, too. Mike Green also available and enough depth to trade from strength.
Goal: Mikko Koskinen earned another year, I think the Oilers would be wise to choose a younger partner. I do not believe Ken Holland agrees with my opinion.
OILERS
This is an astute signing, a skill forward added without using one of the team's spots on the 50-man list. Using the 'on merit' idea and picking only players signed or rfa, a good guess on the two teams as they stand might be this:
Ryan Nugent-Hopkins—Leon Draisaitl—Kailer Yamamoto. Incredible first 25 games or so, it's unlikely they deliver 28-8 five on five outscoring again but the trio is absolute fire.
Andreas Athanasiou—Connor McDavid—Zack Kassian. Holland acquired Athanasiou with the short and long term in mind, if he can deliver with 97 as his center it will be music. I think this could be a line opening night.
Joakim Nygard—Riley Sheahan—Josh Archibald. Ideally a more substantial offensive center but I like the two fleet wingers with a slower pivot. Could this trio score 30 goals?
James Neal—Juhar Khaira—Alex Chiasson. I don't think we'll see all three return and it's possible the entire set is gone by opening night. As it stands, suspect they are on the white board.
Darnell Nurse—Ethan Bear. I'm curious about a Klefbom-Bear combination over 50 games, but this duo worked well together. Bear's contract will be a big story of summer.
Oscar Klefbom—Adam Larsson. Two veterans have played together for a large portion of the last several years. When healthy, this is the top pair.
Caleb Jones—Evan Bouchard. It's less than ideal, and there's a chance Matt Benning or Mike Green hold back Bouchard (I think it's genuinely possible) but this is 'on merit' and it's go time for two talented youngsters.
CONDORS

Plenty of work to do of course, but if Cooper Marody is healthy and one of Kirill Maksimov or Raphael Lavoie can fill the RW side, Edmonton could have a No. 1 line with all prospects. I'm now officially on Team McLeod as a legit NHL center although he is a year away (or so) from the show. His offense came at evens and Eric Rodgers numbers suggest he did his work in 600 minutes. Folkes signing is a good one, need more and RH defence needs to be a focus. How many KHL players will Holland sign?
LOWDOWN WITH LOWETIDE
At 10 this morning, TSN 1260, we visit old friends and new ones too. Bruce McCurdy from the Cult of Hockey at the Edmonton Journal stops in at 10:20 to talk Oilers and the world today. Joe Osborne from OddsShark will pop in and we'll drill down on a wacky NFL offseason. 10-1260 text, @Lowetide on twitter. See you on the radio!