I drag my draft coverage out over several months for two reasons: I love talking draft and Oilers fans are traditionally ready to talk draft by this time of year and I can run it all the way to June 1 while holding interest.
For me, the math is the thing. I could post my final list when all the games are done. All the games are done. However, the conversation surrounding the draft has a life of its own, and tournaments drive last minutes changes. CHL playoffs and Memorial Cup, the big European tournaments in spring, the combine. All gone. Today, we don't know when the draft will take place, or when (or if) we'll see the combine. Where do we go from here?
THE ATHLETIC!
The Athletic Edmonton features a fabulous cluster of stories (some linked below, some on the site). Great perspective from a ridiculous group of writers and analysts. Proud to be part of The Athletic, check it out here.
THE MATH OF THE DRAFT
I pay attention to birth dates and scouting reports that confess to worries about speed. I use NHLE heavily. I also use scouting reports from trusted sources and publications. The 1971 draft was about a lot of things and it captured my imagination (don't let anyone tell you hockey can't get caught up in politics). I wondered about Bob Gainey in 1973 and Ron Chipperfield a year later, and I wondered about Alex DeBrincat in his draft year and about Arthur Kaliyev last year. Math doesn't tell everything but it does say something. It's saying it again.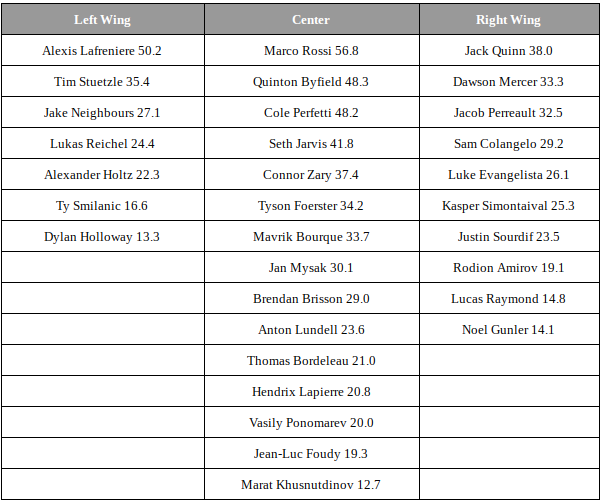 These are most of the top forwards by NHLE. My current list (below) is slow playing an inevitable rise up the charts by men like Seth Jarvis and Jan Mysak.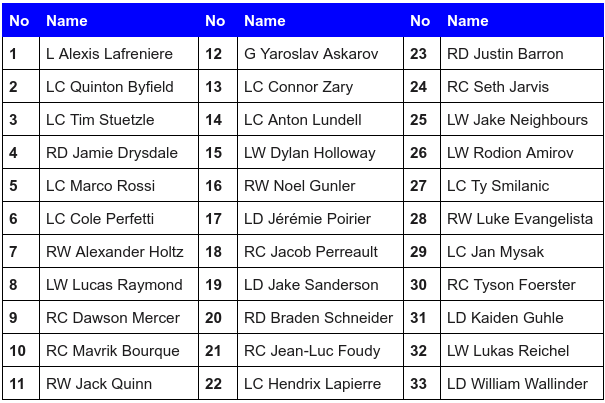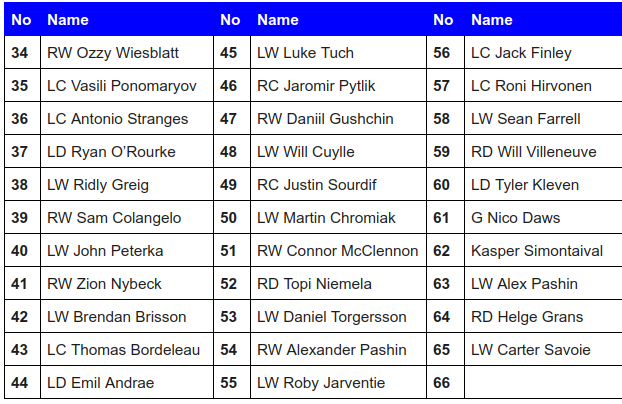 Bob McKenzie's mid-season list has Seth Jarvis at No. 24, same as my list. I'll probably have Jarvis top-10 or thereabouts on my final final, suspect he'll move up a little for McKenzie too. Bottom line is you can look at the NHLE and know where I'm going in the next while in terms of rankings. There might be a late Mysak but it's less likely due to lack of European tournaments this year.
My plan over the next weeks is to highlight various public resources (Corey Pronman will be next) and it begins today with Scott Weeler.
SCOTT WHEELER
Scott is my guest today on the Lowdown, we'll talk about the lost combine and the vague draft day, plus the 2020 draft. Wheeler offers a unique perspective on prospects, offering a viewpoint previously unavailable to fans. He uses video to show specific skills (witness his discussion of Lucas Raymond in his mid-season rankings) and drills down on skating issues real or imagined (Quinton Byfield in the same piece) that go beyond fast or slow.
Wheeler represents next level public scouting reports in my opinion, as he offers identifiable skills and weaknesses in players. You don't have to agree with him, but there is much value in reading him. I think his look at Evan Bouchard gives you a good idea about why Wheeler is a must read every draft year. He also wrote about Ryan McLeod in a piece that foretold the future.
LOWDOWN WITH LOWETIDE
At 10 this morning, TSN 1260, we celebrate what would have been opening day in baseball and talk NHL draft 2020. Scott Wheeler from The Athletic will pop in at 10:20, we'll chat about the difficulty in scouting this year compared to previous seasons. At 11, Jonah Birenbaum from The Score talks baseball and why you can never have enough arms. 10-1260 text, @Lowetide on twitter. Talk soon!