The Edmonton Oilers are working around the edges of next fall's AHL roster, and perhaps soon will be making some decisions on the NHL 23 as well. It's important to keep track of everyone and to find out about the newcomers.
THE ATHLETIC!
The Athletic Edmonton features a fabulous cluster of stories (some linked below, some on the site). Great perspective from a ridiculous group of writers and analysts. Proud to be part of The Athletic, check it out here.
Recent News
Philip Broberg is staying in Sweden for another year, the organization hoping he'll get plenty of work in all three game disciplines. He's young but has been cast in defensive roles over the last year, important that his offensive flair has a chance to breathe. One thing we'll be paying close attention to this fall is those special team numbers in the SHL.
Liam Fowlkes signed an AHL deal last week, he's a RW who played for Penn State. His NHLE is 20.7, and it was 29.4 in the previous season. I don't know that he'll follow in the footsteps of Mark Arcobello and Josh Currie (who signed AHL deals before getting NHL contracts in the seasons that followed) but he's a skill player and will get a chance in Bakersfield.
Yesterday, the Condors signed two more men from American International College of the ACA (NCAA Div. 1). It'a weak division but AIC has been strong for a couple of seasons. Dave Forbes played there and moved on to the NHL, but that was 1973.
Blake Christenson is a forward, 24, and scored 16-31-47 in 41 games, Janis Jaks is a righty blue, also 24, and posted 33, 6-9-15 in 2019-20.
OILERS AND CONDORS DEPTH CHART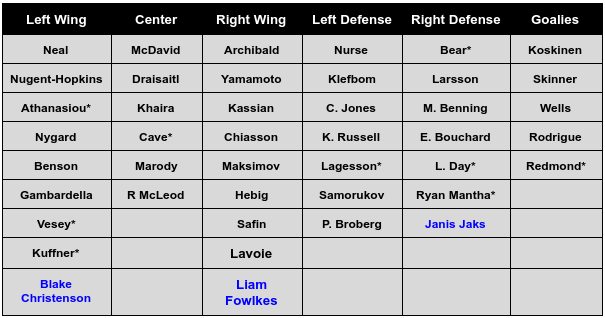 If we take these names and sign the RFA's (*) assumed, the holes are there but not close to a year ago. Here's what it might look like:
Athanasiou—McDavid—Kassian
Nuge—Draisaitl—Yamamoto
Nygard—(No. 3 center)—Archibald
Neal—Khaira—Anton Slepyshev
Extra F: Colby Cave, Patrick Russell
Nurse—Bear
Klefbom—Larsson
Jones—Bouchard
Extra D: Kris Russell
Koskinen (No. 2 goalie)
Traded: Chiasson, Benning
Edmonton could offload Athanasiou and sign or trade for another option on McDavid's line, perhaps Tyler Ennis. I used Athanasiou because the assets spent indicate to me Ken Holland will sign the big, fast winger in the summer. I have Chiasson and Benning traded, it could be Larsson and Khaira instead. Now let's see what the Condors might look like at this early stage:
Benson—Marody—Lavoie
Gambardella—McLeod—Maksimov
Kuffner—Malone(UFA)—Hebig
Safin—(No. 4 center)—Fowlkes
Christenson
Samorukov—Day
Lagesson—(Second Pairing RH)
(Third Pairing)
Jaks
Skinner—Wells—Rodrigue
Plenty of work today, suspect we'll see some college signings and guys like Malone added, too.
LOWDOWN WITH LOWETIDE
A fun show with a curveball this morning, we get started at 10, TSN1260. Bruce McCurdy joins us at 10:20 to talk Oilers season, Ken Holland and special teams. Jon Willis will join us tomorrow. Johnny Avello, director at Draftkings Sportsbook will pop in to give us a state of that industry and what might happen when sports returns. Marshall Ferguson from TSN1150 and CFL.ca will chat about the delayed start to the CFL season and what lies ahead. 10-1260 text, @Lowetide on twitter. See you on the radio!