So John Prine passed away and we found out about it yesterday. First time I ever heard of him was the day I bought his debut album at a second-hand store. Great luck, finding brilliance in a bargain bin. I will tell you the songs spoke to me the minute the vinyl saw the needle, and have been part of my life every day since. Just give me one thing that I can hold on to, to believe in this living is just a hard way to go.
I learned about Muhlenberg County and found songs of desperation and melancholy that matched my own. In a way, I went about collecting life experiences and then those life moments found a home between the grooves. Angel from Montgomery. Six O'Clock News. Paradise. Lake Marie. John Prine made this misfit feel like he belonged somewhere worthwhile.
People use words like 'connect' and 'chemistry' but John Prine's music was more than those things. The best songwriters pull emotion out of the air, capture them in words and rhyme. The listener comes along later to match their experience to the song that speaks to them.
John Prine spoke to me, he was a gift from above. I hope he's in heaven today with Wanda and James Lewis, with Elizabeth and Marie and the girl in the Appalachian Greyhound station. Stranger in the closet, lock the diary. The past is running faster, singing harmony.
The cuckoo clock has died of shock, and the windows feel no pane. The air's as still as the throttle on a funeral train. RIP John Prine.
THE ATHLETIC!
The Athletic Edmonton features a fabulous cluster of stories (some linked below, some on the site). Great perspective from a ridiculous group of writers and analysts. Proud to be part of The Athletic, check it out here.
We've talked about Slepyshev a lot recently, good to see the club is progressing and perhaps we'll see an announcement in the coming days. Where does he fit? If he plays RW, I think the depth chart might be Kassian-Yamamoto-Slepyshev-Archibald, meaning Alex Chiasson is on the outside. Slepyshev over Chiasson adds speed and a shooter, Chiasson's size, rugged play and skill have value but are duplicated elsewhere (Kassian).
If he plays LW, Athanasiou-Nuge-Nygard-Slepyshev might be the depth chart, meaning Jujhar Khaira and James Neal are down the line. I like the idea of bringing back players who didn't get a full lash at an NHL job (Teemu Hartikainen photo via Rob Ferguson).
I like Slepyshev, per 82 NHL games he scored 8-11-19 and that's in 11:12 a night. He also scored three even-strength goals during the 2017 playoffs, tied for second on the Oilers.
This is good news for draft aficionados. Edmonton would draft No. 20, No. 82, No. 144, No. 175 and No. 206 based on winning percentage. I think we'll see at least one pick added.
COLBY CAVE
What a terrible turn for a gifted athlete and suddenly none of this sports stuff matters at all. Fans everywhere praying for he and his family and good news. The suddenness of the event (as I understand it) reminded me of Normand Léveillé and his shortened career. Please get better Colby Cave, we're all worried about you. Godspeed.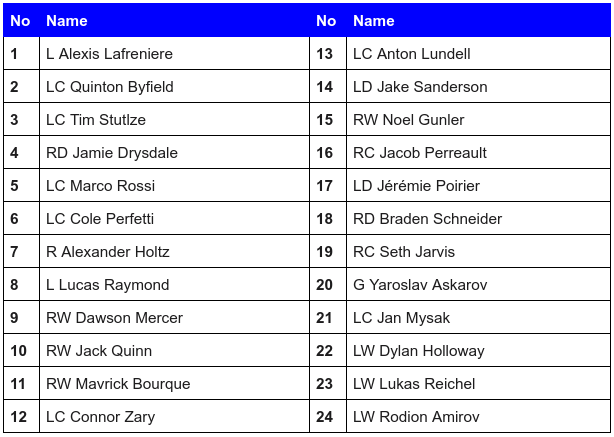 This is my list, I'll have another one up late April, here is the March edition. There are some outstanding players on this list.
LOWDOWN WITH LOWETIDE
At 10 this morning, TSN 1260, we have much to discuss. Bruce McCurdy from the Cult of Hockey at the Edmonton Journal will discuss Ken Holland's avail (Slepyshev, draft pick from Neal trade, negotiating with Filip Berglund and Markus Niemelainen) and Colby Cave's situation. Joe Osborne from OddsShark will talk UFC Island and undervalued MLB pitchers. 10-1260 text, @Lowetide on twitter. See you on the radio!