One of the things I wanted to look at when we got a chance is Ken Holland's procurement sources. Does he sign a bunch of college kids in order to supplement the draft picks or are there six AHL veterans on the roster? And, how does that compare to the Oilers? Here's a look, since 2010. Photo by Rob Ferguson.
THE ATHLETIC!
Great perspective from a ridiculous group of writers and analysts. I am proud to be part of The Athletic. Here are the most recent Oilers stories.
I have wondered about procurement pipelines for Holland's Red Wings versus the Oilers for some time. Turns out, the sources of first year pro players are the same, and the volume is very similar. Here's a 10-year (2010-19) look at the rookies, before we start looking year by year.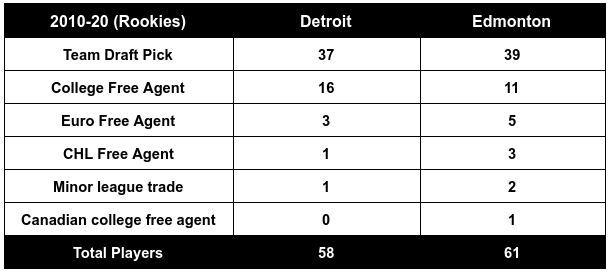 THE 2010-11 TEAMS
The Oklahoma City Barons made the playoffs while the Grand Rapids Griffins did not. The Oilers had 14 draft picks on that roster, including newcomers Jeff Petry, Linus Omark, ChrisVandeVelde, Teemu Hartikainen and Milan Kytnar. A nice group of rookie pros, Oilers didn't reap those rewards fully but some careers started in Oklahoma USA that fall and winter.
Detroit had two rookie draft picks, Brendan Smith and Joakim Andersson. Oilers had the better rookies, but Detroit had the better group matriculating in years two and three of entry deals. Tomas Tatar (in his second AHL season) led the way.
2011-12 TEAMS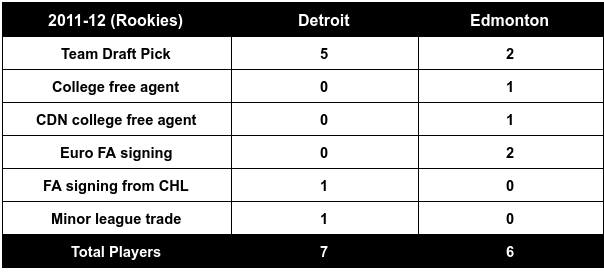 Now that we have the rosters 2010-11 established, I'm looking at just rookies. Gustav Nyqvist leads the way for Detroit, Landon Ferraro, Mitch Callahan and Andrej Nestrasil all showed promise.
Edmonton's new group boasted Tyler Pitlick as the frontrunner, with Curtis Hamilton, Antti Tyrvainen and Kirill "Eager" Tulupov joining in. Pitlick was a highly touted player in 2010, but injuries slowed his development. Nyqvist, a fourth rounder, would emerge as the player Edmonton hoped Pitlick (or others in the second round) would turn into by 2014.
2012-13 TEAMS

This is a pretty even procurement count. Edmonton signed Justin Schultz and Taylor Fedun, plus draft picks Martin Marincin, Toni Rajala, Ryan Martindale, Brandon Davidson and Olivier Roy turned pro. That's a solid rookie crop of pro hockey players.
Detroit's grads included Riley Sheahan, Luke Glendening, Petr Mrazek, Thomas Jurco. There is no high skill player here but several useful pieces and Mrazek has enjoyed a solid career.
Edmonton probably had the better players overall, but Detroit got more seasons of NHL production. Tough call. I'll give the edge to Edmonton. You?
2013-14 TEAMS

Edmonton's Oscar Klefbom is a notable player, with David Musil, Martin Gernat and Travis Ewanyk representing the Edmonton Oil Kings. College free agent Andrew Miller had an impact at the AHL level, and Kale Kessy was the minor league acquisition for the rights to Tobias Rieder.
Detroit had Ryan Sproul, Nick Jensen, Martin Frk, Xavier Ouellet, Teemu Pulkkinen, Alexei Marchenko.
Good crop, nod to Edmonton, but notice how Detroit gets at least some value out of a pedestrian rookie crop. Nick Jensen is a good NHL defenseman. Oilers were giving up on players too soon in this era. Jensen was drafted in 2009, became a regular in the NHL 2016-17. There's a lesson there.
2014-15 ROOKIES

This was a fascinating winter in Detroit. Rookie draft picks were excellent, Anthony Mantha, Andreas Athanasiou and Marek Tvrdon all showing promise. The team signed a Euro (Tomas Nosek) and a promising college player (Mark Zengerle) in a year where there's more activity than normal. The Nosek signing was solid.
Part of the reason could have been trades made by Holland that offloaded Mattias Backman, Mattias Janmark, Calle Jarnkrok and some picks for long in the tooth NHL help. Holland was adding from everywhere because of those trades, similar to what we saw with Haas and Nygard in Edmonton last summer.
The Oilers added Bogdan Yakimov, Jujhar Khaira, Dillon Simpson and Mitch Moroz, and a solid college man in Jordan Oesterle, plus the Euro Iiro Pakarinen. Detroit wins the day, Holland's trades have the look of a GM who has some urgency.
2015-16 TEAMS

Edmonton boasted Anton Slepyshev, Kyle Platzer, Greg Chase and Joey Laleggia, with Braden Christoffer getting a contract on a tryout and Eetu Laurikainen coming over for a try in North America. The Red Wings were quiet, with Tyler Bertuzzi and Zach Nastasiuk turning pro. College free agent Robbie Russo was the other rookie for Detroit. The only actual NHL player is Bertuzzi, so Detroit wins.
2016-17 ROOKIES

Detroit's draft rookies were Evgeni Svechnikov and Dominic Turgeon, college free agents Daniel Renouf and Kyle Criscuolo and CHL free agent Joe Hicketts.
The Oilers draft rookie was Jesse Puljujarvi, and the college free agents (Nick Ellis, Patrick Russell). Puljujarvi gives Edmonton the edge in a race no one is watching.
2017-18 TEAMS
Edmonton graduated Caleb Jones and Ethan Bear (draft picks), Joe Gambardella and Colin Larkin (college) and Ryan Mantha (CHL free agent). No first round picks but quality with Jones and Bear.
Detroit turned Filip Hronek pro. Axel Holmstrom and Vili Saarijarvi also arrived in the AHL. College men were Luke Esposito and Dominik Shine. Edmonton has the edge, although Hronek is a worthy player.
2018-19 TEAMS

Detroit graduated a bunch of its most famous prospects to pro hockey, including Filip Zadina, Dennis Cholowski, Givani Smith, David Pope and Christoffer Ehn. Libor Sulak and Patrik Rybar were the Europeans.
Edmonton's five draft picks are Kailer Yamamoto, Tyler Benson, William Lagesson, Tyler Vesel and Dylan Wells. The trade brought in Cooper Marody, Cam Hebig was the CHL free agent and the college kids are Shane Starrett and Logan Day. Zadina wins it for Detroit but Edmonton has a nice list.
2019-20 TEAMS

Oilers had a strong group of rookies, led by draft picks Evan Bouchard, Ryan McLeod, Kirill Maksimov, Dmitri Samorukov and Stuart Skinner. Joel Persson is the Euro.
Detroit also enjoyed an impressive group, with defenseman Moritz Seider plus forwards Joe Veleno and Michael Rasmussen leading the way. Gustav Lindstrom and Chase Pearson also made their pro debuts. College men are Taro Hirose, Ryan Kuffner, Alec McCrea and Jarid Lukosevicius. Too soon to know who has the edge.
DETROIT'S ASSEMBLY LINE 2010-19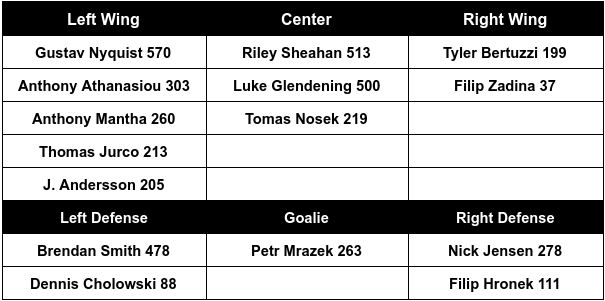 Seider, Veleno, Rasmussen and others will be added, but as the decade closes the DRW have produced 15 men with 200+ games or on a trajectory for same. About 1.5 a year, with some impressive talents. I didn't include Tatar because he wasn't a rookie pro in 2010-11.
THE OILERS PIPELINE 2010-19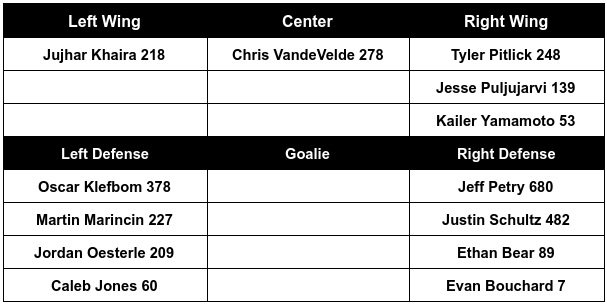 The defensive group has some terrific names and there are more on the way. The eight names here include several top-4 players who have been able to hold on to a feature job for years. The forward group isn't large nor does it offer a proven offensive talent, although Yamamoto appears poised to cover that bet.
Which crop from the farm do you prefer?
LOWDOWN WITH LOWETIDE
At 10 this morning, donut week continues on TSN1260. RTP and a new agreement are closer, looks like camps open July 13 and free agency begins November 1. Bruce McCurdy from the Cult of Hockey at the Edmonton Journal will discuss the news of Edmonton as a Hub City and Kevin Lowe's induction into the HHOF at 10:20. Daniel Nugent-Bowman from The Athletic will pop in at 11 to give his view of recent events and what expectations are for reporting in the bubble. Reid Fowler from Draft Kings will talk golf and the Dustin Johnson story plus previews the Rocket Mortgage Classic already underway. 10-1260 text, @Lowetide on twitter. See you on the radio!