It appears the NHL is on the verge of return, with the Coronavirus inspiring an extended CBA and world peace in our time. Now, after a long delay that involved this blog writing about every Oiler in history save Chris Hajt, it's finally time to talk about the playoffs.
We begin with lines, pairings and starting goalie picks. Mine are below, and please, can we not have everyone agree with my lineup again? It gets tiresome. Look around. Surely we can disagree on something.
THE ATHLETIC!
Great perspective from a ridiculous group of writers and analysts. I am proud to be part of The Athletic. Here are the most recent Oilers stories.
OILERS PLAYOFF ROSTER, LINES AND PAIRINGS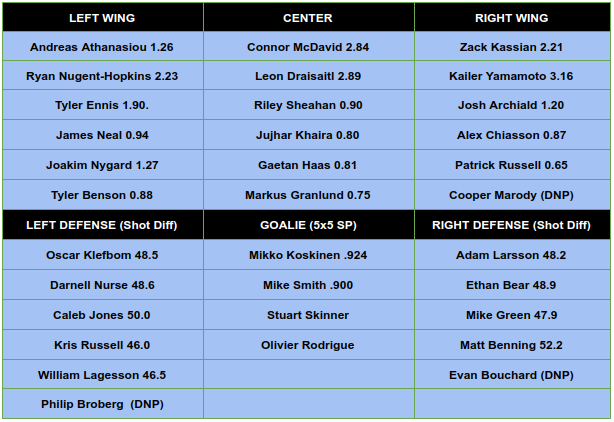 I chose Andreas Athanasiou for the Connor McDavid line because he was productive five on five (1-1-2, 2.72 points per 60) with the captain. He was also over 50 percent Corsi for five on five with 97. Zack Kassian lands the RW spot but there's enough depth to guarantee competition and replacement if quality of performance suffers. The big news here is that McDavid got some rest and should be fresh. Chicago defensemen are having nightmares about it as we speak.
I don't know what remains to be said about the Nuge-Leon Draisaitl-Kailer Yamamoto line beyond reiterating no NHL team had an answer for them five on five. It took Dave Tippett three months to separate 97-29 successfully, after almost five years of trying. What a spectacle!
Riley Sheahan and Josh Archibald had good moments with Tyler Benson, Joakim Nygard and others, but I chose Tyler Ennis because he can flip with AA easily and he adds speed and some offense to any trio. Ennis can also play right wing, so might land a job on 97's other wing if Kassian struggles. Ennis' scoring rate with McDavid (2.62 per 60 five on five) was basically the same as Athanasiou's.
Jujhar Khaira gets the nod from me as No. 4 C but that could change because Gaetan Haas brings a lot. James Neal and Alex Chiasson are my No. 4 wingers, it's a slow line but they're veterans and should be able to help McDavid when Tippett is double shifting him. Fans shouldn't expect goals, the key is not to be outscored. Nygard and Benson are also in the conversation.
Oscar Klefbom and Adam Larsson were fabulous down the stretch for Edmonton, if the duo can duplicate the January-March performance this train is going to roll like a Jimmy Page Yardbirds solo (all night long).
Darnell Nurse and Ethan Bear played big minutes in 2019-20, ideally a playoff run that sees more mid-level competition might be preferable. A fascinating duo, still wonder if Bear lands with Klefbom or eventually Jones. We'll see.
Caleb Jones and Mike Green are my choice for third pair but the coach has several options. Jones is here because he won the job over Russell and Lagesson needs a regular season in the NHL to get acclimated. I have Green over Benning but both men are capable. Evan Bouchard and Philip Broberg are here to catch the excitement of a playoff run in the NHL.
Mikko Koskinen is my starter all day and it isn't close. Dave Tippett will run with Mike Smith. I'm a believer in Tippett, so we'll see how this shines. Stuart Skinner appears to be the No. 3, Shane Starrett would be a more substantial option if healthy.
LOWDOWN WITH LOWETIDE
At 10 this morning, TSN1260, we have much to discuss including the NHL playoffs, new MLB schedule and more. Murat Ates from The Athletic will join us at 10:20 to talk Winnipeg Jets readiness and how he'll cover the playoff run. Chris Meaney from FTN talks Mahomes contract and the NFL season ahead. Ryan Rishaug from TSN will drop by with a complete overview of RTP and the incredible amount of work to be done to create the playoff bubble. 10-1260 text, @Lowetide on twitter!