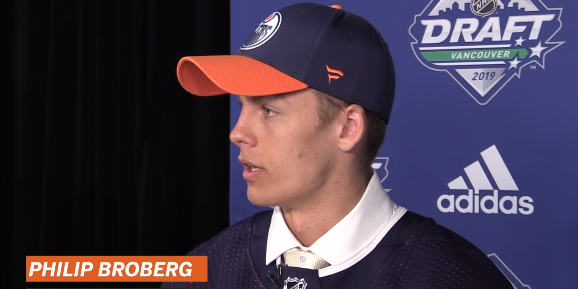 This is my final list for the 2020 draft. It is 125 names deep and this has been a most unusual draft season. It's my opinion this is an ideal draft for the Edmonton Oilers, owing to a plethora of forwards. Here we go.
THE ATHLETIC!
The Athletic Edmonton features a fabulous cluster of stories (some linked below, some on the site). Great perspective from a ridiculous group of writers and analysts. Proud to be part of The Athletic, check it out here.
I use NHLE as a strong guiding light. I also use scouting reports from trusted sources and publications. I punish poor foot speed liberally. My list list rewards offense heavily, and players with a range of skills usually do well, but there is a fine line between a two-way player and a minor-league future. That's the biggest difference between my 2013 list and this one: Offense is king.
If you play significant minutes on the No. 3 line during your draft year, that's a factor. The list does not give high numbers to players who have a lot of their value tied up in the defensive side of the game. Why? The checkers of tomorrow are hammering junior goalies into submission. Speed and skill, with astute decision making, is rewarded lavishly.
Goalies are graded (almost exclusively) by save percentage, success over more than one season has terrific value.
Corey Pronman has been an education for years now, his final list is here. Scott Wheeler is a unique voice, his final list is out today and here. His use of video and description of each player are welcome now and will be vital on draft day. We'll talk to him on the Lowdown at 10:40 Edmonton time this morning.
Craig Button's list has high value for me, I like the fact he has the courage of his convictions. I pay attention to Red Line Report. Steve Kournianos provides mountains of useful information. I value McKeens, Grant McCagg, Tom Hunter, Brock Otten, Adam Sherren, ISS. I miss Simon Boisvert but he does appear in McCagg's Recrutes with a fantastic top 30.
I do have conversations with scouts in junior hockey and they are very helpful. This year's list has less outside input, probably related to the vague timeline for the draft.
Hockey Prospect.com is a brilliant reference. Mark Edwards release last year has been very useful for this year's draft. Highly recommended. If there's one publication I would suggest purchasing, it would be Edwards.
I have been following the NHL draft since 1971, so can blame politics, Guy Lafleur, Marcel Dionne and Phil Russell for this obsession. Each year has a wrinkle, this year's it's an enormous crop of fascinating forwards. Very few burners, several miles of ridiculous offensive centers and wingers. Let's go.
The 125 best players in the 2020 draft
(1) L Alexis Lafreniere, QMJHL. NHL ready, fleet scorer who plays with an edge.
(2) LC Quinton Byfield, OHL. August 2002, 6.04, 215. Big, powerful winger, excellent speed.
(3) LC Tim Stutzle, DEL. Dynamic player, highlight reel offense. Tremendous skater.
(4) LC Marco Rossi, OHL. Good speed, exciting, range of skills. Exceptional talent.
(5) RHD Jamie Drysdale, OHL. Great speed, passing and instincts, instant offense from the blue.
(6) LC Cole Perfetti, OHL. Outstanding talent, not as fast as top forwards, has tremendous skill.
(7) RW Alexander Holtz, SHL. First-shot scorer with a range of skills, he's an electric player.
(8) LW Lucas Raymond, SHL. Smart player who has ridiculous skill. March 2002. Fine skater.
(9) RW Jack Quinn OHL. Impressive offensive winger was a late breaker. Pure goal scorer.
(10) RW Dawson Mercer, QMJHL. Impressive player who is both scorer and playmaker.
(11) RC Mavrik Bourque, QMJHL. Creative center, great passer, great shot. Plays in tough areas.
(12) LC Connor Zary, WHL. Quick, smart two-way center effective across 200 feet.
(15) LD Jake Sanderson, USHL. Smart, fast two-way defenseman has complete skill set.
(13) LC Anton Lundell, Liiga. Complete skill set, average speed but improving.
(16) RC Seth Jarvis, WHL. Jarvis is a fantastic player, undersized and skilled. Big second half.
(14) RW Noel Gunler, SHL. Has a great release and an impressive resume. Attractive option.
(23) G Yaroslav Askarov, VHL. He plays an unusual style. June 2002, has a .923 VHL save percentage.
(18) RC Jacob Perreault, OHL. Skates well, great shot, great numbers, excellent passer.
(20) LC Jan Mysak, OHL. Skilled and is effective in all areas. Major move in second half.
(26) LD Kaiden Guhle, WHL. Big defenseman has good foot speed and full skill set.
(17) LD Jérémie Poirier, QMJHL. Smart offensive defender, puck transporter.
(19) RD Braden Schneider, WHL. Fine skater, physical, smart two-way defenseman.
(22) LW Lukas Reichel, DEL. Mid-season riser. He has skill, speed and plays with abandon.
(25) LW Rodion Amirov, KHL. Scouts love the tools. A fast train in a draft season with slow boats.
(27) LW Dylan Holloway, Big 10. Big power forward. Strong skater, nice range of skills.
(29) LW Ridly Greig, WHL. Smart offensive winger with good instincts, August 2002. Not a burner.
(24) RC Tyson Foerster, OHL. Great offensive weapon, quick release and accurate.
(21) LC Hendrix Lapierre, QMJHL. Skill center projects as a playmaker. Injury a worry.
(28) RHD Justin Barron, QMJHL. Mobile blue can defend. Lacks top-end offensive ability.
(34) LW John-Jason Peterka, DEL. A speedy winger with skill, survived in a men's league.
(37) LW Martin Chromiak, OHL. One of the most skilled players in the draft.
(44) LW Brendan Brisson, USHL. Undersized speedster spiked late. Big riser.
(33) LD William Wallinder, Superelite. Big (6.04, 195) 2-way defenseman with good speed.
(31) LW Jake Neighbours WHL He's skilled, gritty and plays a strong two-way game.
(42) RW Zion Nybeck, SuperElite. Undersized playmaker, great passer. Impressive speed.
(30) RC Jean-Luc Foudy, OHL. Speedy center plus skill, mediocre season.
(36) LD Emil Andrae, SuperElite. Fast defenseman with offensive potential. Plus passer.
(38) LC Ty Smilanic, USHL. Lean center, plus skater and pure scorer. Had mono.
(39) LC Vasili Ponomaryov, QMJHL. Great hands and good speed, he's a little under the radar
(35) RW Ozzy Wiesblatt, WHL. Undersized winger is aggressive, fast and skilled.
(41) RW Sam Colangelo, USHL. Big power winger with skill, scored 28 goals in 44 games.
(32) RW Luke Evangelista, OHL. Skill winger, great passer, plays in all disciplines.
(51) RD Helge Grans, SHL. Solid two-way defenseman with good size and speed.
(45) RW Connor McClennon, WHL. Numbers are solid to excellent. Undersized, range of skills.
(47) RC Jack Finley, WHL. An August 2002 and a big pivot, he plays a fairly complete game.
(52) RW Kasper Simontaival, Liiga. Unusual skating style but he's quick and has high-end skill.
(49) RC Justin Sourdif, WHL. Two-way winger gained notice at the Hlinka, solid season.
(56) LW Veeti Miettinen, Jr Liiga. Undersized winger, fills the net with pucks.
(73) RW Pavel Novak, WHL. Speedster with skill, he's a scorer.
(48) LW Sean Farrell, USHL. A good skater with plus skills, spiked offensively.
(55) LW Daniel Torgersson, SuperElite. He has size and good speed.
(53) LC Thomas Bordeleau, USHL. Owns a great shot and is highly skilled with the puck.
(84) RC Tyler Tullio, OHL. Small playmaking pivot. Good passer, great shot.
(75) RW Ryan Francis, QMJHL. Playmaking winger who plays a smart game.
(64) RC Theodor Niederbach, SuperElite. Skill center is a late breaker this draft.
(63) LW Carter Savoie AJHL. Small, fleet skill winger delivered 99 points in 54 games.
(40) LD Ryan O'Rourke, OHL. Good size (6.02, 181) projects as a top-four defenseman.
(76) LW Brett Berard. Small skill winger with good hands.
(46) RW Daniil Gushchin, USHL. Small, speedy playmaking forward. Good numbers.
(74) LW Oskar Magnusson, SuperElite. Smaller winger good speed and two-way acumen.
(50) RC Jaromir Pytlik, OHL. He's a fine skater and has two-way skills.
(62) RD William Villeneuve, QMJHL. Tall, thin two-way blue spiked offensively.
(72) LW Owen Pederson, WHL. Pederson scored 28 goals in 61 games.
(68) LC Marat Khusnutdinov, MHL. Small (5.09, 165) two-way center with great wheels.
(54) LW Will Cuylle, OHL. Has a great shot, plus size and skill. Smart winger.
(66) LD Lukas Cormier, QMJHL. Undersized skill defender with good speed and skill.
(69) RD Michael Benning, AJHL. Impressive skills (fine skater, excellent passer).
(79) RW Brandon Coe, OHL. Power forward scored 25 goals in the OHL this season.
(55) LC Roni Hirvonen, Liiga. Undersized two-way playmaker can play center or wing.
(57) LW Luke Tuch, USHL. Alex Tuch's brother, he plays a similar style with less offense.
(85) RC Tristan Robins, WHL. Impressive numbers, he is very skilled and doesn't get much attention.
(82) LD Yan Kuznetsov NCAA. He's 6.03, 201, 18 and regarded as a solid defender.
(60) LC Antonio Stranges, OHL Terrific speed and skill, disappointing season.
(58) RW Alexander Pashin, MHL. Small winger with impressive skill can score and pass.
(59) RW Dylan Peterson, USHL. Big winger with skill and speed, he was shy offensively this season.
(61) RD Topi Niemela, Liiga. Niemela skates well, playing in Liiga. Some chaos.
(71) LD Shakir Mukhamadullin, KHL. He's 6.04, 178 and raw. Good speed, talent.
(65) LW Roby Jarventie, Mestis. He's an August 2002 and a nice size and speed combination.
(70) LD Eemil Viro Sm-Liiga. Small, fast offensive defender, no dominant skill.
(77) G Calle Clang, SHL. Good size, a .913 SP and stellar work at the Hlinka.
(87) LW Kyle Crnkovic, WHL. Small (5.07) doubled his point total season over season.
(78) LC Elliot Ekmark, SuperElite. High skill, elusive, great speed, undersized.
(89) RW Wiljami Myllylä, Jr Sm-Liiga. Speed demon, gaudy scoring numbers for days.
(88) LC Theo Rochette, QMJHL. Undersized two-way center, intriguing offense.
(80) RD Luke Prokop, WHL. A giant (6.04, 218) able to close gaps and suppress offense.
(81) LD Tyler Kleven, USHL. A big shutdown defenseman (6.04, 201) with good speed.
(83) G Sam Hlavaj, QMJHL. Boasts a .915 save percentage and stands 6.04, 218.
(67) G Nico Daws, OHL. .924 save percentage represents a big performance spike.
(87) LC Daniel Ljungman, SuperElite. Emerged from nowhere at the Hlinka Gretzky. Great release.
(83) G Joel Blomquist, Jr Liiga. Strong numbers (.929), good glove.
(91) LC Cameron Berg, USHL. Good speed and skill.
(92) G Dylan Garand, WHL. Eye popping SP (.921) for June 2002, but he's only 6.0.
(93) RC Zayde Wisdom, OHL. Pure scorer, strong season, wheels are the concern.
(NR) LW Emil Heineman, SHL. Older prospect, good size and speed.
(94) LD Daemon Hunt, WHL. Will earn his money as a shutdown defenseman.
(95) LW Pavel Gogolev, OHL. Now 20, he is fast and has a great shot.
(96) LC Juuso Mäenpää, Jr Liiga. Very small but highly skilled playmaker.
(97) LW Maxim Groshev, KHL. Skilled and determined with the puck on his stick.
(98) RD Kasper Puutio, WHL. Good Hlinka and then a strong late push after being dealt.
(99) LW Cross Hanas, WHL. Speedy winger scored 22 goals in Portland.
(100) LC Evan Vierling OHL. Playmaking center spiked late. Excellent passer.
LW Yevgeni Oksentyuk, OHL. Impressive season for Feb. 2001, under the radar skill W.
RD Alex Cotton, WHL. Big defenseman with a great shot, overager.
LD Anton Johannesson, SuperElite. Small puck mover is a wizard, could be a steal.
RD Billy Constantinou, OHL. Chaos blue made my list last year, worth a late flier.
G Brett Brochu, OHL. Under the radar goalie who delivered a .919 SP as a rookie.
RC Josh Pillar, WHL. Fast player, spiked offensively, could be underrated here.
LW Blake Biondi, USHS. High skill, great speed.
RC Colby Ambrosio, USHL. Speedster, very skilled, I love his resume. Just 5.08, he's a bullet.
LW James Hardie, OHL. Volume shooter, 34 goals, one dimensional.
RD Thimo Nickl, QMJHL. Strong skater, two-way blue, December 2001.
RD Eamon Powell, USHL. Impressive skater can move the puck effectively
LD Donovan Sebrango, OHL. Two-way defender, excellent skater.
LD Dave Ma, USHL. Tremendous skater and very creative.
LW Rory Kerins, OHL. 30 goals for an April 2002 is worth drafting.
LD Mitch Miller, USHL. Fine skater, has two-way skills.
RW Oliver Suni, OHL. Strong winger with range of skills.
G Devon Levi, CCHL. Impressive .941 SP.
LC Michal Gut, WHL. Skill center, average speed, August 2002.
LW Eric Juhlin, SuperElite. Good shot, solid performance (13 goals in 36 games) at even strength.
RD Ian Moore, USHS. Massachusetts offensive defenseman.
LW Maxim Beryozkin, MHL. Size, speed, skill, shot. Average speed is the worry.
LHD Alexander Nikishin, KHL. Good skater, plus shot, he's a throwback who hits to hurt.
G Drew Commesso, USHL. Good size, thrived wherever he played in 2019-20. Big step forward.
RD Ethan Edwards, Spruce Grove, AJHL. Impressive speed and skill puck mover.
OILERS MOCK DRAFT!
I added a second round pick via Ottawa, let's say it's a deal that involves Jesse Puljuarvi.
No. 20 overall. LC Connor Zary, Kamloops Blazers (WHL). He's a center, six foot 180, September 2001. Makes smart plays, great passer, offensive spike this season far more than expected. Not fancy, lets the puck do the work with deft passing. Red Line likes his skating, Pronman says he'll be pro average. That's good enough for me. I would prefer either Mercer or Bourque but they'll be gone at 20.
No. 50 overall (assumed acquisition). LD William Wallinder, Modo (SuperElite). Big Swedish defenseman with great wheels, my guess is Edmonton has him high on their list. Offensive potential but I'd phrase him as a two-way type. I'll bet Wallinder goes 22-40 overall but he could fall if things break right.
No. 82 overall. RC Jack Finley, Spokane Chiefs (WHL). He's a big center with skill and a good skater, too. Some question about what position he'll play at the pro level and it's a bit of a boom or bust but the payoff on the bet is huge.
No. 144 overall. LW Veeti Miettinen, Espoo (Jr Liiga). Undersized scorer with a great shot. Again, fabulous value at this spot.
No. 175 overall. LW Oskar Magnusson, Malmo (SuperElite). Fine prospect brings speed and a great shot. Undersized, always a theme of my mock drafts.
No. 206 overall. LW Kyle Crnkovic, Saskatoon (WHL). The parade of small forwards with skill continues to the bitter end.
PROJECTED PROSPECT DEPTH CHART AND NHLE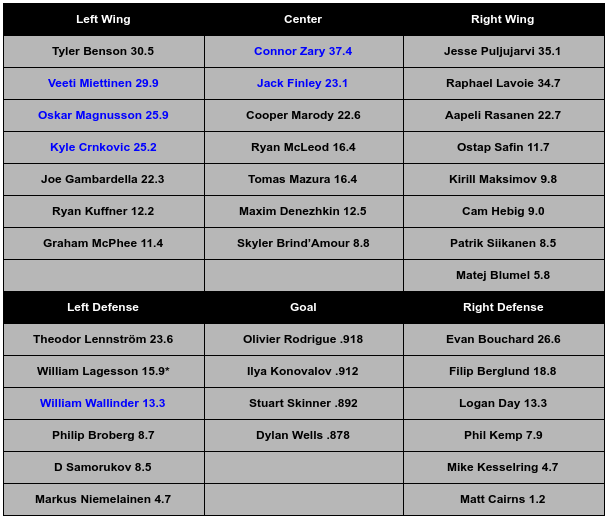 Oilers have themselves at a point where drafting best player available has to be abandoned. This draft needs to deliver quality forwards. Fortunately, I see this draft as top heavy in forwards.
The numbers suggest there isn't much difference year over year: My first round this summer has one goalie, six defensemen and 24 forwards. A year ago it was no goalies, nine defenseman and 22 forwards.
My entire 125 list contains 9 goalies, 32 defensemen and 84 forwards. My list last year contained 6 goalies, 39 defensemen and 80 forwards.
I see my mock as something close to ideal. Two centers, three wingers and a blue. I don't see this as a fabulous crop for goalies although the kid from the OHL is intriguing.
LOWDOWN WITH LOWETIDE
At 10 this morning, we hit the ground running on another week of fun sports chat on TSN1260. Hernan Salas from TSN1260 will join us to talk about another outstanding goal by Alphonso Davies this weekend, plus the return of the EPL in the middle of this month. Scott Wheeler from The Athletic will discuss his final top 100 for the 2020 draft just out today. Jason Gregor from TSN1260 pops in at 11 to chat NHL news, MLB's sputtering carcass and whatever breaks between now and then.