For most of a decade, four general managers have spent time trying to 'build up the middle' to create an Edmonton Oilers team that has a strong base at center, defense and in goal. High draft picks spent on Ryan Nugent-Hopkins, Oscar Klefbom, Darnell Nurse, Leon Draisaitl, Connor McDavid, Ethan Bear, Evan Bouchard and Philip Broberg all chosen with an eye to improving at center or defense.
During those same years, the team has procured and then sent away some stunning skill wingers. It's really incredible to look at (say) the 2015-16 team and see it erode over just a couple of seasons. Believe it or not, the 2019-20 winger shuffle represents a significant recovery from recent seasons.
THE ATHETIC!
Great perspective from a ridiculous group of writers and analysts. I am proud to be part of The Athletic. Here are the most recent Oilers stories.
2015-16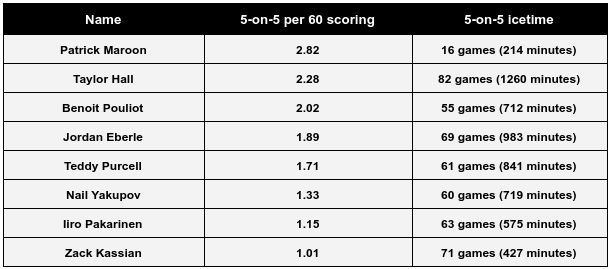 This is a great list of wingers, from a brilliant skill player who could push the river (Hall) to a legit first-shot scorer (Eberle) through big men with good hands (Maroon, Kassian), wily veterans who found a way to score (Pouliot, Purcell) to young Yakupov. Hall-Eberle and Pouliot-Purcell is a contender for the best set of four skill wingers since McDavid arrived.
2016-17

This is the playoff team, no winger is over 2.00 per 60. It's a pretty massive turnover, Hall and Purcell are out and Pouliot is well down the depth chart. Eberle remains and is productive although not at the 2015-16 level. Patrick Maroon continued to be a great fit on McDavid's portside, and Zack Kassian showed more than men like Lucic and Caggiula. Lucic and Slepyshev had some playoff success with Draisaitl at center.
One day when I'm retired I will write the Pollock book and then focus on the complicated relationship between three men: Peter Chiarelli, Todd McLellan and Jesse Puljujarvi. Two of those three men were uncertain JP belonged in the NHL in 2016-17 and the other guy was Chiarelli. Pretty sure.
2017-18

Draisaitl is on the wing and delivering big offense with McDavid, but the rest is a bit of a mess. Aberg played less than 25 percent of the season, Cammalleri was long past his prime but undoubtedly one of the most skilled wingers, and Maroon was clearly good enough to play on skill lines. Lucic, Kassian and Puljujarvi, expected to carry some of the offensive load, are also in photo.
2018-19

This is what spending the last dime of your cap dollars on Kris Russell does to your wingers. Chiarelli said several times during his time with the Oilers that wingers were easier to find. He must have been talking about other general managers. PC's two big bets on the wing from 2016 summer, Lucic and Puljujarvi, slide all the way down the depth chart. Don't blame the kid, the 2018-19 season should have been his rookie campaign in the NHL.
2019-20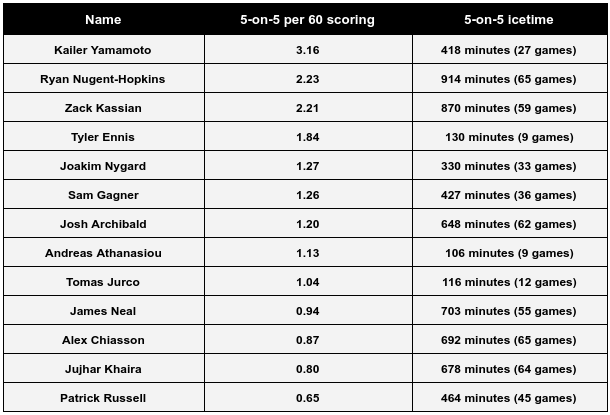 New coach means some time figuring out what is on the roster. Credit Dave Tippett with finding out about several men in the first half and then recognizing Kailer Yamamoto was more talented than any other right winger on the roster. Nugent-Hopkins moved over from center, Kassian enjoyed his best season by some margin.
Acquiring Anthanasiou and Ennis at the deadline probably means the end of James Neal in the top six forwards, Alex Chiasson also trending that way. One or both might be able to land on a third line, the question is who is the center? Tippett liked Khaira's work in the middle late in the year. The 2019-20 Oilers had three men over 2.00/60 at five on five, the highest number to reach the plateau since 2015-16.
JAKE DEBRUSK
A story out of Boston (via Edmonton) has Jake DeBrusk's next contract as a point of interest. He has not been able to duplicate a rookie season that saw him post 2.38 points per 60 at five on five, falling off to 1.81 as a sophomore and 1.65 in 2019-20. Meanwhile he has scored eight and seven goals respectively in the last two years on the power play. If he's available, Oilers should pursue. He would be a dandy winger for McDavid.
LOWDOWN WITH LOWETIDE
Much to discuss on the Lowdown this morning, we start at 10, TSN1260. Bruce McCurdy from the Cult of Hockey at the Edmonton Journal will discuss the Oilers playoff hopes and possible lines/pairings and key players. Joe Osborne from OddsSharks will discuss betting the long shot on all of these returning leagues plus name change for the Washington NFL team. 10-1260 text @Lowetide on twitter. See you on the radio!