The Oilers loaning of Theodor Lennstrom confirms what we already knew: The Bakersfield Condors are unlikely to play hockey again in 2020. Several of the men under contract who would be eligible for AHL work next year (Lennstrom, Dmitri Samorukov, Filip Berglund) are going to be in Europe on loan.
Markus Niemelainen can be loaned back to his Liiga team, and that means Bouchard and two RFA's (William Lagesson, Logan Day) make up the entirety of the AHL depth chart. Find the bugle, play taps. My guess is the NHL will have a 'taxi squad' of extras for 2020-21 unless someone finds a vaccine and right soon. Never bet against science but that's a big ask.
THE ATHLETIC!
Great perspective from a ridiculous group of writers and analysts. I am proud to be part of The Athletic. Here are the most recent Oilers stories.
LOOKING FOR A HOME FOR THE FUTURE
So let's make a list of where everyone who might have been on the Condors roster for 2020-21 is going, and then we'll know who doesn't have a home.
RD Filip Berglund: Linkoping (SHL)
LD Philip Broberg: Skelleftea (SHL) or Oilers (NHL)
RD Evan Bouchard: Oilers (NHL)
LD Dmitri Samorukov: CSKA Moscow (KHL)
RD Logan Day: RFA
LD William Lagesson: RFA
LD Theodor Lennstrom: Frolunda (SHL)
LD Markus Niemelainen: Assat (Liiga)
The Oilers may have to figure out what to do with Bouchard, Day and Lagesson. My guess is Day is set free, Lagesson is signed and joins Bouchard on what would be an extended Oilers roster.
There are seven forwards, Edmonton could retain Tyler Benson, Cooper Marody and Ryan McLeod on the extended NHL roster. Raphael Lavoie could head back to the QMJHL. I'm not sure what happens to Kirill Maksimov, Joe Gambardella and Ostap Safin. Probably Europe.
Goalies? Olivier Rodrigue back to junior, Stuart Skinner and Dylan Wells either NHL or Europe. Man what a mess.
PROJECTED OILERS ROSTER [30]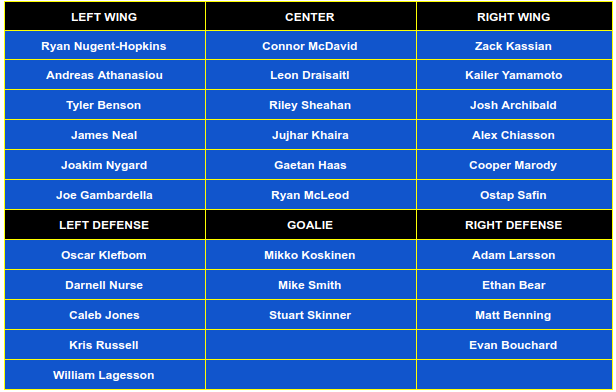 This is inefficient but Seven of Nine isn't on Oilers Voyageur so some careers could suffer over the next several months. Ryan McLeod is the most vulnerable, I think Bouchard is NHL-ready and should push his way up the depth chart in short order.
COREY CRAWFORD
The Chicago Blackhawks are hopeful Crawford will travel with the team to Edmonton, that implies he is close to ready. Huge part of the series, a story to follow closely in the coming days.
MAGNUS PAAJARVI BORN TO RUN
Lots of fine prospects were wasted on the way or found wanting over the decade of darkness. One of the most promising was Magnus Paajarvi. Here's my review of his 2012-13 season as written on May 8, 2013.
What do these numbers tell us? He had his finest season. Best 5×5 season, he played 2nd level toughs, he had a reasonable CorsiRel and thank God his shooting percentage crawled from the wreckage. This was some redemption. The young man has earned this, it's been a tough three seasons since coming over from Sweden.
How could these numbers be better? Just developing, just doing it over and over again. Repeat, rinse, repeat. Guys like Paajarvi–or at least the role I think he'll play–tend to grab the job at 23 or 24 and then go on a nice run. Pisani didn't get the NHL job at age 25, it takes some time. Magnus is way ahead of the curve now, after this season.
Why did he get left behind? As a rookie, MP delivered a decent amount of offense based on role but he went backwards the following season. A rough start in his rookie season was met with patience, but in year two coach Renney sent him away for seasoning. Renney had some things going on the top 2 lines and didn't want to worry over Paajarvi and Omark. The result was a worn down Smyth and a lost season for Paajarvi and Omark. I was generally strong on Renney, and do respect it must be a nightmare to bring 11 forwards who don't shave along at the same time, but this was a case of opportunity missed imo.
Krueger handled it differently? Well, I think Krueger read the results better. Even in his second season, Paajarvi was doing things that were useful (he was a bottom 6F helping the shot differential). Renney didn't really find a role, but Krueger sure as hell did, and in fact Krueger used him more and more as the season wore on.
Is there any hope for him as a top 6 forward? Sure, but probably not on the Oilers.
What now? Oilers have Hall, Yakupov and Eberle as part of the top 6F group now, and unless I've missed it MacT is going to add a forward for top 6F this summer and that's either a winger or a center to replace Gagner (who could move to wing). I don't think he's going to play top 6F, and I don't think he's going to get big PP minutes with this Oiler team.
Will MacT trade him? Maybe. I'm more confident they'll keep Paajarvi now than I would have been if Tambellini remained. Paajarvi does have some nice things going on, and I could see an NHL team asking after him. However, he's a talented 2-way winger who fills a role, so if you're going to deal him then that's another hole created. Oilers have plenty of things to do this summer, I'm not sure adding new problems to replace old ones is a grand idea.
How did Krueger use him? Top 6 minutes (6th) at EVs (12:18), 1:24 (PP) and 24 seconds on PK.
What's his likely role? Two-way winger who can PK, jump up the depth chart as required and pop 15-20 goals a year.
He isn't gritty enough. He'll never be the physical force people want him to be, but Paajarvi went to the tough areas this season and scored some goals from there. He made a lot of progress, suspect we need to give Todd Nelson in OKC some credit for that, too.
Why Born to Run? It's about speed (Paajarvi's crazy fast) and it's about finding a better place than the one you're leaving, without really knowing anything about what it looks like. I think that's Paajarvi now. He might end up on a scoring, a checking line, or in Columbus. But he's in a better place.
LOWDOWN WITH LOWETIDE
A fun show as excitement builds, we get started at 10 this morning, TSN 1260. Bruce McCurdy from the Cult of Hockey at the Edmonton Journal will join us to talk about Leon Draisaitl's Hart Trophy nomination and about the Oilers playoff chances. We'll also talk at length about the Edmonton Football Club and the future. 10-1260 text, @Lowetide on twitter.