In an interview earlier this week, Ken Holland discussed the 2020-21 salary cap and the road ahead for the organization. "An $85.5 million-dollar cap versus an $81.5 million-dollar cap – four million dollars – is a fairly significant amount of cap space for everybody. So, it's going to be tight and we're going to try to find players that can play. You need cheaper players on your roster, you always do."
THE ATHLETIC!
Great perspective from a ridiculous group of writers and analysts. I am proud to be part of The Athletic. Here are the most recent Oilers stories.
VALUE DEALS HOLLAND CAN COUNT ON
Ethan Bear, Kailer Yamamoto and Caleb Jones had impressive seasons in 2019-20 and should offer value next season. Bear needs a new deal but Holland likely offers a bridge because there's too much month at the end of the money.
Gaetan Haas and Joakim Nygard are signed to deals for next season at less than $1 million but the two men aren't in the projected starting lineup for the playoffs. Things could change but at this point the most accurate thing we can stay about the two men is that they're in the mix for bottom-six work in 2020-21.
Tyler Benson, Cooper Marody and Ryan McLeod are in good spots for NHL jobs next season. Vulnerable forwards include Alex Chiasson, James Neal and Riley Sheahan (who is without a contract).
The other player who should be mentioned is Evan Bouchard. A player like Matt Benning might be vulnerable for the offseason with Bouchard ready to step in. I have listed him as Edmonton's No. 1 prospect two years running but the team has been very patient with him (after an early misstep). I don't know when he'll arrive but at less than $900,000 (with a potential performance bonus of $500,000) having him on the roster over Benning could represent a saving of up to $1 million next season. Kris Russell is also vulnerable.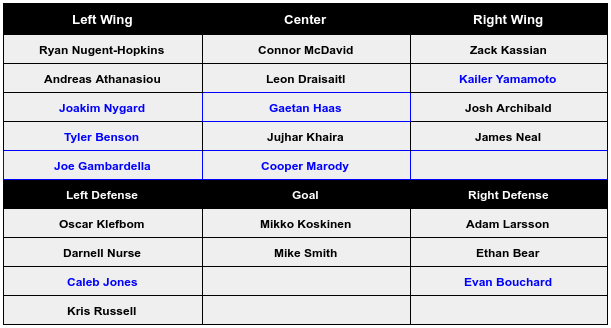 If Tyler Ennis and Riley Sheahan can be brought in around $1 million, that moves Marody and Benson to the Bakersfield Condors (and I do think something like that will happen). Assuming Russell and Chiasson can be traded without adding cap dollars (that might mean moving Jesse Puljujarvi in the Russell deal), the team above would have a cap of about $80,000,000.
Note: The roster choices above aren't mine, but I do believe Holland will bring Smith back unless the big goalie struggles in the postseason. I held off on adding Sheahan because it's possible the organization goes in a different direction.
LOWDOWN WITH LOWETIDE
We kickstart the weekend at 10, TSN1260. Blue Jays opening day! NHL playoff action is eight days away! Steve Lansky from BigMouthSports will talk about the NHL bubble, the Jays and the return of Mike Tyson. Matt Iwanyk will chat Edmonton Football Club, the Yankees and the NHL's in-game look. 10-1260 text, @Lowetide on twitter. See you on the radio!