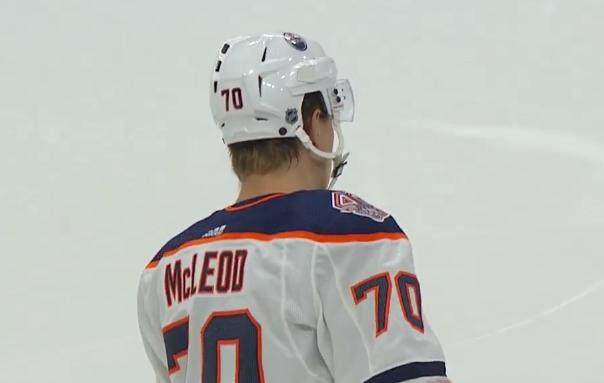 How close to NHL ready is Ryan McLeod? How does he compare to the last center who successfully came through the minor league system? WHO WAS the last center to successfully come through the minor league system?
THE ATHLETIC!
Great perspective from a ridiculous group of writers and analysts. I am proud to be part of The Athletic. Here are the most recent Oilers stories.
ROOKIE CENTERS AHL EV SCORING 2010-20
Cooper Marody (Age 21) 2018-19: 58, 15-30-45 [.776]
Mark Arcobello (Age 22) 2010-11: 26, 7-8-15 [.577]
Marco Roy (Age 20) 2015-16: 42, 7-10-17 [.405]
Bogdan Yakimov (Age 20) 2014-15: 57, 9-14-23 [.404]
Ryan McLeod (Age 20) 2019-20: 56, 5-13-18 [.321]
Milan Kytnar (Age 21) 2010-11: 78, 12-11-23 [.295]
Tanner House (Age 21) 2011-12: 68, 8-12-20 [.294]
Ryan Martindale (Age 20) 2012-13: 41, 4-8-12 [.293]
Tyler Vesel (Age 24) 2018-19: 61, 5-11-16 [.262]
Kyle Platzer (Age 20) 2015-16: 48, 3-8-11 [.229]
Jujhar Khaira (Age 20) 2014-15: 51, 4-6-10 [.196]
Chris VandeVelde (Age 23) 2010-11: 67, 9-4-13 [.194]
Travis Ewanyk (Age 20) 2013-14: 68, 7-5-12 [.176]
Just over one per year over the decade, the most in a single season was three in 2010-11. The best center at 20 was Marco Roy, the player who received just an AHL deal inexplicably. No disrespect to Travis Ewanyk, but that's craziness.
Marody is a fascinating prospect, he ran under the radar for most of 2019-20 but then showed up and made some nice plays during the scrimmages at summer camp.
McLeod delivered pretty well on a team that didn't have a lot of offensive weapons. Is that enough offense to project him as an NHL player? Considering Khaira and VandeVelde played in the NHL, I'd suggest the answer is yes. Third line center? He can probably cover the defensive aspects but he'll also likely need a more talented linemate.
BROBERG
Swedish Poster: "Philip Broberg on what looks like the top pairing with veteran Niclas Burström ahead of tomorrow's first exhibition game for Skellefteå, he should certainly be within the top 4 5v5. Will be interesting to see where he slots in on special teams, since he arrived late I assume he has some catching up to do before getting PP time but he should be on the PK a fair bit."
The Covid-19 worry is always with us, so we begin every conversation about hockey players with a prayer for safe passage through the day. This is a big season for Broberg. At the point in development, draft+2, Oscar Klefbom's SHL time on ice spiked from 13:44 to 17:28. Last season, Broberg averaged 13:59 per game, a shade more than Klefbom. Will he play more than 17:28 in 2019-20?
WHO IS CLOSEST TO NHL READY?
I got an email yesterday, discussing the most NHL ready Oilers. For me, that's an easy answer to find because Ken Holland just told us during the series against Chicago. In the final game, Edmonton's healthy scratches included Stuart Skinner, Evan Bouchard, Philip Broberg, William Lagesson, Tyler Benson, Cooper Marody, Ryan McLeod. Players who would have (imo) been included if all prospects were available are Theodor Lennstrom, Filip Berglund, Ilya Konovalov and Jesse Puljujarvi.
LOWDOWN WITH LOWETIDE
At 10 this morning, TSN1260, we have a great lineup of guests. Bruce McCurdy from Cult of Hockey at the Edmonton Journal joins us to talk Dale Hawerchuk, Oilers wingers having an impact, and Rask leaves the bubble. Joe Osborne from OddsShark arrives at 11 to talk NHL and NBA playoffs. 10-1260 text, @Lowetide on twitter. See you on the radio!