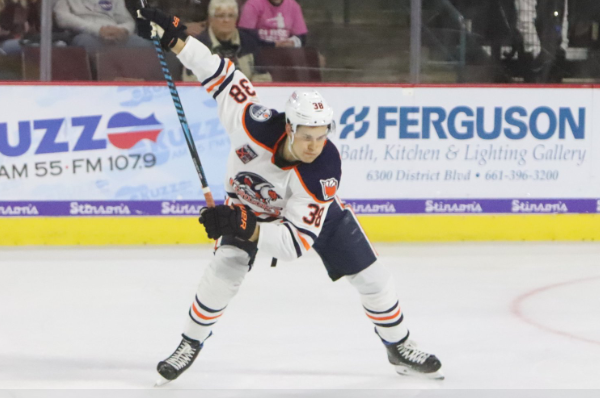 Mark Spector breaks a lot of stories, and it looks like he has another in regard to Jesse Puljujarvi's possible return to the Edmonton Oilers. Story is here.
THE ATHLETIC
Great perspective from a ridiculous group of writers and analysts. I am proud to be part of The Athletic. Here are the most recent Oilers stories.
PULJUJARVI'S SPOT IN THE BATTING ORDER
I want to make a point, but before I do, I have to make another point. I'm about to suggest JP as No. 3 right wing in 2020-21, but want to make it clear that he would have success playing on the top line. For his brief career so far, JP scores 2.06 per 60 at five-on-five when playing with Connor McDavid, and the duo drills opponents at 55 percent Corsi for five-on-five. I don't know why the math loves their chemistry while there was apparently none in real life, but down the line, maybe in the playoffs when the season is on the line and all else has failed, this could be considered an option. Here, are the five-on-five per 60 scoring numbers by Edmonton's wingers with McDavid in 2018-19:
Leon Draisaitl 3.35 (805 minutes)
Drake Caggiula 2.54 (141 minutes)
Zack Kassian 1.96 (428 minutes)
Ryan Nugent-Hopkins 1.91 (376 minutes)
Milan Lucic 1.83 (98 minutes)
Jesse Puljujarvi 1.80 (67 minutes)
Ty Rattie 1.72 (244 minutes)
Alex Chiasson 1.48 (284 minutes)
Jujhar Khaira 0.93 (64 minutes)
Kailer Yamamoto 0.00 (84 minutes)
In August of 2019, when he made it official, I wrote the following in a post on this blog called 'So Long and thanks for all the Fish':
"I sincerely hope Jesse Puljujarvi finds his way, first in Finland and then in the NHL. He is looking for his own place in the sun, you can't blame a man for being restless to find home. Sail on, Kajaanin Hokki, you came to us in a time of great confusion. Don't you dare let this experience define you. Keep smiling, big man. We won't forget you."
SWEDISH POSTER'S UPDATE (All words by SP)
Nice early arrow for Broberg. Had an assist, played on PP2(PP1 was all forwards) and started the 3on3 ot.
Getting a good chance in early exhibition is one thing, the next step is hanging on to that opportunity, SHL coaches are notoriously hard on young D once the real games get going, especially if the team is losing and he will see his ice time fade for stretches but it's clear they see him as a top 4 option going in. I wouldn't count on him being top 2 in ice time going forward but if he manages to hold that spot and establish himself as a top pairing SHL D that would be quite impressive. Run with it Phil, rum with it!
Filip Berglund has also been on the top pairing for Linköping to start. And Lennström scored yesterday. Now we just need Lavoie to force himself into Rögle's top six and PP1 and we're cooking over here!
(Ftr I'd be very happy if Lavoie could take hold of a top 9 spot and get the occasional shot on PP2, major major difference between the Q and the SHL, if he can make a somewhat smooth transition that'll tell us a lot about his hockey IQ and coachability).
WHAT TO DO WITH JP
I think we'll see Ken Holland acquire a veteran No. 3 center over the summer, maybe Finn Erik Haula shakes loose. Puljujarvi has some obvious talents, but badly needs a season where his skill set matches the NHL job available. Third line work will be a challenge and he might eventually move past Kassian and form a strong 1-2 right wing combination with Kailer Yamamoto.
If Puljujarvi signs, massive credit will be due Ken Holland. He played this like Fred MacMurray in My Three Sons.
LOWDOWN WITH LOWETIDE
A fun Friday morning in August, we kickstart the weekend at 10 on TSN1260. Steve Lansky from Inside the Truck will talk lazy sports television, Dale Hawerchuk and the best hockey team in Canada. Conor McKenna from TSN 690 sets up the Habs-Flyers game tonight at 11. 10-1260 text, @Lowetide on twitter. See you on the radio!