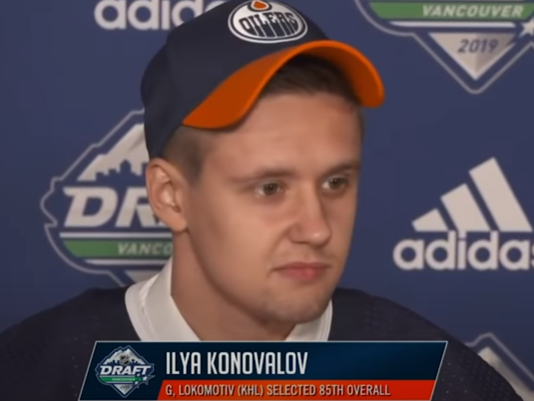 Ilya Konovalov was injured so unable to perform in a pre-season tournament in Sochi (Daniil Isayev filled in). Konovalov is reportedly fine and ready for the regular season with Lokomotiv. Yaroslavl's first game in the regular season is September 3.
THE ATHLETIC!
Great perspective from a ridiculous group of writers and analysts. I am proud to be part of The Athletic. Here are the most recent Oilers stories.
JOAKIM NYGARD
He has been loaned to Farjestad BK in the SHL, a team he played seven seasons for before heading to the NHL. He's a proven scorer at this level posting 21 in 52 SHL games during 2018-19.
TRADE TALK
Fussy Britches has been right in the past and this is an interesting item. The only player who fits is Andrew Cogliano, who can still skate at age 33 and has a contract ($3.25 million) with a season to go. He plays a substantial amount (34.2 percent of his five on five time) against elites according to Puck IQ, delivering 51.40 DFF% and a DFFRelCorsi of 3.4.
He's not an offensive driver, posting 1.17 points-per-60 while playing with Blake Comeau and Radek Faksa. He went 68, 3-11-14 in 2019-20, those are all five on five numbers with a dozen (3-9-12) primary points. Cogliano-McDavid-Kassian? It's one online rumor let's all calm our various appendages. One thing I will say: This does suggest Ken Holland is interested in a two-way forward for the McDavid line, something I suggested here.
What would Dallas want? Well both Andrej Sekera and Roman Polak are unrestricted this summer, so Kris Russell, Adam Larsson or Matt Benning might be of interest. In every trade discussion this summer, I'm going to mention Andreas Athanasiou and Jesse Puljujarvi, although it sounds like JP might be signing here. I'll also mention Alex Chiasson. Note: Some of these names would require a pick to be added imo, we're just blue sky here.
IS THIS IDEAL?
Of course not, but then again not every solution is going to be from the "A" list. A year ago, Holland's solutions were:
James Neal for goals and getting out from under the Milan Lucic deal.
Alex Chiasson for a veteran winger with some offense.
Mike Smith as No. 1A starter.
Josh Archibald for 12-15 goals, a checking role and penalty killing.
Markus Granlund for 12-15 goals, a checking role and penalty killing.
Riley Sheahan for checking center and penalty kill.
Joakim Nygard to add speed and two-way play into the top-9 forwards.
Tomas Jurco as a possible top-9 forward solution.
Gaetan Haas as a long shot checking center.
Patrick Russell as a low event fourth line checker.
HOLLAND'S 2020-21 LIST
He's already underway of course, trading for Andreas Athanasiou was clearly a 2020-21 transaction. Here are the items I think Holland will look at this offseason:
No. 1A goalie option. Suspect a free agent, from Holtby to Greiss.
Top 4-RHD. I do think Larsson is a candidate for trade, and Holland will need to replace him. Mike Green might have been an option, I think Sami Vatanen or Tyson Barrie might fit here.
Two-way winger for McDavid's line. Andrew Cogliano fits here.
No. 3 center. Extremely difficult to find.
Holland's solutions a year ago helped Edmonton to finish second in the Pacific Division in 2019-20. The Oilers system delivered three exceptional talents (Ethan Bear, Kailer Yamamoto, Caleb Jones) who pushed the team to greater heights. I believe Evan Bouchard, Tyler Benson and William Lagesson can and should have an impact on the 2020-21 campaign, although not at the Bear-Yamamoto-Jones level.