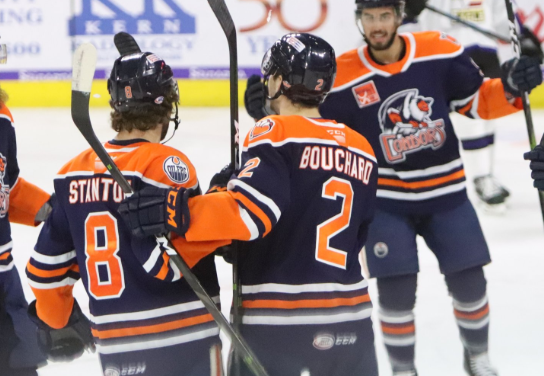 I had Evan Bouchard No. 8 on my final list for 2018, Edmonton grabbed him at No. 10 overall. There were two men higher than Bouchard on my list who were available when the Oilers chose–defenseman Ty Smith and scoring winger Oliver Wahlstrom. I had Noah Dobson No. 10.
There is a lot of luck involved in drafting success, but in the case of Bouchard I think many Oilers fans have lowered expectations before this career begins. Edmonton chose to send Bouchard to the minors least season and may send him there for another year. I believe that would be a mistake. Why? He's NHL-ready, and the Oilers need the things he brings.
THE ATHLETIC!
Great perspective from a ridiculous group of writers and analysts. I am proud to be part of The Athletic. Here are the most recent Oilers stories.
A CONVERSATION
Oilers have another top-10 fail to add to the 'Decade Collection'! Nail, Jesse and now Bouchard. You must be so proud. Bouchard enjoyed a tremendous junior career, winning the Max Kaminsky Trophy as the OHL's best defenseman in 2018-19. Ryan Ellis won that award, Dougie Hamilton, too. In his first season with the Bakersfield Condors, Bouchard delivered strong offense (7-29-36 in 54 games) on a challenged team, with impressive power play totals (4-11-15). He also improved massively in even-strength on-ice performance (first 27: 18-29; second 27: 23-22). He's an outstanding prospect. Full stop.
What did math tell you about Bouchard? He is probably the most talented offensive defenseman drafted by the Oilers since Paul Coffey. His NHLE's, beginning in his draft year, are 30.2, 27.4 and (in the AHL) and 26.6.
Where will he play as a rookie? Ideally third pair at five on five, with a veteran defender as his partner. A healthy, late 20's Andrej Sekera would have been ideal. As it stands, Bouchard is likely to get Kris Russell or Caleb Jones as his partner on the third pair. Darnell Nurse might be the best style choice for partner.
So you and math were happy with Bouchard when he was chosen? Yes. I preferred Smith but he's a lefty, and Wahlstrom (who I also ranked ahead of Bouchard) is a scoring winger. Bouchard, at No. 10 with his impressive skills, was a terrific selection.
And he is stuck in the AHL! Where is your math God now? I assume the God of math is in the counting room watching the big board balance like a boss. Bouchard is 20 right now. If you're going to frame him as a failure, move to 2025 and we'll chat then. I expect this won't be a conversation at that time.
Why didn't Holland recall him? Edmonton's RH side in 2019-20 used Ethan Bear, Adam Larsson and Matt Benning for much of the season. Joel Persson and Mike Green were bookends and there were various appearances from the lefties playing opposite side. Bouchard was showing progress in the minors. They decided to keep him there.
Holland didn't draft him. You're always saying that matters. Does it? Yes, it does. Holland and Tyler Wright chose Filip Zadina four picks before Edmonton plucked Bouchard off the board. They would know Bouchard going into camp but know him far better now.
Would Holland trade him? Extremely unlikely. Bouchard plays the rarest position (RHD) on a roster and his best skill (moving the puck) is an area of need. Also, Bouchard's value now isn't as high as it will be a year from now. He's going through a transition process, teams don't often deal players at this point in their careers.
But players chosen top-10 overall do get traded while they are prospects? Yes, but it is rare. Mikhail Sergachev was traded about a year after he was chosen No. 9 overall in 2016. Alexander Nylander was traded three years after he was drafted (one spot ahead of Sergachev).
If Holland traded Bouchard in a big deal for Colton Parayko, would you be shocked? It won't happen. St. Louis has their own young defenseman with great promise to work into the lineup (Scott Perunovich) and are in win now mode. If Edmonton gets Parayko, assume the package starts with Klefbom.
Will Bouchard play for the Oilers in 2020-21? Yes, I believe he will. Edmonton may move Larsson and or Benning, and then sign a replacement for Larsson in free agency. You might see Bouchard on an extended roster (ala the postseason roster) before the AHL starts, but smart money should be on his making the team. There's no contractual benefit in holding him back now and the Oilers save a million replacing Benning with this player. If Edmonton runs Larsson-Bear-Bouchard, and trades Benning, a RH No. 7 option can be signed.
Outstanding performances yesterday by Konovalov, he sports a .938 save percentage and a 2.01 GAA this morning. We have the hockey!
LOWDOWN WITH LOWETIDE
A full boat of fabulous guests today on the Lowdown, we begin at 10 this morning. Steve Lansky from Inside the Truck podcast will talk about the Canucks impressive run, Raptors game and intermission panels that lose focus. Frank Seravalli from TSN will pop in at 10:40 and talk trade board and the Flyers. Matt Iwanyk has the floor at 11 to talk Raptors, hockey and a tree in the bubble update. At 11:20, Jason Portuondo, who is the Woodbine track announcer, will talk Kentucky Derby this weekend. 10-1260 text, @Lowetide on twitter. See you on the radio!