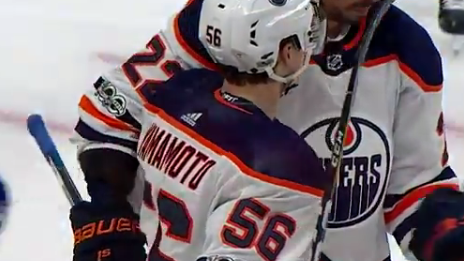 Do you remember some of the things that were written in the comments section of this blog about Kailer Yamamoto last August? He didn't get into any preseason games and received an advance token to Bakersfield early. I would wager many of you reading this felt the Yamamoto pick had a good chance to be a wasted first rounder. Now. Can we apply that memory with today's discussion and grow as an online community?
THE ATHLETIC!
Great perspective from a ridiculous group of writers and analysts. I am proud to be part of The Athletic. Here are the most recent Oilers stories.
YAMAMOTO AND EBERLE

As we've discussed before, Yamamoto has been 'in the range' with Eberle in four of these seasons. I don't think he'll have Eberle's career, but if he spends the 2020's with 97 or 29 at center, he might outscore him.
The best moment so far in Yamamoto's career is that Dave Tippett put him on a skill line when he was recalled. That spot should have been Jesse Puljujarvi's, but the young man was in Finland. Timing is everything. Opportunity missed.
TYLER BENSON VS. RYAN SPOONER

Lots of downbeat verbal about Benson, but his season in Bakersfield had some positives. He led the Condors in points per game, in power-play points and would have exceeded 50 points in a complete season. The left wing depth chart currently (signed or RFA) is Nuge, Athanasiou, Neal, Nygard and Benson. His cap hit, the late audition and a solid summer camp have him in a good spot.
COOPER MARODY VS. DEVIN SHORE

Marody's career suffered a setback via injuries and we may never see him reach the potential suggested by that rookie AHL season. He did look good in the summer camp and he is a righty who can play center (although I'm not sure the organization sees him as a pivot).
SUMMARY
I expect we'll see a post this morning that says "Benson will have a great career—in Switzerland!" but I'm hoping we can have a serious conversation about these men and others in the prospect group. Comparable players have enjoyed NHL careers, and the three forwards listed here have some things on their resumes that make them worthy of discussion. Thoughtful posts on the subject appreciated.