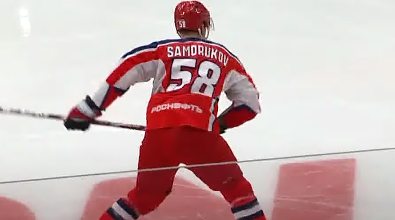 I mentioned yesterday that Dmitri Samorukov is a big part of the Oilers future. He's big, mobile, rugged, and I think he has the potential to be a shutdown blue for years. A strong OHL campaign two years ago was followed by a tentative AHL campaign with the Bakersfield Condors.
As much natural talent as Samorukov possesses, there are still miles of development to go. The KHL could be a Godsend.
Yesterday in Moscow, he scored early, had four shots, 1-1 even strength goal differential and played 18:13 total time. He finished No. 3 in TOI among the CSKA blue. A good start.
THE ATHLETIC!
Great perspective from a ridiculous group of writers and analysts. I am proud to be part of The Athletic. Here are the most recent Oilers stories.
2020 DRAFT THOUGHTS
My 2020 list is here. I thought about re-ranking the list but that's not the spirit of my list (I complete it on June 1). So on the Friday of the draft, you'll see the list as it appears in the link, plus an additional "late entries" bracket of 10-25 names. Mostly Europeans but the USHL has a couple of players worth a mention.
Murray had a poor year, sometimes that's a good time to buy. Over the last three seasons previous to 2019-20, Murray posted a save percentage of .916. Last season? It was .899 and Tristan Jarry kicked sand in his face and ate his lunch. He is RFA coming off a $3.75 million deal with arbitration rights. His difficult season will make the cap number more manageable on his next deal. He is 26. Penguins could use a veteran RHD. I do not believe Murray is the correct choice among reportedly available goalies.
KONOVALOV
Lokomotiv play today in the KHL, not certain Ilya Konovalov will play. He picked up an injury early in camp and there was mention of his possibly being ready but nothing concrete. This is a quality goalie at the KHL level, that's a fine league. Konovalov's only real downbeat is size (hockeydb has him 5.11, 196, KHL has him 5.09, 196). He is a free agent at the end of this season, I like him plenty as an NHL option based on his current resume.
LOWDOWN WITH LOWETIDE
At 10 this morning, TSN1260, we have a lot to discuss. Chris Meaney from the FTN Network will talk NFL 2020 and the season that starts in just a few days. Frank Seravalli from TSN drops in to discuss the trade board, the playoffs and this Matt Murray item. We'll also chat NBA playoffs and MLB. 10-1260 text, @Lowetide on twitter. See you on the radio!