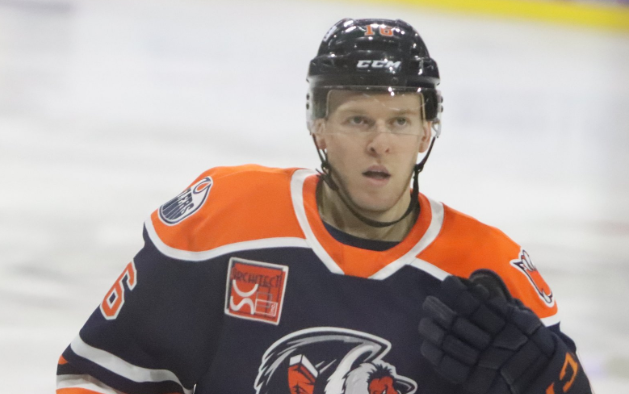 Photo by Mark Williams
The Oilers have an opening for a left winger on one of their skill lines. Tyler Benson isn't a candidate. That's a tell. The fact Edmonton doesn't have another in the system is also a tell. The Oilers are going to have to use an asset (trade or dollars) this fall on a No. 2 left wing. That's a shame.
THE ATHLETIC!
I'm proud to be writing for The Athletic, and pleased to be part of a great team with Daniel Nugent-Bowman and Jonathan Willis. Here is our recent work.
OILERS 2020 PICKS CONFIRMED
No. 14 overall: RC Seth Jarvis, WHL
No. 76 overall: RD Luke Prokop, WHL
No. 138 overall: LD Dylan Robinson, OHL
No. 169 overall: RC Logan Barlage, WHL
No. 200 overall: LD Trevor Thurston, WHL
This isn't a mock draft, merely the Red Line Report prospect who corresponds with Edmonton's draft slotting in 2020. It isn't fabulous but not a disaster, either. Will Edmonton have five picks on draft night?
LEFT WING PROBLEMS
Benson is just one example of a left winger who is in the system, under contract, and not under consideration for one of the two skill jobs. Here is the depth chart including only signed LW's: Ryan Nugent-Hopkins, James Neal, Joakim Nygard, Jujhar Khaira. That is a depth chart that is absolutely vulnerable to invasion. AHL depth chart Tyler Benson, Joe Gambardella, Ryan Kuffner and Ostap Safin.
Benson has been in the minors for two years, this is his time. Except it isn't and we know that because Holland added Andreas Athanasiou and Tyler Ennis at the deadline. So, what does he do? Well, he might try trading for a less expensive Athanasiou. Here are some possible options.
Jesper Bratt of the New Jersey Devils scored 1.24 goals per 60 at five on five this season and is over 2.00 points per 60 for the last two seasons.
Tyler Ennis of the Edmonton Oilers scored 0.77 goals per 60 five on five, and had a 1.90 points per 60. He did have some chem with McDavid.
Jake DeBrusk of the Boston Bruins scored .74 goals per 60 in 2019-20, posted 1.18 per 60 in the previous season (all five on five). His points per 60 faded to 1.65 but his shooting percentage faded. A great bet if they can get him.
Alex Killorn of the Tampa Bay Lightning is signed long term and has a no-trade deal (16 teams). The AAV is $4.45 million for three more years, but he's a two-way winger who scored 1.17 goals per 60 in 2019-20. Lightning make an annual trade for cap purposes, Killorn is a nice player.
Sonny Milano of the Anaheim Ducks struggled and got himself traded this season but has had strong goals per 60 at five on five in the past (1.45 in 2017-18). He'd be worth a flier.
LOWDOWN WITH LOWETIDE
A fun morning with good people and great guests, we get started at 10 on TSN1260. Bruce McCurdy from the Cult of Hockey at the Edmonton Journal will join me to put Leon Draisailt's awards sweep in perspective and we'll talk about signing/walking Oilers RFA's. Joe Osborne from OddsShark will cover the NFL Week 3, and talk about how much injuries can impact the line on a game. 10-1260 text, @Lowetide on twitter. See you on the radio!