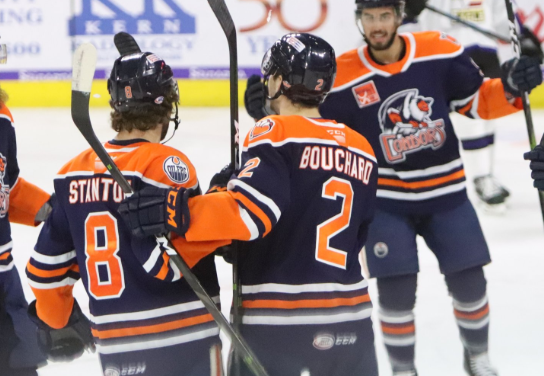 The Edmonton Oilers would no doubt prefer that Evan Bouchard's name had stayed out of the OEL rumours, but once the media got access to rotary hones privacy took a powder. Does Bouchard's name being in play tell us anything about his possible future in Edmonton?
THE ATHLETIC!
I'm proud to be writing for The Athletic, and pleased to be part of a great team with Daniel Nugent-Bowman and Jonathan Willis. Here is our recent work.
BOUCHARD AND BROBERG
Since time began, general managers discount previously drafted players (before their arrival) and elevate their own picks. It's human nature. That doesn't mean Ken Holland doesn't value Evan Bouchard, but it may mean the young blue is on a list of players deemed expendable by the organization. That's the lesson of knowing about this trade return in the OEL situation. Here's an item from this blog's back pages that beautifully illustrates what I mean:
"Word tonight from multiple sources: Dany Heatley is an Edmonton Oiler. Senators get three NHL players in return: Andrew Cogliano, a very good young player; Dustin Penner, an inconsistent winger who does bring some things; Ladislav Smid, a young defender who has been developing at the NHL level. A lot of young talent heading the other way.
The only way this deal makes sense to me is if the Edmonton Oilers flush ALL of the development crap and go for it. By that I mean stop with the JDD experiment, keep Peckham on the farm, sign Kotalik and Dvorak and Betts and Fiddler. Enough with the development of the kids.Craig MacTavish must be kicking a few things tonight."
The three men (Penner, Cogliano, Smid) Tambellini was willing to send away all arrived in Edmonton before he became general manager of the team in 2008.
Bouchard has tremendous gifts, including the ability to pass the puck with aplomb, but the organization felt he needed AHL time in 2019-20. Evan Bouchard will have his rookie season, possibly in 2020-21, and contribute to winning seasons wherever he plays. I believe that. Ken Holland wanted to acquire a player who could push for wins without growing pains and was willing to deal Bouchard.
It doesn't mean he has no value, but it does tell us where Bouchard lands on the organizational depth chart at this time. This just in: Kailer Yamamoto and Ethan Bear might have been in the same spot a year ago. Things change. Bet on Bouchard having a substantial career.
Broberg meanwhile is playing 20 minutes a night and his NHLE is 65.1 because he's 1-3-4 in three SHL games. He is making Holland look borderline genius at this time.
TRADING OUT OF THE FIRST ROUND
The rumoured trade price for OEL was Bouchard and the first-round selection (No. 14 overall), and that's a lot of the future. How important is this year's draft as currently constructed, using the No. 14 pick and Edmonton's third-round pick (instead of sending it to Calgary)? Here are the NHLE's for Edmonton's prospects and some randos chosen at appropriate spots in this year's draft.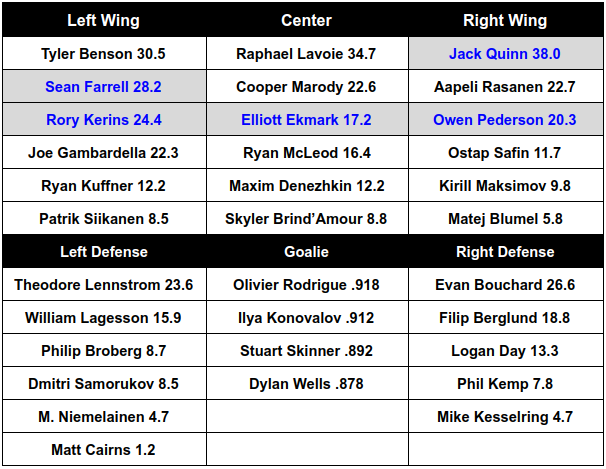 I understand the desire to add a player like OEL, and an overpay can be justified if the player acquired is top quality. If OEL comes available and Edmonton makes the same trade described I'll consider it an overpay but can also understand why Holland did it. The first-round pick and Bouchard, along with Broberg and Lavoie, are important to this team's future. In dealing for OEL, Holland was putting 97 and 29's prime ahead of the future. I understand that idea completely, even in an overpay.
LOWDOWN WITH LOWETIDE
A busy morning on TSN1260, we kickstart the weekend at 10. Steve Lansky from Inside the Truck Podcast joins us at 10:20 to talk MLB playoffs, Jays and Oilers rumors. Julian Edlow from Draft Kings will get us ready for NFL week 4 at 11 and we'll have breaking news on any NHL deals. At 10 this morning, TSN1260. See you on the radio!