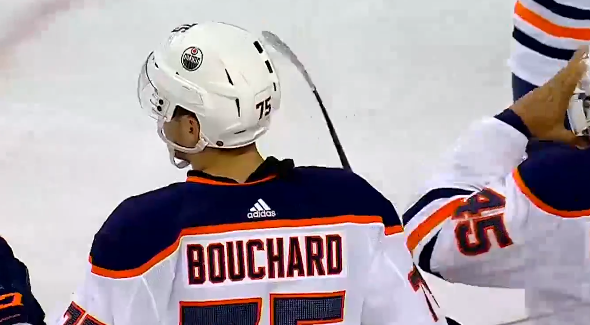 Ken Holland didn't draft any of the Bakersfield Condors who received a call to Edmonton in 2019-20, but the usage of Ethan Bear, Caleb Jones, Kailer Yamamoto, William Lagesson and Tyler Benson does fall in line with the "Detroit" development model. How many Condors will we see in 2020-21?
THE ATHLETIC!
I'm proud to be writing for The Athletic, and pleased to be part of a great team with Daniel Nugent-Bowman and Jonathan Willis. Here is our recent work.
FROM THE STREETS OF BAKERSFIELD

Bear, Yamamoto and Jones played major roles in the Oilers season, a second place finish in the Pacific Division. Just one first-round pick in the group, also a good sign. Here is a list of players who could see action with the Oilers in 2020-21, and who played in Bakersfield a year ago. On-ice estimates and even strength goal differentials via Eric Rodgers.

I expect both defensemen will get playing time, and Benson has a clear shot at this point because the LW depth chart is not strong after Nuge and Tyler Ennis. McLeod is interesting. He looks blocked by 97-29-Turris-Khaira-Haas but things can change and I do think the Oilers are higher on McLeod than they are on Benson.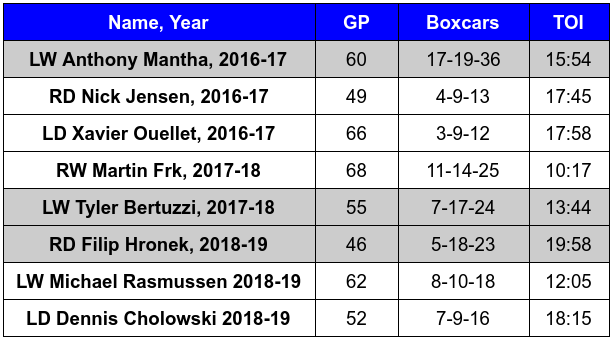 This is the group who arrived in the NHL during the final three seasons Holland was part of the DRW organization. There were more who auditioned, but the Red Wings, who are in rebuild mode, found some good players and brought them to the NHL in timely fashion. Some pain in there, but Filip Hronek (second-round pick) appears to be a big fly. Detroit is solving problems through the draft and college/entry free-agent options. This is your future, Edmonton.
What does that mean? Look to the draft. Dylan Holloway might be the solution on left wing two years from now, with placeholders like Tyler Ennis and Joakim Nygard brought in to eat Tyler Benson's job (the No. 2 LW position should be the one Benson slides into during 2020-21).
HOLLAND TUNNEL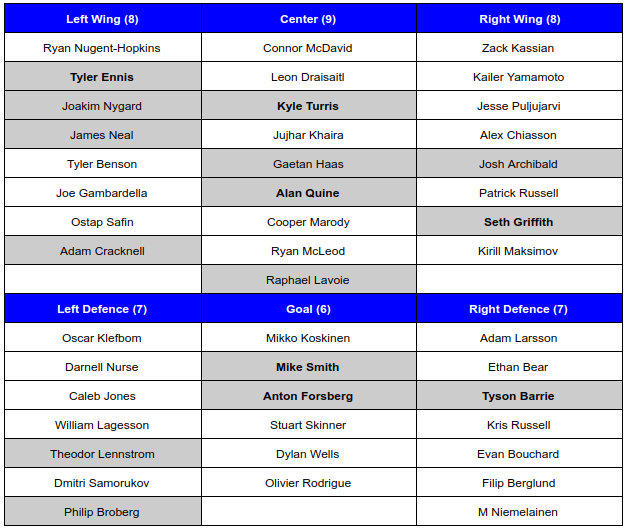 Holland's additions to the 50-man are in grey. Many of these names are former DRW draft picks or players, the latest being Alan Quine. He has procured five centers, the most of any position, and four left wingers and both areas make sense. I think his next move is trading a right winger for a left winger, after that it'll be PTO's for training camp I expect.