Leon Draisaitl has signed an eight-year deal with the Edmonton Oilers, the organization confirming AAV at $8.5 million. That's about $250,000 a year more than I'd estimated, expect a major reaction over the price.
Draisaitl was drafted just three summers ago and a lot has happened since then. Edmonton finally got their big center after decades of looking (Mark Messier left in 1991) and the big man's rise from prospect to top offensive player has been a rocket going straight up. What's more, since the 2015 orientation camp (meeting point for Leon, Darnell Nurse and newcomer Connor McDavid) these young men seem to have bonded and the chemistry has been outstanding.
LEON DRAISAITL 2016-17
5×5 points per 60: 2.05 (2nd among regular forwards, No. 51 NHL)
5×4 points per 60: 6.67 (2nd among regular forwards, No. 10 NHL)
Corsi for 5×5 %: 51.3
Corsi Rel 5×5 %; 0.5
DFF Elite 5×5 %: 52.70
DFF Elite Rel 5×5 %: 4.8
Shots on goal/percentage: 172 shots/16.9%
Boxcars: 82, 29-48-77 (No. 8 NHL)
(All numbers via Puck IQ, Stats.HockeyAnalysis.com and hockey-reference)
The numbers here shine like a diamond, but the price didn't stop going up after the regular season. Draisaitl's enormous playoff performance is a major reason that the annual cost landed at $8.5 million. We don't know that Leon can push the river by himself, but we're about to find out.
PROJECTED ROSTER AND CAP, 2017-18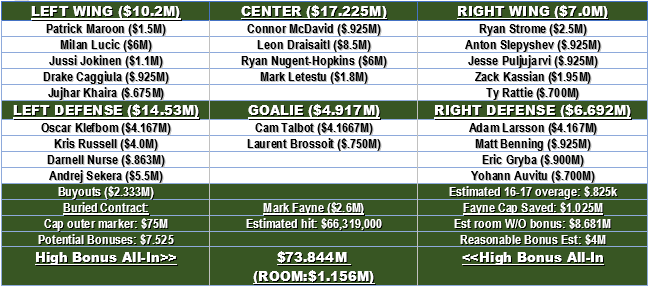 Well, we know where the cap room was going! In truth there is still lots of room, as the odds of the entire roster hitting all bonuses is very low. I would estimate Peter Chiarelli has close to $4.5 million in cap leeway, doubt he feels the same freedom (but we'll see).
Now, about those lines….