New general managers, as a group, don't value previous GM's prospects at the same level. It's human nature. It's like that old George Carlin bit about visiting friends and unpacking your stuff. The punchline is "I had to move your junk out of the way, so I could put my stuff there" and that's kind of what happens with new GM's.
What does that mean? Well, in simple terms, Raphael Lavoie has a better inside champion than Kailer Yamamoto, or Jesse Puljujarvi. What will it mean? Let's have a look at two recent Oilers general managers and what happened to the prospects.
THE ATHLETIC!
The Athletic Edmonton features a fabulous cluster of stories (some linked below, some on the site). Great perspective from a ridiculous group of writers and analysts. Proud to be part of the group, here's an incredible Offer!
CRAIG MACTAVISH
Here's what happened to the top 20 prospects on the day MacT took over (I am not counting the 2013 and 2014 drafts, as he was general manager. Also doesn't count players like Nail Yakupov who had already played a full NHL season). Here are the men who were top 20 prospects spring 2013 and saw a quick exit under MacT:
No. 5 Toni Rajala was punted by MacT almost immediately after taking over, despite a strong AHL campaign. It was shocking at the time.
No. 7 Taylor Fedun was tracking well as a prospect before a costly injury derailed him as an Oilers player. Edmonton walked him, with MacT as manager, in spring 2014.
No. 11 Mark Arcobello was traded by MacT in December of 2014 for Derek Roy. Unfair to suggest he cut bait on Marcobello, who had emerged as an NHL player by the time of the deal.
No. 19 Erik Gustafsson didn't receive a contract from MacT, and went on to become a solid NHL defenseman. An entry-level contract should be extended to draft picks who progress, this was a mistake.
Among the 20 men who populated Edmonton's top prospects list on the day MacT took over, he punted four of note. Several would go on to solid NHL careers (Oscar Klefbom, Jujhar Khaira, Brandon Davidson, Tyler Pitlick) but the haul could have been more.
PETER CHIARELLI
No. 7 Laurent Brossoit was sent away, he was a trade acquisition under MacT and the organization invested a lot of time in him. Brossoit emerged as a quality goalie almost immediately upon his exit from Edmonton.
No. 15 Tyler Pitlick finally emerged as a healthy bona fide NHL player under Chiarelli, who promptly let him slip away in free agency.
No. 18 Jordan Oesterle worked his way through the system as the updated version of Taylor Fedun. Like clockwork, Oilers let him go and Oesterle emerged as an NHL option.
No. 20 Brad Hunt. An early MacT signing, Hunt last one year under Chiarelli and then immediately stepped into the NHL where he remains.
In April of 2015, fans were talking Connor McDavid and anticipating the careers of prospects Leon Draisaitl and Darnell Nurse. There were other useful pieces in the system, but the new general manager had his own vision and his own players to sign.
NHL EQUIVALENCY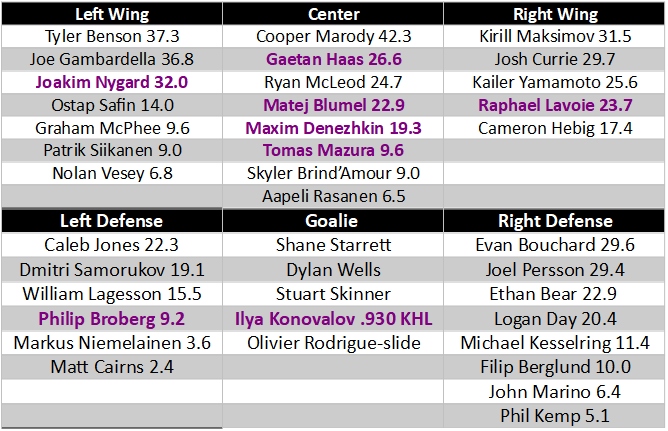 Players in purple are Ken Holland's men, the rest are Chiarelli. It doesn't mean Lavoie>Yamamoto in Holland's eyes, but bias be bias and two years from now Lavoie will hit pro hockey. In training camp and preason, if the choice for No. 4 center is down to Marody versus Haas, well one can scoot back to Europe and the other one was acquired by Chiarelli. Again, I'm not calling anyone out, just pointing out how things mostly go. How will this play out, if history repeats? Broberg, Lavoie and Konovalov are ensconced as Oilers by summer 2022.
YAMAMOTO
One of the reactions to my latest piece for The Athletic is strong push back re: Kailer Yamamoto and his AHL season. Although he played just 27 games, there's a story there. Yamamoto scored 10 goals in 27 games (.37 goals per game), better than fellow rookies Cooper Marody (19/58, .328) and Tyler Benson (15/68, .221). He led Condors rookies with six power-play goals and may eventually be able to help in this area with Edmonton in the coming years.
Yamamoto also shoots the puck often. In his final junior season, he took 111 shots in 40 games (2.78 shots per game) and in the AHL last season (45/27) it was down to 1.67 per game. In the NHL, he has 36 shots in 26 games (1.38) and that's with very little power-play time.
At even strength, in the NHL, Yamamoto's shots-per-60 is 6.11 over his two partial seasons (323 minutes). I'd like to see him stay healthy and increase that number to equal Ty Rattie's from a year ago (8.15). The Oilers RW depth chart is currently Zack Kassian, Alex Chiasson, Joakim Nygard and Sam Gagner. This is not Everest. If Yamamoto stays healthy in Bakersfield and cashes goals with the Condors, we're going to see him in Edmonton next season. Unless Ken Holland trades for another scoring winger.
JESSE FOR ERIKSSON EK?
I ranked Joel Eriksson Ek No. 17 in his draft year (here) and there are things to like about him. He's a center and his faceoff percentage improves each year. Jim Matheson mentioned him as a trade piece for Jesse Puljujarvi yesterday, it's an interesting idea but I wouldn't do it. You're dealing down for certainty, and in all honesty Eriksson Ek's offense isn't certain. I like him as a player, but JP still has all those tools and I wouldn't make the deal. I would be willing to deal Puljujarvi and other attractive pieces for Jason Zucker.
LOWDOWN WITH LOWETIDE
A busy morning with some things still fluid, but don't worry we'll stick the landing at 10 this morning, TSN1260. We'll have an NBA guest in hour one, the Kawhi story is massive. Daniel Nugent-Bowman from The Athletic stops by at 11 to discuss Ken Holland's moves so far and what may come. Finally we visit with Frank Seravalli for the last time this summer at 11:20. We'll discuss stalled free agency and Atlantic City in summer 10-1260 text, @Lowetide on twitter. Talk soon!