Dave Tippett's last NHL team, the 2016-17 Arizona Coyotes, deployed 10 rookies — five of whom played over 650 minutes that season. Of those 10 rookies, how many made the opening night lineup? Three: Jakob Chychrun, Christian Dvorak, Lawson Crouse. Chychrun and Crouse were teenagers, and Dylan Strome was, too.
Tippett can handle multiple rookies in a season, and it gives us something to talk about as we wait through summer for the hockey season. Knowing Ken Holland's preference is too overcook (I don't like that word) prospects in the minors, how would a strong performance by a player like Dmitri Samorukov test that position?
THE ATHLETIC!
The Athletic Edmonton features a fabulous cluster of stories (some linked below, some on the site). Great perspective from a ridiculous group of writers and analysts. Proud to be part of the group, here's an incredible Offer!
CONSERVATIVE OPENING NIGHT ROSTER PROJECTION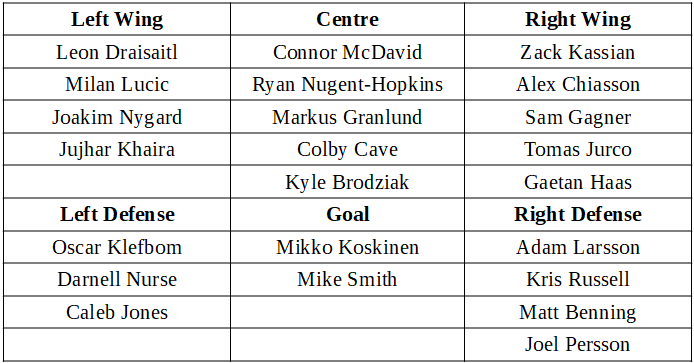 If Holland and Tippett decide to elevate the veterans and keep the kids on the farm, opening night might look like this. NHL newcomers include some Euro influence (Nygard, Haas, Persson) some NHL free agents (Smith, Granlund, Jurco) and a drafted/developed rookie in Caleb Jones. Seven new players, but no teenagers, no entry deal bonuses and everyone should be aware of their roles and assignments.
WILD AND CRAZY OPENING NIGHT ROSTER PROJECTION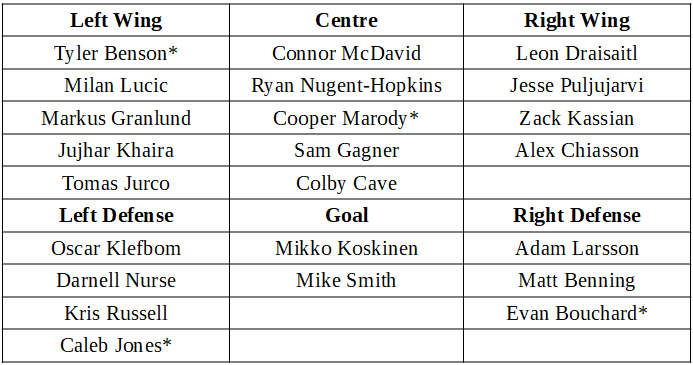 I would call this the "Chychrun" plan except that kid was good out of the box, and Samorukov may also fit in this category. Anyway, I think four rookies and Jesse Puljujarvi on the roster is about as wild and crazy as the Holland-Tippett team would go. I expect them to be more conservative, Holland wanting to start as he means to go.
BIG TRADE ROSTER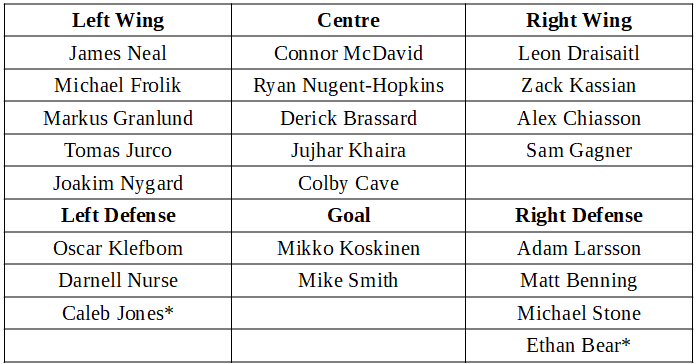 I made a massive trade with Calgary, bringing in Neal, Frolik and Stone. Lucic, Russell and Jesse Puljujarvi go the other way and maybe you'd have to sweeten it because Russell has an extra year and Lucic's contract is more difficult than Neal's, but for now we'll call it even. I also signed Brassard, not thrilled with the idea but it fits with the "Holland Old Folks Home" template used in Detroit for many years. Bear over Persson because it saves $275,000 and yes it's important.
MOST LIKELY ROSTER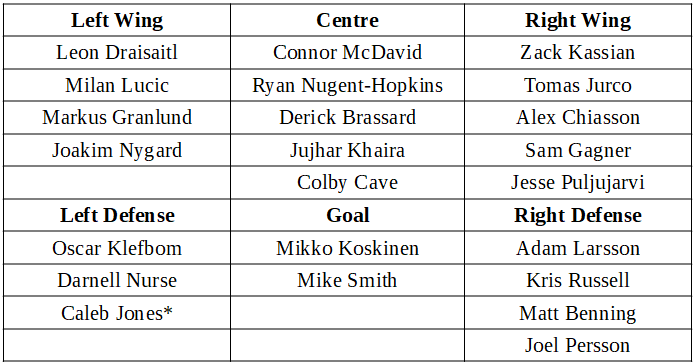 Holland is trying to make a deal and I do think he'll grab a scoring winger but it's difficult to identify right this minute. So, I've assigned the job to Jurco, signed Brassard and decided the Oilers might just let this dark horse run. This is a lottery team, men. Brace yourselves.
BOB GREEN
Bob Green doesn't need me to come to his aid, his hockey reputation was made before arriving in Edmonton. That said, I remain flummoxed by the idea Green is the chief culprit in the Griffin Reinhart trade. Here's the deal: General managers may reach out to trusted men in the organization for input, but for crying out loud the scouting director doesn't prepare or negotiate the trade. Green gave an endorsement to the idea of acquiring Reinhart based on his knowledge of the player. He didn't neglect the Oilers by not flying to the east coast to see Reinhart play, he had other work to do. He no doubt spoke about Reinhart as an Oil Kings blue, that's a helluva player.
The entire episode reminds me of Whitey Herzog's reaction to the Jim Fregosi trade made by the Mets 50 years ago. Herzog was in charge of Mets procurement at the time, and the GM called and asked about Fregosi, a pretty good SS with power who was aging with the Angels. Herzog said he was a good player, still had something left to give. When he found out about the trade (Nolan Ryan, one of the greatest arms in the history of the game, plus a pretty good OF in Leroy Stanton and a couple of fringe pitchers), Herzog was outraged.
"I'll never forget it," recalled Herzog. "Bob Scheffing called and asked me to call Leroy Stanton to tell him we'd traded him to the Angels for Jim Fregosi. I thought that was the deal, not realizing we were giving them Nolan Ryan, Fransisco Estrada and Don Rose along with Stanton. I said 'shit, I wouldn't trade Stanton for Fregosi'. I liked Stanton! When I picked up the paper the next morning and discovered Nolan Ryan was in there too, I about threw up." Source
Here's a fact: If you are angry at Bob Green, believe he's the man to blame for the Reinhart trade, you've lost the script. The general manager takes advice from the people around him and then makes the deal. Unless you have clear evidence, a quote I haven't seen where Green says he stepped in, then you've altered real truth to fit your version of the truth. Your outrage over Bob Green doesn't make you a better fan, it makes you a dumber person.
Lucic apparently gets his bonus today, so if something is going to happen around a trade it could occur in the coming hours. I'm a Lucic fan, so hope he lands in a good spot and will wish him well despite some tough times with the Oilers. Seems my Bruins favourites who come here are destined to struggle, although I would welcome Patrice Bergeron at any time.
Names I've heard include James Neal, Sam Bennett, Jason Zucker, Tyler Toffoli. The Bennett rumor had Jesse Puljujarvi attached to it. We wait.
LOWDOWN WITH LOWETIDE
We're back, baby!! At 10 this morning, TSN1260. Guests include John Horn from ESPN, WTA, TSN, we'll chat about an instant classic at Wimbledon and what the future holds for Serena and Roger. Jason Gregor will pop in to chat about the Eskimos and the Oilers, and we'll have a CFL guest to talk about the Alouettes weird season. 10-1260 text, @Lowetide twitter. See you on the radio! OH. I'm also on the roundtable at 9 with Dustin Nielson, Lt Eric and Matt Iwanyk. It's an all-star cast!