In the days before Ken Holland, I outlined five important areas that needed to be addressed. At the time I assumed Keith Gretzky would take over a GM, and the order of the priorities was mine: Two scoring wingers, cap room, No. 3 center, top-4 RHD who can move the puck, and a backup goaltender.
We are approaching the end of the busy period of the 2019 offseason. Not all the work is done, hell many Oilers fans are waiting for a Milan Lucic-James Neal trade at this hour, a trade that may never come. Assuming he is done: How did Ken Holland do this summer?
THE ATHLETIC!
The Athletic Edmonton features a fabulous cluster of stories (some linked below, some on the site). Great perspective from a ridiculous group of writers and analysts. Proud to be part of the group, here's an incredible Offer!
Two Scoring Wingers
My preference was Brett Connolly, and he went for a reasonable dollar but the term (four years) was dear. Holland's two big scoring additions were Alex Chiasson (22 goals) and Joakim Nygard (21 goals in 52 SHL games for Farjestad BK).
I think it's fair to say Holland fell shy in this area. If he had signed Connolly, or dealt for James Neal, we could have argued reasonably that Holland addressed a major need. Even Neal & Chiasson would have received a passing grade from me. Holland had limited resources, so I don't think you can set his summer on fire for the moves made, but it's short of the goal. Holland may be factoring in Tyler Benson as an option and that's (imo) reasonable.
Cap Room
Sekera buyout was a start but there's miles to go. If Holland doesn't use the cap dollars from Sekera that's an unforced error. I would have given him a gold star if Holland had found a way out from under the Lucic contract.
No. 3 Centre
His acquisitions who could fill this role are Markus Granlund and Gaetan Haas. Haas is a complete wildcard, Granlund is more effective on the wing.
Top 4 RHD
Joel Persson was signed by Peter Chiarelli, Evan Bouchard and Ethan Bear drafted by Bob Green. Incomplete. I do like the possibility of Kris Russell moving to LH side on third pair, but assuming that will happen is a leap of faith.
Backup Goalie
Mike Smith was the choice, it seemed destined once Dave Tippett was hired as coach. The math on this is poor, it's a 'gut feel' acquisition and this is a math blog so there's no defense the author will offer.
Can the system save the season?
Edmonton has enormous riches at the top, with McDavid, Draisaitl and Nuge a good bet to score over over 100 goals (119 one year ago). The 2017-18 team received 90 goals from that trio and another 107 goals from the rest of the forward crew. Last season's forwards (outside the top three) scored 80, and that includes 22 from Alex Chiasson and 15 from Zack Kassian.
Scoring wingers (Benson, Kailer Yamamoto, Jesse Puljujarvi, Marody) could help, maybe one of the kid blue spikes in a big way. Maybe Ryan McLeod emerges as the No. 3 centre, and Shane Starrett finds Rod Serling and buys x-ray eyes.
Maybe the Oilers trade Lucic for Neal and the trade snaps the chain back into place. I still think Tippett was the biggest acquisition of the offseason. Holland's other bets, the player bets, appear conservative and uninspired. He didn't have a lot of room to wheel, and Connolly, as good as he is, can't be heralded as a modern Hossa.
OILERS 50-MAN (50)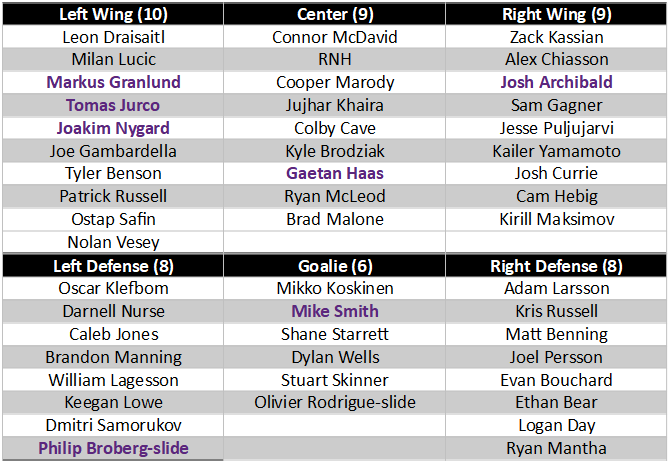 The Oilers have two slides, taking the roster to 48, and Jesse Puljujarvi, who regular readers will know is sitting in limbo with Jimmy Cliff. I've included Puljujarvi as usual, he comes off the 50-man the moment he signs in Europe or is traded.
What would I add to this group? A 20-goal winger and a 22-year old Evan Bouchard, plus a goalie now that Michael Parkatti is writing again.
JOSH ARCHIBALD
An intelligent signing. Archibald can help on the PK, scores well based on linemates and usage, and comes at a fair price. It's important to value this player, even as he doesn't address the team's needs (No. 3 center and scoring winger). A contract signing of this kind brings roster clarity, and it's more likely we see a Jesse Puljujarvi deal (imo) now that the RW depth chart is set. I see it as Kassian-Chiasson-Archibald-Gagner, your mileage may vary.
LOWDOWN WITH LOWETIDE
A fun show today, TSN1260, beginning at 10 this morning. Bruce McCurdy will be by from The Cult of Hockey at the Edmonton Journal to talk Archibald, Apollo 11 and other world events. Kris Abbott from OddsShark will pop in to talk about in-game betting the impact of a classic match like the men's final at Wimbledon. Finally, Mark Zecchino will join us from Golf Talk Canada about The Open. 10-1260 text, @Lowetide on twitter. Talk soon!