August is a time for hockey news to drift, or at least slide, as fans and the industry do something resembling a day of rest from the constant stream of news. The Edmonton Oilers have done some big business in August's past, but those moments are rare and have not come at all for over a decade:
August 9, 1979: Oilers acquired the rights to Dave Semenko and a draft pick in exchange for selection No. 42 (Neal Broten) and No. 63 (Kevin Maxwell). That would have been a steal for the North Stars, but Edmonton used the pick (No. 48) on Mark Messier.
August 19, 1982: Oilers acquired Ken Linseman and Don Nachbaur from the Hartford Whalers for Risto Siltanen and the rights to Brent Loney.
August 9, 1988: Oilers acquired Cash, Jimmy Carson, Martin Gelinas, and the draft picks that became Martin Rucinsky, Jason Miller and Nick Stadjuhar for Wayne Gretzky, Mike Krushelnyski and Marty McSorley.
August 4, 1995: Oilers acquired Curtis Joseph and Mike Grier for first-round picks in 1996 and 1997.
August 2, 2005: Oilers acquired Chris Pronger for Eric Brewer, Jeff Woywitka and Doug Lynch.
THE ATHLETIC!
The Athletic Edmonton features a fabulous cluster of stories (some linked below, some on the site). Great perspective from a ridiculous group of writers and analysts. Proud to be part of the group, here's an incredible Offer!
THE CERTAIN OILERS, 2019-20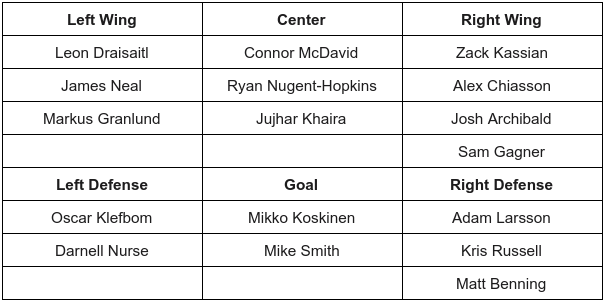 Dave Tippett will no doubt shuffle like a demon and you'll see all manner of lines and pairs, this depth chart is not meant to represent lines, merely depth chart. I have 10 forwards, five defensemen and two goalies as 'certain' Oilers, that's about 75 percent of the roster in stone. There are two defensive spots open and four forwards to be decided on. That's a lot of competition in training camp.
UNCERTAIN OILERS 2019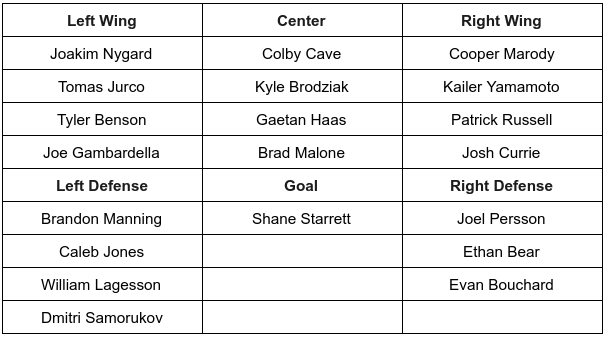 Six names from this list will make the roster, I think Caleb Jones, Joakim Nygard and Colby Cave are the strongest candidates. Biggest wildcards? Joel Persson and Gaetan Haas. I think Tyler Benson and Cooper Marody are the two forwards who can force this issue with a strong training camp and preseason.
In the 'Long Train Running' category we have Gambardella, Currie and Russell. Any one of them could reach out and grab a job this season, possibly in training camp. The battle to watch is LHD third pairing, and I do believe Caleb Jones will have first lash, beginning opening night.
DISTANT BELLS 2019
There is one name here (Jesse Puljujarvi) who could make the team, but my bet is JP will be on another team before training camp. More on that in a moment. McLeod, Maksimov, Day and the goalies will be looking to hang around longer than anticipated, this giving them some traction. In some cases, their time will come, but it is unlikely to happen this fall.
AUGUST AND EVERYTHING AFTER
Will we see a deal we'll remember for decades during August 2019? The possibility exists. Not every memorable trade involves a Gretzky or a Pronger. On the day the Oilers acquired Joseph and Grier, the goalie was part of a cost-cutting movement and the winger hadn't played in a single NHL game.
Names in play? No idea, but Eeli Tolvanen, Jordan Kyrou, Joel Eriksson Ek, Jakob Forsbacka-Karlsson, Anders Bjork and Sam Bennett are interesting to me as potential targets.
We're in the final week of July. In my opinion, Josh Archibald's signing snapped the chain and now we're waiting for the whip and the trade. Will it happen in August? That's my guess.
LOWDOWN WITH LOWETIDE
At 10 this morning, TSN1260. My first guest will be gentleman Bruce McCurdy from the Cult of Hockey at the Edmonton Journal. We'll chat James Neal trade and the roster as it sits idling in the driveway. Kris Abbott from OddsShark will pop in to chat the coming college football and NFL seasons. Hart from Puckpedia will chat about the Leafs-Vegas trade yesterday and what it may mean, and we'll talk a little about Jesse Puljujarvi. 10-1260 text, @Lowetide on twitter. Talk soon!