Kevin Shattenkirk signed with the Tampa Bay Lightning Sunday night, some Oilers fans held some hope the veteran would land in Edmonton. The Oilers have three legit RH blue who count moving the puck as a real strength, all of them outside the NHL so far in their careers. Ken Holland is right to hold back on spending dollars and a roster spot on a veteran, it's time to see what Joel Persson, Ethan Bear and Evan Bouchard can deliver.
THE ATHLETIC!
The Athletic Edmonton features a fabulous cluster of stories (some linked below, some on the site). Great perspective from a ridiculous group of writers and analysts. Proud to be part of the group, here's an incredible Offer!
NHLE'S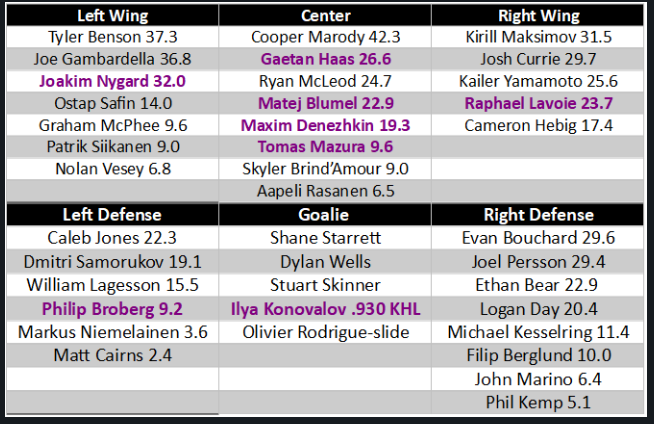 Based on NHLE (and age) we can list Marody, Benson, Gambardella, Nygard, Currie and Haas as the forwards most likely to contribute in the NHL.
On defense? Bit more difficult because so much of the game for blue comes without the puck. I think we're safe in listing Bouchard, Persson, Bear, Jones and Lagesson, although not in that order.
Could signing Shattenkirk have helped? Sure. However, the Oilers have to find out about these blue, sooner than later.