How much offense should we expect from Tyler Benson as an NHL player? Second round in a good draft, injuries in junior but solid numbers when healthy, impressive AHL campaign at 20 and a lesser season at the same level age 21.
Is he a lock for top-9 minutes in the NHL for, say, five years or more? If we could bet on his playing more NHL games in his career than Jujhar Khaira has played up to this point in his career (218), would you put your money down?
THE ATHLETIC!
The Athletic Edmonton features a fabulous cluster of stories (some linked below, some on the site). Great perspective from a ridiculous group of writers and analysts. Proud to be part of The Athletic, check it out here.
OILERS DRAFTED FORWARDS CAREER NHL PTS-GAME

This is a list of all forwards drafted by Edmonton since 2010 who have played in the NHL for a significant period of time. None of the men drafted outside the first round posted .5 points per game. In fact, two men chosen inside the top five overall failed to reach that mark.
Players inevitably graduate to either a skill line (Hall, Nuge, Draisaitl, McDavid, Yamamoto) or a support line (everyone else), with a special "Europe exit ramp" built in just for the Oilers.
Of all the men who have delivered less than .5 points per game above, who would be your choice to emerge as a legit offensive player? I'll pick Puljujarvi.
AHL numbers
Using only players drafted outside the first round, and combining the first two AHL seasons, how many forwards performed better than Benson? None.

The last player to be drafted outside the first round by Edmonton who averaged more than .5 points per game in his NHL career was Mike Comrie (.619) who was chosen in 1999.
I think Benson's best comparable is Dillon Dube, although he delivered more offense (1.04 points per game) in his AHL time. Dube's NHL points per game so far in his career? .300, or about what Tobias Rieder has been delivering his NHL career. I believe Dube (and Benson) will rise to .5 during their NHL careers although their final number (at career end) is unlikely to be that high.
THE PIPELINE
Benson's emergence as a top nine forward is badly needed, both in terms of roster quality and cap value. The value contracts under $3 million for next season (McDavid will always be a value deal) will likely be Ethan Bear, Caleb Jones, Kailer Yamamoto, Tyler Ennis, Josh Archibald, Matt Benning, plus Evan Bouchard and Benson. Need that pipeline.
NHLE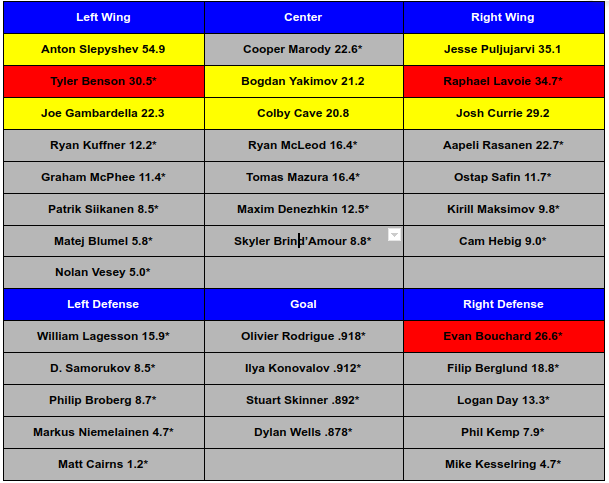 Anything above 30 points in junior or AHL is solid, Bouchard's number for a defenseman is very strong. Slepyshev's number (and Puljujarvi's) makes him worth signing in my opinion, but expecting .5 points per game in the NHL is probably too hopeful based on his first 100 NHL games.
LOWDOWN WITH LOWETIDE
At 10 this morning, TSN1260, we hit the air with compelling guests and lots of news. I honestly thought yesterday would be a slog but there remains plenty of sports activity to discuss. Jonathan Willis from The Athletic will join us to talk about his article on Peter Chiarelli and the summer business to come. Geoff Ulrich from Draft Kings will talk NFL in what looks like a massive week of loud noises in free agency and Corey Graham (Oil Kings pbp broadcaster) will talk about a team that is locked and loaded for a deep run and waiting for the opportunity to earn a championship. 10-1260 text, @Lowetide on twitter. See you on the radio!