The Edmonton Oilers 2015 draft was a wild affair, with picks being sent away every hour on the hour on both days. The scouts didn't have much to work with after naming Connor McDavid No. 1 overall, but delivered an impressive list despite the gaps.
Ethan Bear and Caleb Jones appear poised to play NHL games for years to come and John Marino, who did not sign with the Oilers, has an equally promising future. Are there any 2018 draft picks still unsigned worth drafting or signing as free agents? Let's have a quick look.
THE ATHLETIC!

The Athletic Edmonton features a fabulous cluster of stories (some linked below, some on the site). Great perspective from a ridiculous group of writers and analysts. Proud to be part of The Athletic, check it out here.
Unsigned 2018 draft picks
No. 83 overall LC Riley Stotts. I had him No. 107 overall, he improved slightly during his junior career but didn't spike. Final junior NHLE (26.3) doesn't stand out in the crowd. (Toronto).
No. 96 overall LC Luke Henman. Spiked in his final junior season, increasing point total (in 63 games both times) from 46 to 74. I think Carolina signs him in the coming days. (Carolina)
No. 97 overall LC Allan McShane. I had him No. 31 on my final list, excellent passer and a nice range of skills. NHLE in his final OHL season (28.6) is shy. (Montreal)
No. 99 overall LW Brett Murray. Buffalo drafted him, but he remains unsigned. He played this season with Rochester (AHL) scoring 9-15-24 in 55 games. That's 17.4 NHLE. He's 6.05, 235, speed is an issue. Turns 22 in the summer, from the Patrick Maroon family of prospects. (Buffalo)
No. 101 overall LD Nico Gross. Big defensive defenseman is mobile and did improve in moving the puck this season. (NYR)
No. 106 overall LC Curtis Douglas. Big, tall center (6.09, 236) scored 30 goals this year in his final junior season. He is not a great skater. (Dallas)
No. 110 overall LD Xavier Bernard. Big defenseman with good speed blossomed after a mid-season trade to Sherbrooke in his final junior year. New Jersey has his rights. (NJD)
No. 122 overall LC Milos Roman. I had him at No. 55 overall, he's a smart player who did not step forward in his final junior season. Vancouver had a disappointing season, contract may still arrive for Roman. (Calgary)
No. 128 overall LW Cole Fonstad. I had him No. 46 on my 2018 list, he's skilled but didn't progress as an offensive player. His NHLE's beginning in his draft year were (WHL) 25.1, 27.0 and 30.5 this season. Fonstadt didn't dominate in either season after his draft. (Montreal)
No. 133 overall LC Samuel Houde. Skill forward has progressed through his junior career, posting 52 points in 44 games for Chicoutimi (NHLE: 27.5). Likely a candidate to sign an AHL contract in the summer. (Montreal)
No. 134 overall LW Blade Jenkins. I had him No. 97 in 2018, he's 6.02, 210 and did not take a step forward after his draft. (NYI)
No. 145 overall RD Dennis Busby. Career was interrupted by injury post draft, he was healthy in 2019-20 but his numbers didn't spike with Flint. (Arizona)
No. 150 overall LD Declan Chisholm. He posted 69 points in 59 games in his final junior season, has good two-way ability and developed enough over his post-draft career to be considered for a contract. (Winnipeg)
No. 153 overall LD Giovanni Vallati. Effective OHL defenseman, plays a two-way role, doesn't have dynamic puck-moving ability. (Winnipeg)
No. 154 overall RD Connor Corcoran. He's the most attractive name on this list in my opinion. Two-way defenseman who improved a lot based on the numbers in his final junior season. (Vegas)
No. 161 overall RD Alex Kannok-Leipert. Big, sturdy defensive defenseman who plays a physical game. (Washington)
No. 162 overall G Alexis Gravel. Halifax Mooseheads goalie has been more effective in playoffs than regular season. Had an .893 SP in 2019-20. (Chicago)
No. 172 overall LC Mitchell Hoelscher. Two-way center who had a big OHL season (34-42-76 in 62 games) for Ottawa 67's. Increased his goal scoring total by 24 year over year. He could get a contract. (NJD)
No. 185 overall RD Xavier Bouchard. Big defender with good speed took a big step forward (46 points in 60 games) in 2018-19. He did not repeat the performance this past season. (Vegas)
No. 208 overall G Jordan Kooy. Pedestrian post-draft numbers, his SP in 2019-20 was .889 in Sarnia and .901 in Oshawa. (Vegas)
No. 209 overall G Zachary Bouthillier. He was backup for Chicoutimi and then Saint John, .897 SP in 2019-20 is the best of his junior career. (Toronto)
No. 217 overall LW Eric Florchuk. Big winger has 20-goal ability at the WHL level but hasn't developed a real strength that makes him stand out. He's 6.02, 182 so will get a contract but it could be AHL or Europe. (Washington)
The Oilers drafted and signed Evan Bouchard, Ryan McLeod and Olivier Rodrigue from the 2018 draft. Michael Kesselring and Patrik Siikanen, also drafted by Edmonton, have later signing deadlines.
I think Corcoran, in terms of math and progression, represents the most attractive name. Others who are worth signing, drafting or signing are Henman, Fonstadt, Chisholm and Hoelscher.
The last player Edmonton drafted inside the top 100 who didn't receive an NHL contract was Marco Roy, the Oilers should have signed him.
2020-21 50-MAN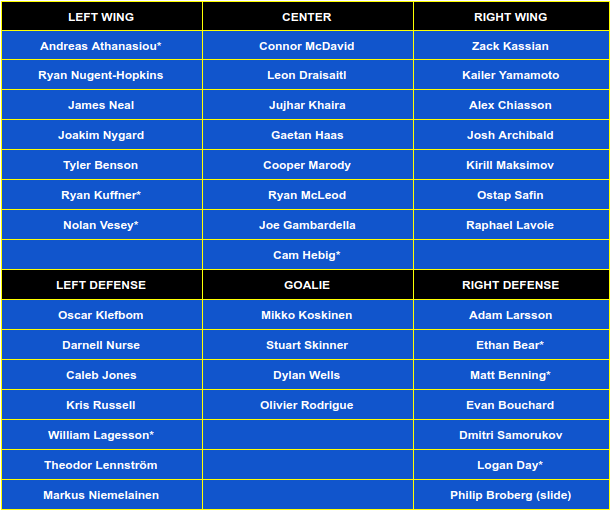 Corcoran would fit inside this 50-man expertly, giving the Oilers an increased chance of continuing what has been a nice RHD pipeline in recent seasons. I expect the best on the list above will be signed in the next two weeks.