On the day he was drafted, I wrote about Leon Draisaitl "we should expect a quality center for a decade and then a half of one beyond it. We should expect Jason Arnott's career numbers. We should expect a helluva player. Big, strong bull of a center who doesn't look one damn thing like the other forwards who have been taken high in previous seasons. McCurdy called him a nose tackle today, and with those hands, if he can keep up, music!"
For once, this blog's author was shy on the hyperbole and fell short of Leon Draisaitl's outer marker. What a hockey player.
THE ATHLETIC!
The Athletic Edmonton features a fabulous cluster of stories (some linked below, some on the site). Great perspective from a ridiculous group of writers and analysts. Proud to be part of The Athletic, check it out here.
RED LINE ON LEON
Huge German centre is tenacious in puck pursuit with his relentless forecheck often creating chances for linemates. Dominates the game down low with outstanding puck protection. Constantly outthinks the opposition and knows where his outlets are at all times. Has learned to use his size to carve out space for himself and effectively separate opponents from the puck. Strong hockey sense in all three zones leads to good positioning. Traditional playmaking centre finds 'mates with crisp, accurate passes. Intelligent, two-way, classically schooled centre. Outshone Reinhart in head-to-head action against Kootenay.
Oilers Art Ross Winners: Gretzky (7), McDavid (2), Draisaitl (1)
One of the real joys of the last five years has been watching the big man emerge as an impact player. I used to compare him to Peter Mahovlich because I dared not mentioned he-who-should-not-be-named, even though Leon's visual resembled what my Dad would say about the electric center. Leon Draisaitl sailed past expectations and kept rising. The Oilers have rarely gotten it more right than they did on draft day 2014. Well done, Mr. MacTavish, Mr. MacGregor, Mr. Green.
OILERS 2019-20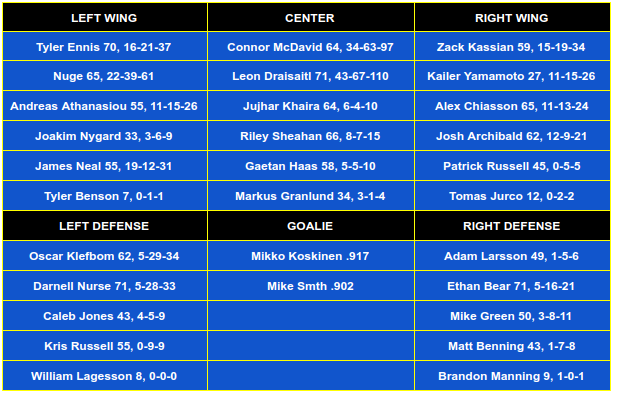 I like this Edmonton group but expecting an easy road against Chicago would be a bad idea. For one, Edmonton's special teams have been dominant, and referees often put away the whistle in the playoffs. Edmonton has more foot speed than a year ago, but the 'Hawks can make you pay if the checking isn't tight. The biggest issue: At five on five, this is a closer contest. More in a minute.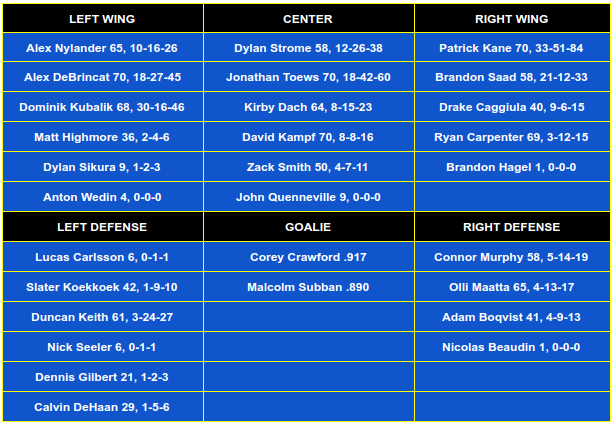 A roster that is in a period of transition, but the strengths (Kane, Crawford, Toews, DeBrincat, Kubalik) are substantial. Oilers will need to play well from the opening whistle. The biggest weakness on either side would appear to be the Chicago defense.
Good to great skaters on both sides, true franchise performers like Connor McDavid, Leon Draisaitl and Patrick Kane. Jonathan Toews at 32 is enjoying a mid-career resurgence and he can certainly hurt the Oilers in this series.
Even Strength Goals Per Game: Chicago 2.87, Edmonton 2.66
Even Strength GA Per Game: Chicago 2.87, Edmonton 2.88
Even Strength Goal Differential: Chicago 169-169, Edmonton 160-173
Power Play Goal Differential: Chicago 33-8, Edmonton 59-10
Penalty Kill Goal Differential: Chicago 6-37, Edmonton 3-31
Special teams Goal Differential: Chicago 39-45, Edmonton 62-41
Even strength save percentage: Chicago .918, Edmonton .908
Draft Lottery
I hope you've read the rules already because I'm not giving them to you. Long story short: Ottawa has a good chance at Lafreniere, Yzerman probably yelled at someone between last night and this morning, the Oilers could win the bleeding lottery if they lose to Chicago. If the team loses in that play-in, the worst draft position would be No. 15 overall. Moving up five spots in this draft is a big damned deal.
This is a fairly brazen ask from the NHL. Canada (Alberta) has imposed a two-week quarantine for new arrivals and it's been working. The NHL wants to ignore that rule but it's been part of the arsenal our government has been using to protect us. Brazen.
LOWDOWN WITH LOWETIDE
A fun morning with interesting people, TSN 1260 beginning at 10. Bruce McCurdy from the Cult of Hockey at the Edmonton Journal will talk Leon Draisaitl and make sense of the playoff and lottery formats. Joe Osborne from OddsShark will also have a lash at the NHL playoffs, giving us an idea about how bettors are approaching the Oilers-'Hawks series, plus KBO trends and teams that are worth a look. 10-1260 text, @Lowetide on twitter. It's hammer time!