For some reason, don't know why, the Oilers always draft two players inside my top 50 (or so) 'Here Comes the Sun' every year. Will it happen again?
THE ATHLETIC!
The Athletic Edmonton features a fabulous cluster of stories (some linked below, some on the site). Great perspective from a ridiculous group of writers and analysts. Proud to be part of The Athletic, check it out here.
THE 2015 DRAFT
1. C Connor McDavid, Erie Otters (OHL) All our trials, lord, soon be over.
38. D Ethan Bear, Seattle Thunderbirds (WHL) Mobile defender, very good shot.
The Oilers grabbed Bear at No. 124 and although it took awhile the 2015 draft looks like a winner five years later. My list is based on skill and offensive ability (Bear's bio talked about great passing ability and a plus shot) so I had him mid-second round despite having only a 13.6 NHLE (which is on par with Justin Barron's number this season).
THE 2016 DRAFT
3. R Jesse Puljujarvi, Karpat (Sm-Liiga): Big, fast, rambunctious.
34. L Tyler Benson, Vancouver Giants (WHL). Physical two-way forward. Injured a lot.
Oilers had their second round pick in this draft so no surprises. Filip Berglund, who I ranked No. 61, was drafted No. 91 by Edmonton. I'm going to be writing on this draft in the coming days, this next season is No. 5 post-draft and the organization badly needs closure on several levels.
THE 2017 DRAFT
11. R Kailer Yamamoto, Spokane Chiefs (WHL). Smart, elusive, offensive. NHLE (36.2).
52. L Ostap Safin, Sparta Praha (Cze). Big forward, good skater, has plus skills. Nice range.
Safin is the subject of today's conversation (below) but it's interesting that the Oilers took Stuart Skinner and Dmitri Samorukov before taking Safin at No. 115. He's a talented player, getting him there was a terrific result.
THE 2018 DRAFT
8. RD Evan Bouchard, London Knights (OHL). Big numbers, intelligent two-way D.
25. LC Ryan McLeod, Mississauga Steelheads (OHL). Size, speed, skill. One of the oldest players in draft.
Similar to the 2016 draft, Oilers choose once in each of the first and second rounds and select players who were ranked in the range. Both of these men are on track for NHL careers.
THE 2019 DRAFT
16. LD Philip Broberg, AIK (Allsvenskan). He's big and can skate like the wind, while also displaying puck moving ability. Offense may be shy, but Swedish blue can fool you.
26. RC Raphael Lavoie, Halifax Mooseheads (QMJHL). Adam Sherren: "Lavoie is a big physical force who is that old fashioned power forward." He is a strong skater and has a goal-scorer's touch. Aggressive, a force.
I honestly don't remember hearing Broberg as a strong option for the first round pick before Ken Holland's arrival, but the fleet Swedish defenseman got plenty of mention in sports coverage after Holland landed in the Capital. I think fans would have been far angrier about the Broberg selection if not for Lavoie arriving in the second round. After that, Holland's reputation grew and remains on the upswing at this time.
OSTAP SAFIN
I've been spending extra time this spring on wingers who can skate and also find themselves in the Oilers organization. If you play the wing and have 10 fingers and toes, you have a gigantic opportunity with Edmonton.
Safin can skate but even on draft day there were some things that teams didn't like. Red Line Report: "He's huge and has a super heavy wrister that overpowers goalies but isn't tough and shows no intensity."
Safin is 6.05, 205 and shoots left while being listed most often on right wing (common for Czech forwards). His big career moment came in 2018-19 when he couldn't get on the ice much due to injury. The saddest damn thing was watching him play deep into 2019 spring with the Halifax Mooseheads (23 games) as a shadow of his former self offensively (two assists).
The Oilers sent him to the ECHL for 2019-20 and he performed well (54, 16-19-35, .648 points per game) and got some power-play time (4-7-11) with the Wichita Thunder.
Clearly he'll need to spend next season in the AHL and perhaps that isn't a mountain he can climb. I look at the current minor-league depth chart and sincerely believe he should be able to make the Condors as a top-nine forward. The big man can skate, has a shot good enough to beat goaltenders and a depth chart crying for someone to step forward.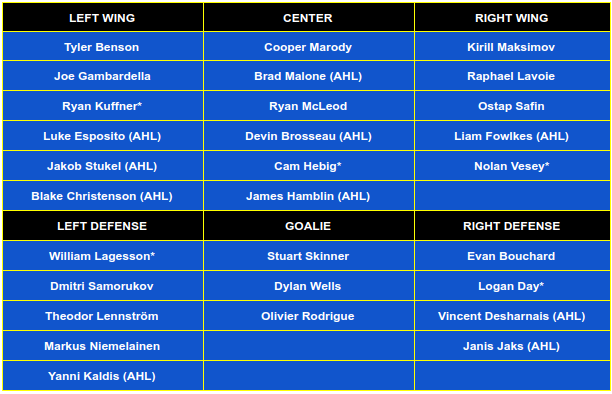 LOWDOWN WITH LOWETIDE
A busy morning with plenty to chat about starting at 10, TSN 1260. Daniel Nugent-Bowman from The Athletic joins us at 10:20 to discuss Cooper Marody's song for Colby Cave, plus Edmonton as a hub city. Reid Fowler from Draft Kings is in at 11 to talk PGA Tour and Jonah Birenbaum from The Score talks about the mlb draft and how the Blue Jays landed another enormous bat. 10-1260 text, @Lowetide on twitter. Talk soon!