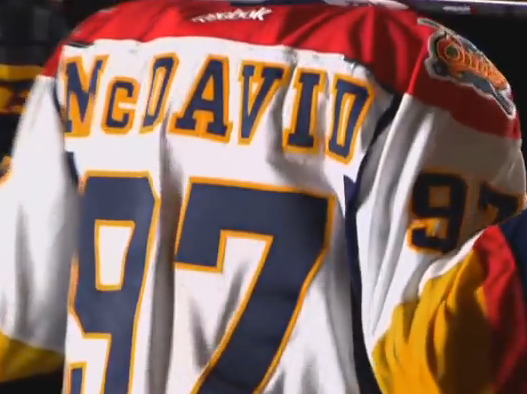 We're all waiting for Ken Holland to make his moves this fall, and now that we're close I sense several urgent trains of thought among posters here at Lowetide and comments elsewhere. From 'go now!' to 'keep your powder dry' there's no limit to the range or degree of passion surrounding the Oilers.
What is different, and we can't know until we get to the other side, is Ken Holland. Not really. He arrived last spring to a clock that was running out and little in the way of cap. I thought he did a great job, wrote about it, gave him a B- and many of you thought I was too harsh in my grades.
THE ATHLETIC!
I'm proud to be writing for The Athletic, and pleased to be part of a great team with Daniel Nugent-Bowman and Jonathan Willis. Here is our recent work.
Holland's 2020
Bob Nicholson spoke to Bob Stauffer just before the weekend, and said Holland would not make huge changes but would tinker. I did not hear the interview, but have seen enough quotes on twitter to trust that the main thrust is correct. This is exactly what I wrote for The Athletic early this week, so I'm well pleased to see logic and reason have come to town.
Some of you are not pleased, preferring instead a gigantic offseason with massive improvement. I think the Oilers could do more this offseason than last because there's a little more money and Holland could trade a LHD and have enough on the roster to compete. That's a new wrinkle. I don't think trading the pick makes sense, although there is some intrigue in dealing down from No. 14 overall if there's a first-round pick and another selection in the top 75.
I'm not on board with acquiring OEL and would prefer to see Andreas Athanasiou, Matt Benning and Jesse Puljujarvi retained. These are the kinds of talents Edmonton should be pursuing, early-to-mid 20's with miles of track left in their game. Add picks, and use them on that long list of OHL forwards (all were 17 last year) who dominated the leaderboard in scoring last season. Here's the list:
2020 OHL (age 17)
Marco Rossi 56, 39-81-120 2.14
Quinton Byfield 45, 32-50-82 1.82
Cole Perfetti 62, 37-74-111 1.82
Jack Quinn 62, 52-37-89 1.44
Tyson Foerster 62, 36-44-80 1.29
Jacob Perreault 57, 39-31-70 1.23
Martin Chromiak 28, 11-22-33 1.18
Jan Mysak 22, 15-10-25 1.14
James Hardie 59, 34-29-63 1.07
Tyler Tullio 62, 27-30-57 1.06
Evan Vierling 43, 14-30-44 1.02
Luke Evangelista 62, 23-38-61 0.984
Zayde Wisdom 62, 29-30-59 0.952
Brandon Coe 60, 25-32-57 0.950
Rory Kerins 64, 30-29-59 0.922
Jaromir Pytlik 56, 22-28-50 0.893
Hayden Fowler 52, 20-22-42 0.808
Logan Morrison 59, 23-22-45 0.763
Austen Swankler 59, 18-27-45 0.763
Reid Valade 52, 18-21-39 0.750
Ethan Cardwell 63, 23-24-47 0.746
Oliver Suni 43, 12-20-32 0.744
Jean-Luc Foudy 59, 15-28-43 0.729
I'd add a couple of fifth-round picks and grab two stragglers from that group, that's a damned good idea to my way of thinking.
EXPECTATIONS
I think it's silly to suggest Holland has little to use in trade this summer, there are some nice things that should have value on the open market and he does have some extra coin compared to a year ago. That said, if the limits of his wares means Edmonton is unable to acquire OEL, then I hear music!
Edmonton's veteran leaders are already here, their names are Ryan Nugent-Hopkins, Oscar Klefbom and Adam Larsson. Their names are Mikko Koskinen and James Neal and Alex Chiasson. Their names are Connor McDavid and Leon Draisaitl.
Please don't let your rage over the Chicago series send you in a bad direction. Don't land on 'they don't know how to win' or 'they need a leader with a bunch of Stanleys like Bryan Trottier when he went to Pittsburgh' or some other lost road. Please land on "it's the goalie, stupid" or "they need three more players, dummy!" because man that's a better way.
You want to see growth, real growth that has sustain? You just saw it. It's called Ethan Bear, Kailer Yamamoto and Caleb Jones. Next year it might be called Evan Bouchard, Tyler Benson, Ryan McLeod. The year after it might be called Philip Broberg, Ilya Konovalov and Raphael Lavoie. You want to build something that is going to last in this climate? You build it right, starting with the foundation. It's there, man! Don't go chasing big names. Been there, done that, got the t-shirt. Woke up in the ditch.
Start as you mean to go.