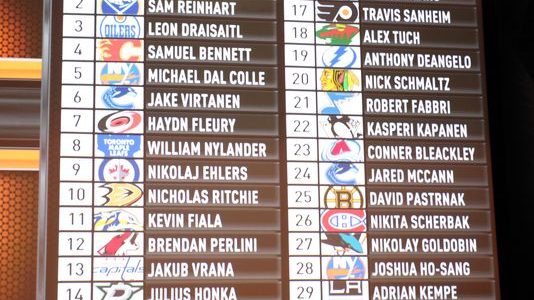 Leon Draisaitl swept all of the major awards from the Academy last night, and now 2020 will be remembered, at least in part, as the year he put German hockey at the top of the game. Congratulations, Mr. Drasaitl!
THE ATHLETIC!
I'm proud to be writing for The Athletic, and pleased to be part of a great team with Daniel Nugent-Bowman and Jonathan Willis. Here is our recent work.
LEON'S WIN
If you have a look at the PHWA votes, it's easy to see a change is on the way. More analytics seep into the conversation each year, with Connor Hellebuyck front and center as an example of a player getting more love than he would have a decade ago. We're going to have disagreements in a close year like this one, but I also believe there are other forces at work. People don't like new ideas, it takes them out of their comfort zone. My question for that situation is "wouldn't you rather be right?" and we are here. I believe Leon Draisaitl earned the Hart Memorial Trophy last year, wrote about it in the post above. Many agree with me, others do not. That's cool. I'd love to know the decision making process you went through to arrive at your conclusion.
My reasoning is not completely math based, but the math of his season proves my point. It was epic, and possibly franchise altering because the move to center impacts the Oilers future in a big way. However, I've lived long enough to know knowledge is power and my knowledge can be improved. So I'm going to pursue why some believe Leon didn't earn the award, beginning with finding out the answer to the question I pose below.
ELUSIVE CONCLUSIONS
One thing about the Oilers 2019-20 season that is driving me around the bend is contained in the pages of Puck IQ. As you know, Puck IQ 'bins' a player's opposition into three categories: Elites (the best), Middle (middle) and Gritensity (the lower portions of a roster). Intuitively, we'd conclude that a great player would play the elites to just above par, do some damage against the middle and rarely see the gritensity people. Right?
McDavid versus elites: 47.80DFF%; DFF%RelC +4.10; GF-GA: 26-16 +10
McDavid versus middle: 50.00DFF%; DFF%RelC -1.30; GF-GA: 13-21 -8
McDavid versus gritensity: 51.40DFF%; DFF%RelC -1.90; GF-GA: 22-21 +1
I have been staring at this for a long time and all I have is more questions. McDavid is underwater in Dangerous Fenwick against elites and that still puts him miles ahead rel compared to other Oilers forwards. He outscores the elites despite the possession gap.
What the hell? Is this a reflection of McDavid's one and done offensive sorties? Why did the Oilers lose so much (eight goals!) against middle competition while logic and reason suggested they had a clear advantage? Is it the lack of successful breakout passes? Let's look at 2018-19:
McDavid versus elites: 43.00DFF%; DFF%RelC 0.30; GF-GA: 26-19 +7
McDavid versus middle: 52.80DFF%; DFF%RelC 7.70; GF-GA: 23-27 -4
McDavid versus gritensity: 55.78DFF%; DFF%RelC 2.30; GF-GA: 27-29 -2
These results make more sense while also being a disappointment. McDavid on the ice in these two seasons is losing the chance battle against the elites but winning the war; Winning the chance battle against the middle opposition but losing (slightly) the war; Dominating the chance battle but losing (slightly) the war versus the lower end. Quality of linemates, quality of outlet passing and goaltending (he's winning the possession battle here) are possible factors, plus the player is maturing on plays without the puck. Let's go back to 2016-17.
McDavid versus elites: 56.00DFF%; DFF%RelC 11.70; GF-GA: 27-14 +13
McDavid versus middle: 56.30DFF%; DFF%RelC 11.50; GF-GA: 27-17 +10
McDavid versus gritensity: 57.60DFF%; DFF%RelC 4.60; GF-GA: 23-16 +7
So here it is. That's the kind of results set one expects from the best player in the game. McDavid is a more aware defensive player now than he was in 2016-17, so what happened? Well, in 2016-17 he played most often with Oscar Klefbom (479 minutes), Adam Larsson (470), Andrej Sekera (452) and Kris Russell (413). This season, his most common defensemen were Darnell Nurse (600 minutes), Ethan Bear (585), Oscar Klefbom (291) and Kris Russell (167). Perhaps that's a reason for the OEL rumours. Now, let's run the numbers for the No. 1 five on five line from each season via Natural Stat Trick:
Patrick Maroon-McDavid-Draisaitl '16-17: 543 minutes, 293-248 shots (54.2 percent), 32-21 goals (60.4 percent).
Draisaitl-McDavid-Zack Kassian '19-20: 443 minutes, 233-271 shots (46.23 percent), 28-25 goals (52.8 percent)
McDavid's one and done sortie style would have been on display in 2016-17, these numbers are spectacular and obviously had a major impact. Comparing those totals to McDavid in 2019-20 is beyond maddening. What the hell? You can blame McDavid for not backchecking, but that's folly because he is a better player now without the puck than he was in 2016-17. My answers are more minutes with Klefbom and Sekera in 2016-17, plus Cam Talbot was enjoying a strong season.
I want Connor McDavid to cheat for offense, and I don't believe Patrick Maroon is a brilliant two-way winger. However, it's clear there's a friggin' in the riggin' and it needs to be fixed.
Craig Button published his Oilers top 10 prospects yesterday, I respect his opinion and it's always good to have him chime in on anything related to prospects. There's not much to disagree with, he likes Phil Kemp a lot and college defensemen are often difficult to project (I never valued John Marino, never saw the player he was, partly because of Adam Fox). Kemp might be a player the Oilers should try to sign in the coming days.
LOWDOWN WITH LOWETIDE
A big show today with much to discuss, we get rolling at 10 on TSN1260. Tom Gazzola from TSN and NHL Network will join me at 10:20 to chat about the Stanley Cup Final and what the Oilers will do over the next three weeks. At 10:40, Taylor Baird from Defending Big D will discuss the Dallas Stars and their outstanding run in the playoffs. At 11, Sean Highkin from Bleacher Report will talk about the madness of the NBA playoffs, it has been quite a ride. 10-1260 text, @Lowetide on twitter.