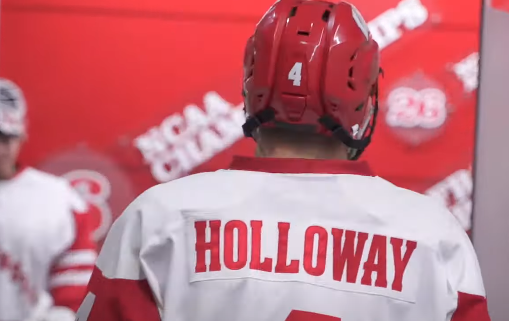 Ken Holland's first two drafts as general manager of the Edmonton Oilers have a decidedly American feel to them. Through his first 12 selections over two drafts, Holland and his scouting staff have used four selections on men playing in the United States, with a fifth (Carter Savoie) drafted from the AJHL and now playing in the NCAA.
On the other hand, I was fairly certain Holland would take USHL impact forward Trevor Zegras at No. 9 overall in 2019, but the club went with big Swedish defenseman Philip Broberg instead. So, we'll just have to make the list for 2021 and pay attention. B flat, follow the changes.
THE ATHLETIC!
I'm proud to be writing for The Athletic, and pleased to be part of a great team with Daniel Nugent-Bowman and Jonathan Willis. Here is our recent work.
OILERS USA PLAYERS SINCE 2010
2010—Tyler Pitlick (286 NHL games)

2011—Dillon Simpson (3 NHL games)

2012—Joey Laleggia, John McCarron
2013—Aidan Muir
2014—Zach Nagelvoort, Tyler Vesel

2015—Caleb Jones (85 NHL games), John Marino (98 NHL games)

2016—Graham McPhee, Vincent Desharnais
2017—Skyler Brind'Amour, Philip Kemp
2018—Mike Kesselring
2019—Matej Blumel, Tomas Mazura
2020—Dylan Holloway, Filip Engaras
I would suggest the USA has been a worthwhile investment for the Oilers over the last decade plus, with Jones and Marino giving us a signal that the USHL and its feeder leagues are bringing enormous quality. That is reflected in today's list.
OILERS 2019 DRAFT

I ranked Holland's second round pick just 10 spots from the first rounder and Red Line Report was even closer. About two years after this draft, there is much that is yet unknown. One thing I'm beginning to pick up on: Craig Button's list and the Oilers list are often similar.
OILERS 2020 DRAFT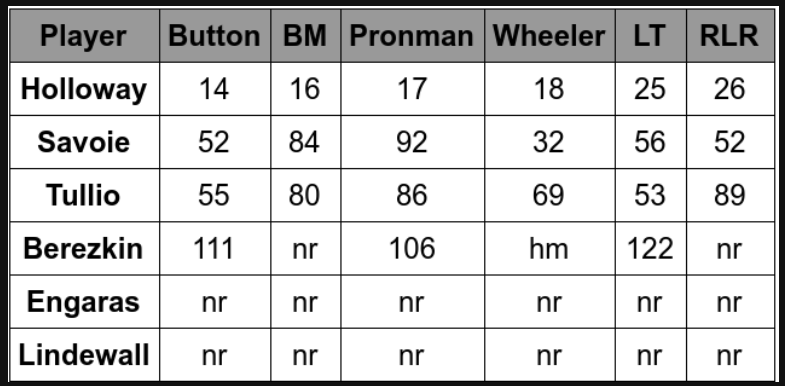 Once again Button nails the first-round pick, RLR and me are off the grid. I did rank three other selections made by Edmonton, I'm quite fond of the 2020 draft by Tyler Wright and the scouting staff at this point.
TOP PLAYERS IN THE USA, 2021 DRAFT
LW Matthew Beniers, Michigan (NCAA). Two-way center with impressive skill.

LW Kent Johnson, Michigan (NCAA).

Highest skill level among the college men, impressive numbers.

LD Owen Power, Michigan (NCAA)

Complete skill range (none elite). No. 1 on McKenzie's list.

LD Luke Hughes, USNDTP (USHL).

Rangy puck mover, third Hughes brother.

RC Chaz Lucius, USNDTP (USHL)

One of the most dynamic players in the draft.

LW Matt Coronato, Chicago (USHL).

Pure scorer, great release, headed to Harvard.

LW Ayrton Martino, Omaha (USHL)

Small speedy winger, September 2002.

LC Cole Sillinger, Sioux Falls (USHL).

Dangerous shooter, fine passer. Average skater.

LW Sasha Pastujov, USNDTP (USHL)

Plus shot, offensive winger. Average speed.

RW Mackie Samoskevich, Chicago (USHL)

Speedy skill winger.
LOWETIDE TOP 22, 2021
RW Dylan Guenther, Edmonton Oil Kings. 
LC Mason McTavish Peterborough Petes.
RD Brandt Clarke Barrie Colts.
LW Matthew Beniers, Michigan Wolverines.
LW Kent Johnson, Michigan Wolverines
LD Simon Edvinsson, Vasteras IK
LD Owen Power, Michigan Wolverines.
LC Zachary Bolduc, Rimouski Oceanic.
LW William Eklund, Djurgardens.
LD Luke Hughes, U.S. National Development Team
RC Ryder Korczak, Moose Jaw Warriors.
LW Zachary L'Heureux, Halifax Mooseheads
RW Fabian Lysell, Lulea.
RW Chaz Lucius, U.S. National Development Team
G Sebastian Cossa, Edmonton Oil Kings.
LW Fedor Svechkov, Ladia Togliatti.
LC Francesco Pinelli, Kitchener Rangers
RC Xavier Bourgault, Shawinigan Cataractes
G Jesper Wallstedt, Lulea.
LW Brennan Othmann, Flint Firebirds
If the season ended today, Edmonton would pick No. 20 overall and there wil be good players available. I will head to Europe next and we should be able to cobble together a top 50 by the end of April. June 1 will be the final "Here Comes the Sun".
LOWETIDE USA LIST 2020
LD Jake Sanderson, USNDTP (USHL). Smart, fast two-way defenseman has complete skill set.
LC Dylan Holloway, Wisconsin (Big-10). Big power forward. Strong skater, nice range of skills.
LW Brendan Brisson, Chicago Steel (USHL). Undersized speedster spiked late. Big riser.
LC Ty Smilanic, USNDTP (USHL). Lean center, plus skater and pure scorer. Had mono.
RW Dylan Peterson, USNDTP (USHL). Big W with skill/speed, shy offensively this season.
RW Sam Colangelo, Chicago Steel (USHL). Big power winger with skill, scored 28 goals in 44 games.
LC Thomas Bordeleau, USNDTP (USHL). Owns a great shot and is highly skilled with the puck.
RW Daniil Gushchin, Muskegon Lumberjacks (USHL). Small, speedy playmaking forward. Good numbers.
LW Luke Tuch, USNDTP (USHL). Alex Tuch's brother, he plays a similar style with less offense.
LD Tyler Kleven, USNDTP (USHL). A big shutdown defenseman (6.04, 201) with good speed.
RD Ian Moore, St. Mark's (USHS). Massachusetts offensive defenseman.
G Drew Commesso, USNDTP (USHL). Good size, thrived wherever he played in 2019-20.
There were eight USHL/NCAA/High school kids in the top 100 a year ago that I did not rank, that's partly because the USHL equivalency numbers are tough to trust. The USHL number for NHLE I use (here) is .27 (points times .27 times 82 divided by individual games played) but I think that's too strong a number so I fade it. Jack Hughes went straight from the USHL to the NHL and his transfer number was .17, so I'm using that number now and it obviously impacts the rankings.
LOWDOWN WITH LOWETIDE
A fun Friday edition of the Lowdown gets started at 10, TSN1260. Steve Lansky from Inside the Truck podcast will talk about the Oilers ideal playoff opponent, the CFL's season a go and the OHL's season canceled. Matthew Iwanyk from TSN 1260 will join me to chat about the CFL season to come and the upcoming NFL/CFL drafts. 10-1260 text, @Lowetide on twitter. See you on the radio!