I have worked in radio for close to 40 years. That's a lifetime. I could tell you stories that would make you laugh, cry (Don Percy's "Long Road of Life" story will make you pee your pants, Paul Almeida found out his Dad had passed during an edition of Saturday Sports Extra and held it together better than I ever could) and everything in between.
Successful radio requires two things: A refreshing, compelling noise coming out of the frequency you've been assigned, and good people selling the product to businesses. Those businesses advertise, and see an increase in customers (sometimes called listeners). That's it. That's all.
Ken Holland is building that refreshing, compelling noise, brick by brick. The twist for Holland? The customers have already put their money down, and the damn radio has played only two good songs in the last 14 attempts.
Holland represents a team whose fan base is beyond frustrated, and Holland appears to be the ultimate "start as you mean to go" personality type. He's going to build this thing from the ground up, and that means draft and develop. Get good players, keep good players? You bet, starting at 18 years old. No shortcuts, beyond free agency next summer. Eat your breakfast, cows aren't going to milk themselves.
I believe that's the plan. So, the question becomes: Are there any kids in the stable who don't fit the Holland plan? Any he is willing to trade this month? We'll know our answer soon, I expect. I remain convinced we'll see a trade between now and the end of summer. I don't think Holland came here to win the 2020 lottery.
THE ATHLETIC!
The Athletic Edmonton features a fabulous cluster of stories (some linked below, some on the site). Great perspective from a ridiculous group of writers and analysts. Proud to be part of the group, here's an incredible Offer!
Would Holland trade Evan Bouchard?
I suspect it would have to be a massive return, as Bouchard is close and fits a very specific need. Detroit picked No. 6 (Filip Zadina) and Bouchard lasted until Edmonton at No. 10 overall. I had Zadina (3) ahead of Bouchard (8) but a year later believe the defenseman is tracking better. For Edmonton's Bouchard, speed is the issue along with some criticism about lack of urgency in junior. I think he has a better chance of being on the opening night roster than being traded.
What about trading other RHD prospects?
The problem with dealing Ethan Bear or Joel Persson is neither man has established value as an NHL player. Matt Benning is the likely RHD heading out of town, but I maintain he should be kept until Bouchard is ready and possibly beyond. He can play second pair and he can face tough opposition. My choice for right side blue to be dealt? Kris Russell.
Any other prospects of value for trade?
I could see a Benson trade if it represented an upgrade (remember, Holland isn't attached to any of these men) and Caleb Jones has enough value (imo) to warrant a reasonable return (and William Lagesson is waiting in the wings). Beyond that? In the words of the Four Lads, No, Not Much.
OILERS PROSPECTS DEPTH CHART AND NHLE
Tyler Wright is the new amateur scouting director and this is the list he inherits. I like the list, there's promise at every position. Now, the top prospects (ones we can assume will get a full NHL chance) include Bouchard, Jones, Bear, Lagesson, Persson, Samorukov and Broberg among the blue (that's an absolute mountain of prospects on defense). Forwards who'll get their shots include Benson, Marody, Yamamoto, Maksimov, Lavoie and of course the older fellows like Gambardella and Currie. Joakim Nygard's chance is 2019-20.
There are so many orphans now the mind boggles. For instance, John Marino. He was drafted during the Chiarelli era, and Chiarelli will be working for another organization (probably) next spring. Will Marino make like Matt Benning and sign with a team other than the one that drafted him? These things will be decided in the coming months. Bottom line: Not everyone on this list should be viewed as having the same value as the PC regime gave them.
What about Wright's old team?
DETROIT DEPTH CHARTS AND NHLE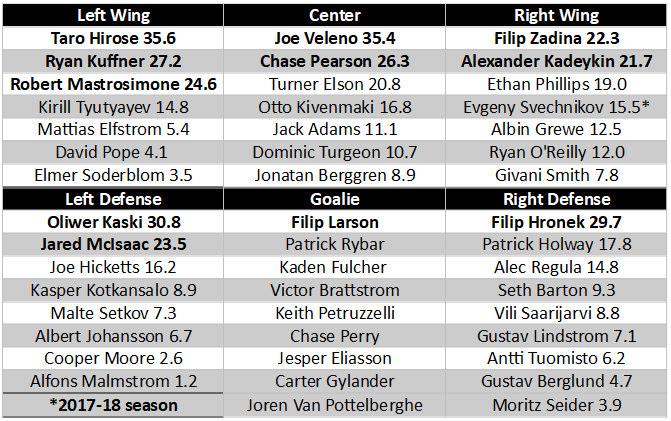 The Red Wings have a nice list, I'll suggest Edmonton has more depth. Best prospect? Evan Bouchard for Edmonton and I'll go with Joe Veleno (your mileage may vary). My favourite Detroit prospects are Veleno, Hronek and Larson. Kaski is a monster offensive defenseman from the Sm-Liiga, this will be his first season with the organization. He's kind of Joel Persson's opposite number. Zadina is the key name here, if he pops Detroit has a strong list.
Huzzah! I've always wondered why new coaching staffs didn't bother to review the previous season's video. You can gather a lot of information from it, and along with math draw some conclusions or at least raise some questions. Good for Tippett.