This should be a big day for Oilers fans, the organization will no doubt make some transactions (waivers on some, demotion for others) and we could see a claim. Terry Jones trick knee (acquired by climbing stairs at the Lacombe Globe in 1957) tells him we might see a trade. I have a guess after the turn.
THE ATHLETIC!
The Athletic Edmonton features a fabulous cluster of stories (some linked below, some on the site). Great perspective from a ridiculous group of writers and analysts. Proud to be part of The Athletic, we are celebrating our 2-year anniversary this week. To mark the occasion, you can get 40% off subscriptions here.
CERTAIN OILERS [18]
The numbers: Forwards five-on-five scoring per 60; Defense Corsi for five-on-five; Goalies five-on-five save percentage.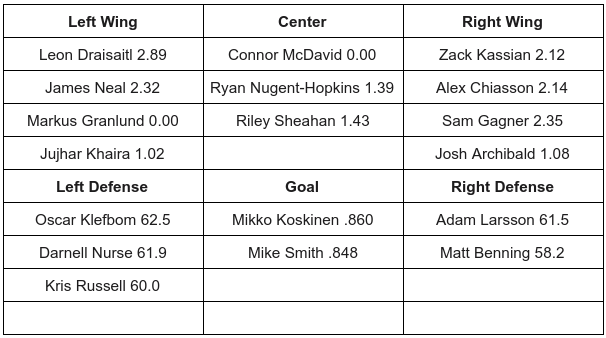 Everyone among the certain group is healthy and ready to go, that's the top worry every year. After that, the goalies were poor and Granlund probably doesn't dress in the first game based on his performance. The defensive possession numbers, while a small sample size, are quality, and you'd like to see them remain that way (plus a few more stops by the goalies).
UNCERTAIN OILERS [8]
The numbers: Forwards five-on-five scoring per 60; Defense Corsi for five-on-five; Goalies five-on-five save percentage.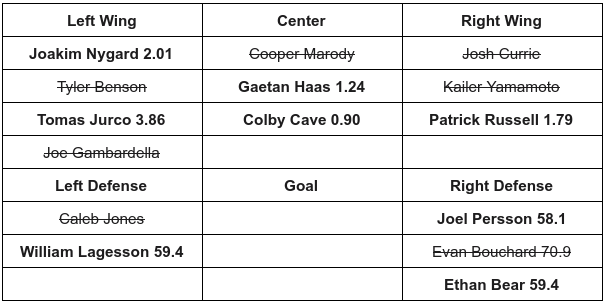 My estimate of the strongest names for the final five additions to 'certain': Ethan Bear, William Lagesson, Tomas Jurco, Joakim Nygard and Colby Cave. I don't think my list will win the day. Haas and Manning (from the distant bells) have a real chance.
THE DISTANT BELLS [1]
The numbers: Forwards five-on-five scoring per 60; Defense Corsi for five-on-five; Goalies five-on-five save percentage.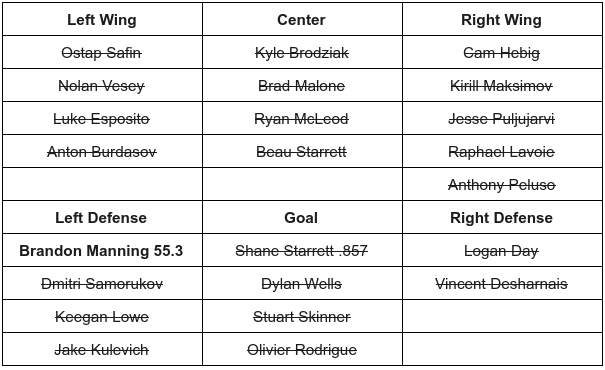 Brandon Manning has not outplayed William Lagesson, in fact Caleb Jones is a better option. The only reasons to keep him are to give Lagesson regular work in Bakersfield and the fact Manning can go weeks without playing and not hurt his development. I don't think it's enough, but the Oilers may.
CONDORS PRESEASON NUMBERS


OILERS FANS AND DEFENSEMEN
Reading online these days, I'm beginning to wonder if Oilers fans value Darnell Nurse at all. That's sad, because Nurse is a fine defenseman who has 279 NHL games on his resume at age 24. He's a value deal and based on his foot speed I think he might be able to play until freedom 55. Nurse is not perfect, but his 2017-18 season (have a look at Puck IQ) showed real promise. He's easily top 4D on this Oilers team and scored 10 goals and 41 points on a team that couldn't hit the broad side of a barn door a year ago. His contract, this season, is a value deal. He has areas of the game that need work, and I'm not convinced the shutdown duo (Nurse and Larsson) will work. That's miles from Nurse being the problem, people. I think hyperbole has gotten the best of some of you as it pertains to Mr. Nurse.
On the other hand, Ethan Bear is being heralded as the next great blue, which irritates me. Why? I like Ethan Bear, like his story, like his hard work and skill set. Which means it'll be impossible to ignore all the negatives from the same bunch who are ripping Nurse now. When Bear struggles this season, and he will because he's young, the criticism will begin, light like dry timber on the side of a mountain, and we'll be reading about Bear being the problem for the next five years.
Defensemen are difficult to gauge and progress is a series of ladders with a few snakes thrown in. Do not get ahead of yourself on these young blue. Ethan Bear is a helluva prospect, I like him plenty and have since before his draft day. Don't ruin his early NHL career for me. Seriously.
Brandon Manning is a strong candidate to be placed on waivers today and my guess is the Oilers will be watching the other waiver players (at 10 this morning) for possible claim tomorrow morning. There are holes. The best names might be goalies and it will be fascinating to see if Ken Holland grabs someone.
As for trades this week, it has to be a defenseman, no? Lots of blood in the water around Matt Benning, so we'll see if Holland wants to pull the trigger on a deal early or later. For me, Benning offers more experience than Bear, Evan Bouchard or Joel Persson. It would be a nice change of pace to see a general manager who makes sure he can afford to trade a RH defenseman before he actually does. Call it the Jeff Petry rule.
LOWDOWN WITH LOWETIDE
At 10 this morning, TSN1260, we get the week started with high quality talent (well, the guests are great). Andy McNamara from TSN4Downs talks NFL weekend and the surprises from Sunday. Jason Gregor from TSN1260 talks Oilers and Eskimos at 11, while Pete Jensen from NHL.com talks fantasy hockey and your best bargains this year. 10-1260 text, @Lowetide on twitter. Talk soon!