The Edmonton Oilers 2015 draft is in year five and shines like a diamond with Connor McDavid, Ethan Bear, Caleb Jones and John Marino in the NHL now, today. The club needs that kind of production from 2016, 2017 and beyond.
The first draft for Ken Holland, the first one that will include 12 scouting months to prepare, is the 2020 edition. It is a monster at the top.
THE ATHLETIC!
The Athletic Edmonton features a fabulous cluster of stories (some linked below, some on the site). Great perspective from a ridiculous group of writers and analysts. Proud to be part of The Athletic, less than two coffees a month offer here.
OILERS 2020 DRAFT PICKS
First round—No. 28 overall.
Second round—No. 59 overall.
Third round—No. 90 overall (dealt to Calgary in James Neal trade. Not official until Neal scores 21 goals).
Fourth round—No. 121 overall.
Fifth round—No. 152 overall.
Sixth round—No. 183 overall.
Seventh round—No. 214 overall (may belong to the Toronto Maple Leafs in the Nolan Vesey trade).
CURRENT PROSPECTS, BY POSITION AND TYPE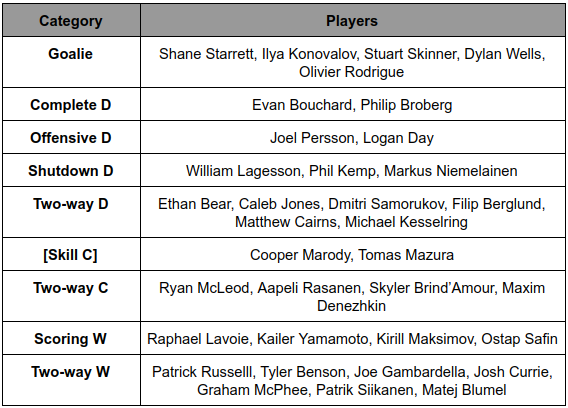 When we talk draft, we all say the Oilers don't 'draft for need' but that only really applies for the first round. We'll have a look at this year's group in a minute, but the team has tremendous quality and depth on defense and a lack of centers and top-end wingers.
A QUICK CHAT
Last season, when I released my final draft rankings (here), there was more than the usual amount of push back and derision. I don't mind, grew up Jehovah's Witness and have been a target for many personality types as an adult. I would rather find the truth than worry about what the pack is talking. Waiting for loudmouths to admit they're wrong is a waste of time (you know who admits when he is wrong? Darcy McLeod. People could learn a lot from him about arguing your point with passion while still having the self awareness to admit discovery has landed you on a new tectonic plate), so it's best to find out what you can and not argue a point that will see a series of chains being moved.
In that ranking last June, I placed Arthur Kaliyev No. 5 overall, and you could hear the hoots and howls all the way down the Henday. This year? Well, Kaliyev has scored 27 goals in 26 games while playing in the best junior league in the world, so the hollers aren't quite so loud. Kaliyev is a player with some warts, but when you see a June 2001 eligible for the 2019 draft who scored 51 goals at 17, you should value that thing. One of the weirdest things about scouts is their allergy to math. If you had a tool that could make you better in your job, would you use it? I think you would. Scouts are important, vitally important, but if I was a scouting director and a scout had a 51-goal draft eligible (who was a June birthday) in his area he was trashing, I'd want to have a damned long report on why my team was going to pass on him.
Who is this year's Kaliyev? Don't know yet. It might be Mavrik Bourque and it could be Tyson Foerster or some other young first-shot scorer. He'll let us know.
2020 BUTTON'S TOP 10 NHLE'S
Alexis Lafreniere 51.1
Quinton Byfield 46.9
Cole Perfetti 44.1
Connor Zary 37.1
D Jamie Drysdale 28.6
Tim Stutzle 20.9
Hendrix Lapierre 20.8
Alexander Holtz 17.1
Lucas Raymond 15.3
This is Craig Button's top 10 run through NHLE. My ranking here isn't a ranking, we're just figuring out what the equivalencies say. Button's list is here. My list would move up Raymond, who is playing just 10 minutes a night in the SHL. He's probably top five overall. Alexander Holtz is playing 13:24 in the same league, I think he would climb up my list as well. Tim Stutzle plays in the DEL, I don't trust that league (yet) so would probably fade him a little. Connor Zary is a Sept 2001, so is older than the other kids. I would fade him, too. My top three NHLE match Button's here, that's a good guess for my top three when I publish the first ranking (New Year's Day).
2020 HOCKEY PROSPECT.COM 11-20
Marco Rossi 61.3
Dawson Mercer 37.7
Anton Lundell 22.2
D Braden Schneider 15.8
Dylan Holloway 12.6
Noel Gunler 11.6
This is an assortment of 2020 prospects ranked very high by HockeyProspect.com. I value the work done by this group highly, so will be tracking these names and others. Marco Rossi is an older player and a small player, but my goodness that's a big number.
One Player
For the next few weeks, I'm going to highlight one player from the 2020 draft we should investigate. Today it's LC Ty Smilanic from the U.S. National Development Program. A pure scorer, Smilanic has plus speed and good playmaking skills. His calling card is his shot. He has been compared to Dylan Larkin. Suspect he's gone inside the top 20. A couple of cool highlights here.
LOWDOWN WITH LOWETIDE
At 10 this morning, TSN1260, we'll kickstart the weekend with a fun and informative show. Steve Lansky from BigMouthSports will talk Mike Babcock, Grey Cup coverage and what HNIC is doing in the Cherry segment. Frank Seravalli will talk Oilers injuries, Jesse Puljujarvi and Bill Peters. 10-1260 text, @Lowetide on twitter. See you on the radio!